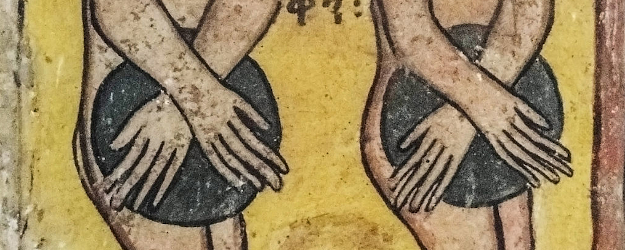 There is a dark spirit, a spirit of unreason, stalking the world. In earlier times we might have characterized it as a Dionysian spirit attempting to oust Apollo. This spirit urges those who listen to it to throw off the constraints of the intellect in favor of the release of emotion and the fulfillment of desire.
People are listening. It has infiltrated the halls of legislatures, hospitals, media, schools, and even our homes. It is a spirit that threatens us as Catholics in particular, because it threatens the truth about the human person. Catholicism, which by definition believes in a Creator God and the goodness of the created order, stands in defense of what is true about the human person and human dignity.
Catholics must open their ears and eyes to what is happening. Parenthood, medicine, news media, education, and law are under attack. The meaning of the human person and human dignity, and truth itself, are under attack. What is more, the dark spirit will not share the world with those who do not listen, for that spirit, having relegated reason to the status of slave, is a spirit of raw desire and power.
I want to talk here about just one manifestation of this spirit, a simple report on a new clinic associated with Minnesota Children's Hospital — a clinic for transgender youth.1 Its director wants to provide "a welcoming place to ask questions . . . and to decide what interventions the children are going to need." The clinic will give consultations and "therapy sessions" to "make sure children are prepared for the treatment decisions they make, and hormone therapy to give patients bodies that conform to their identified genders."
Imagine that, if you can: the job of parents and doctors is to give a child the body he or she wants — or, more precisely, the body the child thinks he or she wants. The child makes the treatment decisions. Are children ever prepared for the decisions they make? Is even a fully grown adult really prepared for the consequences of "treatments" that call for radically altering one's body, not to make it work as it should, but to prevent it from reaching its natural potentials?
One generation ago, the question of what "interventions" our "gender diverse" children needed would have had an obvious answer: they need psychological and spiritual assistance and emotional support to help them through the confusion of childhood and puberty in order to come firmly to grips with the reality of their own bodies. However, under the influence of the spirit of unreason, that answer is rejected by certain powerful people. Why, exactly? Is it because they have a completely different version of the reality of the human person, the role of doctors, and the role of parents in the life of the child? Perhaps, but the fact is that they make many, contradictory claims; their incompatible reasons make it difficult to point to one view of the matter.2 This is the nature of a spirit of unreason: any "reason" that distracts the enemy is fine. Let us just say that claims about the human person based on clearly observable facts are taken to be "harmful" to those who wish to be what they are not, for to be prevented from fulfilling one's desire, especially in the area of human sexuality, is considered the most egregious harm.3
The clinic, according to the article, is designed to serve transgender youth, defined as young people who "don't identify with their birth genders" or are otherwise perplexed about being male or female. Questions sometimes arise in preschool years, but more frequently when the child nears puberty. Those providing these "services" convince others that the children have "better treatment options if care is initiated before puberty." By "care" is meant drugs to delay puberty, and eventual removal of organs that the child does not want. Says the director:
Puberty is a permanent change . . . that's congruent with their assigned sex at birth. In order to undo the effects of puberty, it often involves expensive medical and surgical procedures. So if we prevent those at the outset, we'll have better physical outcomes and often better psychological outcomes.
It should surprise no one that ages three to five and the years of puberty would be the times of the most confusion about sexual identity, for these are the two periods in life with the most monumental transitions: first to establish what it means to be "me" in the most fundamental sense, and second to ride out the hormonal tides and bodily changes going on within oneself and all the other boys and girls around one (though these happen at different times and at different speeds and with differing levels of support from family and friends). Yet the proprietors of these clinics seem unaware that these are times of great confusion that everyone goes through. They push parents, now often through legal means, to accept the child's confusions as the new status quo, simply because the child has these emotions and desires.
Let us take a look at the role the medical professional is urged to take. The assumptions are that 1) sex is assigned at birth, and 2) the proper role of the medical community is to acquiesce to the confused child's desires, which entails 3) changing the body to match the desires. Can this be anything but quackery?
Sex is not assigned at birth. Except in extremely rare cases, it is an evident fact.4 All the doctor, parents, and community do is acknowledge the fact. Indeed, even for those who have already "transitioned" to their preferred bodily shapes, one's chromosomal sex and the physical difference in bodies this causes remain. The patient who is chromosomally a woman but "identifies" as a man had better tell the physician about the transition, or the physician is apt to treat that patient incorrectly.
The physician or surgeon is then supposed to "undo the effects of puberty" — as though puberty is a pathological condition or disease — taking a healthy body and, in opposition to an oath to do no harm and in complete absence of any medical necessity or scientific evidence, destroy it in order to meet the demands of — what? Not a "patient," but a customer. And that customer is a child. As to outcomes, they are by definition worse outcomes than if the child's body had been left to do what is natural to it — to grow primary and secondary sexual characteristics in accordance with its chromosomal and hormonal makeup.
Does delaying puberty really give anyone, let alone a child, time to sort through options? Not if one is honest about it. The proposal is preposterous from the outset. First of all, there is the simple reason that, in the law, the child is completely unable to give informed consent, which is why it is the parents' role to make medical decisions for children. Usurping the parents' rightful responsibility to care for their child is deeply wrong. Furthermore, it is always impossible for us to know what the future holds, which is why responsibility for such life-changing events is not left in the hand of children, but to those with enough years to have gathered knowledge and experience. For the sake of argument, however, let us allow that a particular child, given enough maturity, might be able to make a reasonably informed decision on a life-changing event. This would not be one of them.
A boy says to his parents, "I think I'm a girl." The obvious answer is, "But you are not. You have this kind of body. That's what it means to be a boy." When the boy then responds, "But I feel like a girl on the inside," the obvious answer is, "Really? What does that feel like? How could you possibly have any clue what it feels like to be a girl?" When the boy says, "I want to be a girl," the obvious answer is, "We want all kinds of things; some we can't have; some are bad for us; some of our desires arise out of confusion. It sounds like you feel confused about what it means to be you, and especially to be a boy. That's something we can work on together." Most children who do not "identify" with their physical sex eventually come around. Give them time. I am not saying that such work would be easy in the face of a determined child. It may even be that, in some rare cases, what the child is reporting is, in fact, related to a physical condition. But the obvious and correct response is not to acquiesce to the child's feelings or desires.
In the article in question, the parents have already drunk the proverbial Kool-Aid. When their girl said, "I think I am a boy," they and the alleged medical practitioners they sought out replied, "You are a boy." Why? Not on the basis of any empirical evidence, which would be impossible to obtain. They conceded the point simply because this girl said it was so. It was the parents who sought out the clinic services; they did not need to be pressured to accept their child's new "identity," as parents typically are.5 They sought these services as a show of support. Why? Because the changes occurring in their daughter's body caused her distress. "It's hard knowing that it hurts him so much, that his body causes him that much distress, so much pain. That's when you know this is no choice thing. This is real."
Of course it is real. She suffers real anxiety over these changes. For some reason, she stands in opposition to her own embodied self. But when the distress comes from an unwillingness or inability to accept the fact of one's own body — or any other aspect of reality — the answer is not to destroy the body, but to heal the patient. We do not acquiesce to the body image of the person suffering from an eating disorder who starves herself or cuts herself. Why do we do so here?
There are physical maladies affecting the brain that cause a person to believe his own legs do not belong to him. They strike him as foreign and abhorrent. Yet, of course, they are his own legs, they do belong to him, and the feelings he has are caused by an identifiable brain malfunction. The answer is not to accede to his request to cut off his legs. The answer is to fix the problem and restore him to health.
Perhaps the reason for transgender feelings is physical. Perhaps, at least in some cases, it is a relative of Body Integrity Image (or Identity) Disorder (BIID), which at least sometimes is caused by injuries to the parietal lobe, where body mapping occurs, as in Potzl syndrome.6 Perhaps it is not a physical issue, but is a psychological or spiritual state of confusion and anxiety brought about by identifiable factors in the child's life. In each case, the answer is to help the patient find a right relationship with his or her body.
There is a highly peculiar notion of the human being that is at work in the transgender and "gender diverse" world, and which is accepted by supportive parents and the quacks who encourage them. That peculiar notion is this: What counts as ME is nothing more than a bundle of desires and feelings. Whatever I want I must have; anyone who tries to stop me is guilty of trying to eliminate my very self. The body is the thing my desires ride around in and through they operate. If my desires are sufficiently inflamed, even that body must go in favor of a new body more capable of fulfilling them.
The medical community, in accepting the claims of the gender diverse youth at face value, expose themselves, not as professionals dedicated to the restoration of health, but as mere mechanics who will build whatever body the customer wants. Clearly, what is not in play is any notion of nature that serves as the standard of health and pathology. But then one wonders how they ever got through medical school. For the notion of health demands a nature with some sort of function that is normative, and which can, in theory, be restored. Medicine seeks to restore that functionality to the human person, and never to destroy it.
The practice of medicine has already been derailed by its acquiescence to other practices that exist, not to restore function and health, but to give patients what they want. The first is the practice of purely cosmetic surgery, like breast enlargement, which exists solely to make someone more sexually alluring. The second is contraception. People demand drugs and surgical procedures to prevent their bodies from doing precisely what they are designed to do. These practices are accepted because people want something: to be free to enjoy sexual pleasure without consequence or commitment. When these fail, there is the gross indignity of abortion. The third is the fertility industry, which through laboratory means turns the desire for a child into a consumer demand, and seeks to turn out a product. Thus we have entire branches of medicine dedicated to the practice of what is directly opposed to medicine, doing nothing that has to do with healing or restoration of function, but only giving people what they want. This will typically be put in the language of the alleviation of suffering, and perhaps sometimes it is that. At least it can be said that, no matter how you state this goal, these surgical interventions can, frequently, actually accomplish what they claim: natural consequences, even natural actions, are circumvented.
It is not so with sex reassignment. Even if one is sufficiently convinced that the role of medicine is not to restore health, but to alleviate suffering, nothing in the practice of sexual "transitioning" will bring about this goal. Read the stories of those who have regretted their "transitions."7 An even more intriguing tale is told in The New York Times by a man who recognizes that his "bottom surgery" probably will not help, yet he demands that others supply it for him.8 The spirit of unreason, of raw desire, is strong.
Parents who participate in this charade are a strange bunch. They will keep their children from eating too many sweets, or sticking paper clips in electrical outlets, taking candy from strangers. They will correct their children when hit each other, or display racially insensitive attitudes, or cast blame at everyone but themselves. In other words, they are entirely and appropriately willing to prevent their children from indulging in destructive emotions and desires and behaviors, despite what their children want, because these emotions and desires and behaviors are bad for the children, and it is their parental duty to educate their children. But when the child says, "I think I'm in the wrong body," these same parents bend over backwards to make over their child in accordance with the child's emotions and desires. It is as though the child had come to them to say, "I want to be a drug addict," and the parents had sought out a dealer for her, and that dealer was the family pediatrician, working with the full faith and credit of the entire medical profession.
However, it is these emotions and desires that make no sense. They are usually the result of perfectly normal confusion and anxiety that will, with time, go away in the vast majority of cases.9 Yet if these feelings do not go away — if they are the result of some physical cause or, as seems more likely, if they are the result of some deeper failure of affirmation, and consequent hatred of one's own body — mutilating that body to bring it in line with one's feelings will fix nothing. No known drugs or surgery can actually make a female body male, or vice versa, let alone alter one's very chromosomal structure. The surgery can at best supply the customer with a body that has a certain appearance that may, if carefully tended, fool some people, some of the time, into believing the alteration is the original. It will never really fool the person who undergoes the surgery. Such a person may feel a certain muted affirmation of self-will, but it will not hold (which may explain the extraordinarily high suicide rate among those who have undergone transition).10 To firm up the affirmation, one must force everyone to comply. It must take the form of institutional support on all fronts. It must be repeatedly taught in every aspect of our educational systems, parroted in the media, and policed through law.
No one should be surprised that the spirit of unreason and power would attempt to make use of the institutions of power embodied in our laws. (See, for example, H.R. 5 of the 116th Congress, the "Equality Act.") One is taken aback, however, by the utter lack of resistance from the two institutions whose very raison d'etre is the search for truth: higher education, and the news media. As I pointed out in an essay 11 about this very topic nine years ago, both of these institutions have abandoned their search for truth in this matter. Nothing could provide better evidence of this trend in the news media than the article we have been analyzing.
As to higher learning, consider this tidbit from a local university. St. Catherine University was founded in 1905 by Sr. Seraphine Ireland, sister of Archbishop John Ireland, as the College of St. Catherine, a Catholic college for women. Though it now accepts men in its graduate programs, the undergraduate college has remained a women-only institution — until now. Says the Associate Vice President of Admissions, "Our practice has been to accept students based on self-reported sex. The official policy makes it clear that we accept students based on gender identity." According to the last line of the policy, "In taking an inclusive approach to fulfilling this mission . . . St. Catherine University acknowledges that there is an evolving understanding of gender that increasingly goes beyond the traditional binary." Claiming Catholic Social Teaching as its guide, the policy says: "We recognize St. Catherine University's rich and vibrant history of educating people of all marginalized genders . . . " The policy also notes that, in continuation of current practice, a female student who transitions to male will be permitted to stay in the College for Women.12 Apparently then, this women's college will educate a) women; b) men who claim to be women, based on nothing more than their claim; and c) women who claim to be men, and who appear to be men. The only people who cannot come to St. Kate's as undergraduates are men who insist that they are men.
Should we take these institutions' claims to be truth-seekers seriously any longer? When research and fact-finding have been replaced by "oppression studies" and activism, the spirit of unreason that knows nothing but the exercise of power is at work. We must, however, take seriously the threat to our society that these corrupted institutions pose. We must also carefully guard ourselves in our own search for truth. We can search for media outlets that have not fallen into the trap; we can look for colleges and universities that have remained steadfast in the search for truth. We might well be accused of having fallen for "conservative," even "reactionary" or "fascist," propaganda. But seeking the truth is not a liberal versus conservative thing.13 It is a human thing, the most deeply human thing. No other creature on earth seeks the truth, needs the truth, as we do. It is, as Thomas Aquinas noted, one of our fundamental natural drives.14 Walker Percy calls our drive to name things accurately "ontological": unlike the biological needs in animals, it serves no biological purpose.15 So, in a way, this task is conservative, though not politically so; we all must preserve the truth, or devolve into madness.
Since will follows intellect, our freedom demands that, even in our most inhuman moments, we always have some reason for our actions. As we well know, we are all capable of accepting only those arguments that fit our desires. Nonetheless, reasons are always provided; and while those reasons may be the result of a certain amount of wishful thinking, or of stretching a theory beyond what the facts will allow, there is usually a certain logical consistency behind them, though the premises be incorrect. If you have a conversation with a confused person who remains a humble searcher after truth, you stand a legitimate chance of conversion.
The transgender moment, though, is imbued with a thoroughgoing spirit of unreason. Its deepest desire is nothing more than the exercise of its deepest desire. Facts are scarce. Contradictory reasons are scattered about like so many shotgun pellets; they do not cohere, but that is not their point. The reasons themselves are doused liberally with rhetoric designed to enflame sympathy and intimidate resistance. Now major institutions are in so deep that to extricate themselves would take an effort not unlike a single small child trying to hang on to the side of the backyard pool in a whirlpool created by the kids from the whole neighborhood. The spirit of unreason will attempt to destroy whoever does not assent. As Gerald Bradley argues cogently, the spirit holding together identity politics must, and has already begun to, attack the very idea of religious liberty itself.16 Indeed, it has already gone farther: British Columbia Supreme Court Justice Francesca Marzari issued a gag order against a father who refused to call his daughter a boy, and threatened his arrest should he continue to do so either publicly or privately.17
Still, dissent we must, and fight it with everything we have in the halls of our legislatures and courts, in our doctor's offices, in our schools and media, and even in our homes, if we are to remain true to the faith, and faithful to the truth. The integrity of the truth-seeking institutions, of medicine, of the rights and dignity of parents, and the dignity of the children whose lives have been given to them in trust, is at stake. One of the last institutions in the world that stands against this spirit is Mother Church. It will attempt to destroy Her, and it will do so by devouring Her children one by one. It is a most difficult spirit, this one; likely it can only be driven out, as Jesus warns his disciples, "through prayer and fasting" (Mt 17:21; Mk 9:29). So fast, pray, and then say No to this spirit of unreason, and Yes to Truth, which alone can set us free from the slavery of sin (Jn 8:32). It is a simple thing, though it is difficult. It may cost us a lot. But the Truth is worth living for, even dying for.