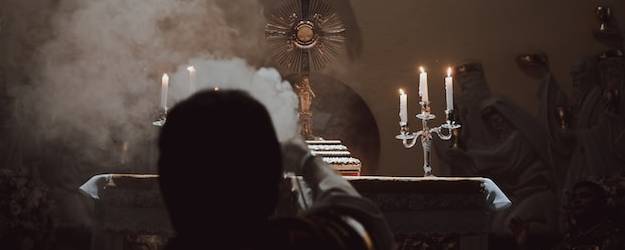 The following has been adapted from a homily preached by the Reverend Peter M. J. Stravinskas, Ph.D., S.T.D., during the Holy Hour to conclude a course on the Holy Eucharist on May 5, 2022, for students at Regis High School in New York City.
When I was a very young priest, I served as administrator of a high school quite lacking in the most important elements of a Catholic school; it was my task to address those deficiencies, among which was that the school had never offered any retreats or days of recollection in its entire history! Within a month of the opening of school, I scheduled an afternoon and evening of recollection for the freshman class, ending with a Holy Hour. During Benediction, I thought I heard the two servers holding back some tears. In the sacristy, I asked the fellows what brought on that reaction. At first, in very "macho" fashion, they denied that they were on the verge of tears but eventually one of them said, "Father, I have never felt so close to Jesus in my life." He and — as I discovered — most of his classmates had never experienced Exposition and Benediction of the Blessed Sacrament.
Let's highlight some final points for reflection.
In the aftermath of the liturgical changes of the post-Vatican II era (many of which were never called for or even envisioned by the Council Fathers), I observed a slow but sure slide into what might be called "Eucharistic irreverence," instead of the "Eucharistic amazement" which St. John Paul II urged upon us — and this suggests the lack of a proper understanding of the Holy Eucharist.
And so, in 1992, I enlisted the services of George Gallup to conduct a national poll to ask Catholics: "Which of the following statements about Holy Communion do you think best reflects your belief?" Only 30% of the respondents chose the first option: "When receiving Holy Communion, you are really receiving the Body and Blood, Soul, and Divinity of the Lord Jesus Christ, under the appearance of bread and wine." Twenty-nine percent indicated "you are receiving bread and wine, which symbolize the spirit and teachings of Jesus and in so doing are expressing your attachment to His person and words." Twenty-four percent believed that "you are receiving the Body and Blood of Christ, which has become that because of your personal belief." Ten percent said, "You are receiving bread and wine, in which Jesus is really and truly present." Finally, 8% said, "None of the above"; "Don't know"; or they refused to answer.
In 1994, the New York Times ran a similar survey. In 2020, the Pew Research Center revisited the issue. Both came out with exactly the same results. In other words, over a 28-year period, we have less than one-third of Catholics who attend Holy Mass on a regular basis who believe the full truth regarding the Holy Eucharist. The Pew study set off alarm bells all over the Church. Last year, the bishops of our country produced a pastoral letter on the Blessed Sacrament and called for a "Eucharistic revival."
What have I been getting at? Let me bring to my side none other than the great English convert of the nineteenth century, St. John Henry Cardinal Newman. As an Anglican clergyman, in 1836, he reproached his congregation at Oxford in these words:
To believe and not to revere, to worship familiarly and at one's ease, is an anomaly and a prodigy unknown even to false religions, to say nothing of the true one. . . . . Worship, forms of worship — such as bowing the knee, taking off the shoes, keeping silence, a prescribed dress and the like — are considered as necessary for a due approach to God.1
Cardinal Newman was calling for a spirit of reverence in the presence of "the holy."
The famous American convert to the Catholic Faith, Thomas Merton, at once an accomplished author and Trappist monk, describes in his autobiography, The Seven Storey Mountain, his First Holy Communion, interestingly enough, at Corpus Christi Church, but a few blocks from Columbia University. As I share his reflections, think back on your own first encounter with the Jesus who deigns and desires to come to us under the forms of bread and wine. Merton puts it thus:
I saw the raised Host — the silence and simplicity with which Christ once again triumphed, raised up, drawing all things to Himself – drawing me to Himself. . . . I was the only one at the altar rail. Heaven was entirely mine – that Heaven in which sharing makes no division or diminution. But this solitariness was a kind of reminder of the singleness with which this Christ, hidden in the small Host, was giving Himself for me, and to me, and, with Himself, the entire Godhead and Trinity — a great new increase of the power and grasp of their indwelling that had begun [in me] only a few minutes before at the [baptismal] font . . . . In the Temple of God that I had just become, the One Eternal and Pure Sacrifice was offered up to the God dwelling in me: The sacrifice of God to God, and me sacrificed together with God, incorporated in His incarnation. Christ born in me, a new Bethlehem, and sacrificed in me, His new Calvary, and risen in me: Offering me to the Father, in Himself, asking the Father, my Father and His, to receive me into His infinite and special love. . . .
What magnificent thoughts. Most of us could not fashion the words in so poetic and powerful a way, an experience of one's First Holy Communion that would have been rather commonly shared until forty or so years ago. I still recall with devotion and emotion that momentous occasion in my life in 1957, kneeling at the altar rail of St. Rose's Church in Newark. I can yet remember even the exact spot where I knelt at that rail and how the months of study and preparation seemed as nothing in the awareness that the God who had created both me and the universe was now coming to dwell within me in a new and wondrous manner. Having been baptized into Christ's Body, the Church, which is likewise His Bride, I was now being brought into a union even more close and more intimate than that of marriage: Through the Eucharist, Jesus and I would become one.
How I trembled at the prospect for which I had waited so long, not from fear (because I was never trained to relate to God in that way) but from love and joy. The priest was only two children away from me, now one. Finally, he stood before me and, signing me with the Sacred Host, prayed, "Corpus Domini nostri Jesu Christi custodiat animam tuam in vitam æternam" (May the Body of our Lord Jesus Christ preserve your soul unto life eternal). As I opened my mouth and pillowed Christ on my tongue, I knew I was entering upon a new mode of existence, destined for life eternal. We all need to recapture that enthusiasm, that innocence, that faith which brings us to appreciate precisely what the mystery of the Eucharist is in itself and for us.
Today, pondering the wondrous nature of the Blessed Sacrament of the Altar, we need one further consideration – the 2004 apostolic letter, Mane Nobiscum, Domine (Stay with Us, Lord), of Pope John Paul II, who took his inspiration for the text, the beautiful "Emmaus story," wherein the Risen Christ reveals Himself to two disspirited disciples, precisely in "the breaking of the bread." It was with this document that he inaugurated the "Year of the Eucharist" for the Church Universal. Therein, he reminds us that in his encyclical, Ecclesia de Eucharistia, he underscored the need for "all the faithful to celebrate the Eucharistic sacrifice with due reverence, offering to Jesus present in the Eucharist, both within and outside Mass, the worship demanded by so great a Mystery" (n. 10).
Yet again, he teaches:
Faith demands that we approach the Eucharist fully aware that we are approaching Christ himself. It is precisely his presence which gives the other aspects of the Eucharist — as meal, as memorial of the Paschal Mystery, as eschatological anticipation — a significance which goes far beyond mere symbolism. The Eucharist is a mystery of presence, the perfect fulfilment of Jesus' promise to remain with us until the end of the world. (n. 16)
In a striking image, the sainted Pontiff wants us to regard "the presence of Jesus in the tabernacle [as] a kind of magnetic pole attracting an ever greater number of souls enamoured of him, ready to wait patiently to hear his voice and, as it were, to sense the beating of his heart" (n. 18). He then urges us: "This year let us also celebrate with particular devotion the Solemnity of Corpus Christi, with its traditional procession. Our faith in the God who took flesh in order to become our companion along the way needs to be everywhere proclaimed, especially in our streets and homes, as an expression of our grateful love and as an inexhaustible source of blessings" (n. 18). We do so today, in loving obedience to his plea.
His final request – we could say the last will and testament of the Pope — has particular relevance for the Church in the United States as we (hopefully) participate in the "Eucharistic revival":
O Sacrum Convivium, in quo Christus sumitur! The Year of the Eucharist has its source in the amazement with which the Church contemplates this great Mystery. It is an amazement which I myself constantly experience. It prompted my Encyclical Ecclesia de Eucharistia. As I look forward to the twenty-seventh year of my Petrine ministry, I consider it a great grace to be able to call the whole Church to contemplate, praise, and adore in a special way this ineffable Sacrament. May the Year of the Eucharist be for everyone a precious opportunity to grow in awareness of the incomparable treasure which Christ has entrusted to his Church. May it encourage a more lively and fervent celebration of the Eucharist, leading to a Christian life transformed by love. (n. 29)
A great way to share with others what you have received would be to ask your pastors at home to highlight the Solemnity of Corpus Christi with an afternoon of adoration, the traditional outdoor procession, and Benediction of the Blessed Sacrament.
Preaching for the feast of Corpus Christi in 1856, little more than a decade after his conversion, Cardinal Newman made this bold statement to his Catholic congregation:
There is no feast, no season in the whole year which is so intimately connected with our religious life, or shows more wonderfully what Christianity is, as that which we are now celebrating. There is a point of view in which this doctrine [of the Body and Blood of Christ] is nearer to our religious life than any other.

We are brought into the unseen world.

How almighty love and wisdom has met this. He has met this by living among us with a continual presence. He is not past, He is present now. And though He is not seen, He is here. The same God who walked the water, who did miracles, etc., is in the Tabernacle. We come before Him, we speak to Him just as He was spoken to 1800 years ago, etc.

This [is] how He counteracts time and the world. It [the Blessed Sacrament] is not past, it is not away. It is this that makes devotion in lives. It is the life of our religion. We are brought into the unseen world.2
What an exhilarating thought: "We are brought into the unseen world."
Finally, I would like to challenge you to become "apostles for the Eucharist." I am sure you have heard of Blessed Carlo Acutis, an Italian youth who died from leukemia at the tender age of fifteen. In his short life, however, he had become so enamored of the Holy Eucharist that he (a computer geek at eleven) gathered together all the sites of Eucharistic miracles, in order to bring everyone in his sphere of influence to have the same love and devotion to the Blessed Sacrament that he had.
Interestingly, he did not come from a very religious home; rather, he evangelized his parents due to his own Catholic education. He brought to his side youthful patrons like the child-visionaries of Fatima, Dominic Savio, Tarcisius, and Bernadette. When he developed leukemia, he said he did not want his suffering to go to waste and very manfully declared: "I offer to the Lord the sufferings that I will have to undergo for the Pope (Benedict XVI) and for the Catholic Church." He asked his parents to bring him to as many shrines connected with Eucharistic miracles as possible, but that was not to be since his illness was so debilitating. Rather, on October 10, 2006 (the year that some of you were born perhaps), he died. In that moment, the veils were removed and he beheld, face to face, the One whom he had worshiped here on earth merely in sacramental sign. His relics have been brought around our country, visiting in particular Catholic schools (that pilgrimage actually began in the Diocese of Brooklyn last year).
Yes, we need youthful "apostles of the Eucharist." Keep in your minds and hearts these few lines from Sacred Scripture:
"Stay with us, Lord." (Lk 24:29)
"Behold, I stand at the door and knock; if any one hears my voice and opens the door, I will come in to him and eat with him, and he with me." (Rev 3:20)
"Come, Lord Jesus." (Rev 22:20 )
And take to heart this observation of an Evangelical minister, "If I believed about the Eucharist what you Catholics claim to believe, I would have to crawl up the center aisle on my belly to receive!" Are you willing to take up that gauntlet?