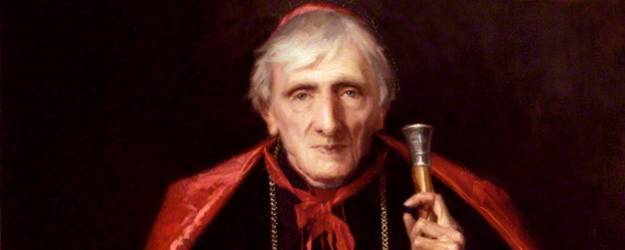 On October 13, 2019, the Church canonized John Henry Newman, the great nineteenth-century convert from Anglicanism to the Catholic Church. Newman's canonization is a gift from God to a Church that is in need of the wisdom contained in his writings. The trials that we face today are different from those that confronted Newman. Nonetheless, his writings have much to say about how to respond to abuses of trust and power, to the pressures of life within a secular world, and to more besides. This article is intended as an encouragement to draw on the treasure trove that is present in his sermons, lectures, speeches, tracts, articles, discourses and books. Newman's words are freely available to all.1 It is hard to describe the power that his words have to move the heart and the mind.
Every one to his own way
Toward the end of his life, Newman claimed that he had spent a good fifty years resisting "the spirit of liberalism in religion," that is, the view "that there is no positive truth in religion but that one creed is as good as another." In his discourse on Faith and Private Judgment, Newman suggested that those outside the Church "do not believe even their own religions; they do not believe in anything at all."2 He noted that what is held out for belief is in significant part a construction for other ends. Ours is an age characterized by the advancement of selective interests with little concern for what is true, whether these interests are advanced through laws and regulations, in classrooms and board rooms, through private conversations, via social media and so on. The presence of a child in the womb or the existence of a marriage, for instance, is denied in order to allow selfishness to flourish.
There is a vast difference, though, between the truth as something that we construct at will and the truth as an unchanging reality that we perceive, and to which we submit. In this above discourse, Newman went on to say, "In the Apostles' days the peculiarity of faith was submission to a living authority; this is what made it so distinctive; this is what made it an act of submission at all; this is what destroyed private judgment in matters of religion."
Newman asked whether faith had changed its meaning since the day of the Apostles. We can go further back, though, and ask whether faith has changed its meaning since Christ's day. The same Greek word, pisteuó, is used by Christ in John 20:29 to indicate the belief of the disciples and the belief of those who have never seen Christ. Christ remains the living authority for all ages, present as he is with us until the end of time. In his sermon The Spiritual Presence of Christ in the Church, Newman is clear that we possess the presence of Christ even more than the Apostles did before Christ's death.3 And Newman reminds us in his sermon The Strictness of the Law of Christ that submission to God is possible only by living under the power of God's presence.4 We can accept what is true, and give a priority to the good of a child, husband or wife, only in so far as we encounter Christ.
Newman, nonetheless, would not have been surprised at liberalism findings its way into the heart of the Church, threatening the unity of its faithful. His work An Essay on the Development of Christian Doctrine identifies a clear tendency for heresy to lead to division — this book is one of the most accessible of all Newman's writings, partly given that it offers a history of the early centuries of the Church.5 In his tract entitled Causes of the Rise and Successes of Arianism, meanwhile, he offers a compelling analysis of the spread of Arianism during the fourth century, a heresy that for a time affected a large majority of the world's bishops.6 The presbyter, Arius, had held that Jesus was a creature who had been begotten by God as his son at a particular point in time. Newman was clear in this tract that even Pope Liberius had been unable to save himself "from the imputation of subscribing a Semi-Arian confession."
Abuses within the Church
Newman often looked to dispel motives that non-Catholics might possess that would lead them away from converting to the Catholic Church. In his lecture The Religious State of Catholic Countries No Prejudice to the Sanctity of the Church, he addressed the view that immorality, superstitions, mechanical actions and abuses on the part of Catholics provide reasons to despise the Church.7 He argued that it is possible (if, of course, not desirable) to have faith without love, contrasting this with a Protestant position in which faith is seen to be counterfeit if it is not accompanied by something else, such as a fervor or an obedience to the moral demands of the law. He contrasted this with a Catholic view of faith as a "spiritual sight of the unseen," sight that one can chose to act upon or not.
Unfortunately, Catholics today in many countries would benefit from hearing this lecture, to guard us from abandoning the faith in light of the abuses carried out by priests and bishops, and in light of the inadequate response to those abuses on the part of many of those in responsibility within the Church. We, too, need to appreciate that truth may be present without love. Furthermore, in his discourse Men, not Angels, the Priests of the Gospel, Newman sought to dispel the view that priests "must surely be Angels . . . without sin," reminding us that God "sent forth your brethren to you, not beings of some unknown nature and some strange blood, but of your own bone and your own flesh, to preach to you."8
Living within secular societies
In his speech when he accepted his appointment as a cardinal, Newman noted the following:
"Hitherto the civil power has been Christian. Even in countries separated from the Church, as in my own, the dictum was in force, when I was young, that: 'Christianity was the law of the land.' Now, everywhere that goodly framework of society, which is the creation of Christianity, is throwing off Christianity."9
Christians who are faithful do now find themselves in a minority in our societies. There are challenges when norms that are accepted in society at large conflict with what we know to be true. Speaking up about the actual impossibility of changing one's gender might well not be something that is easy to do. Pressures can be intense where Christians work among secular colleagues — only the strength that comes directly from a keen awareness of Christ's presence can enable someone to bear an injustice patiently or to act for the good of an enemy. And what of the situation where Christian parishes, schools and other institutions employ those without Christian commitments? There may well be reason to take advantage of secular employment law when moral conflicts arise between the life or behavior of an employee and the teaching of the Church, and to terminate someone's employment. Such a response, though, can never be enough on its own — what is also needed is an exercise of charity toward the person in question that has the power to take one's breath away. Christ is present not simply as a living authority underpinning moral norms. He is also present within our own hearts and in the persons of those present before us, especially those in need in some way.
Conclusion
In his sermon Christ Manifested in Remembrance, Newman claimed, "It needs very little study of history to prove . . . how little schism and divisions and disorders and troubles and fears and persecutions and scatterings and threatenings interfere with the glory of Christ Mystical, as looked upon afterwards, though at the time they almost hid it."10 The writings of Newman display a keen confidence in divine providence. Let us take heart: "Christianity has been too often in what seemed deadly peril, that we should fear for it any new trial now. Commonly the Church has nothing more to do than to go on in her own proper duties, in confidence and peace; to stand still and to see the salvation of God."11