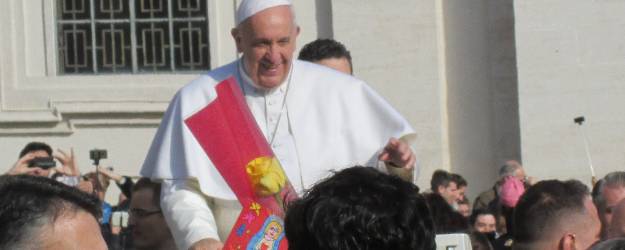 Pope Francis' recent comments on "civil arrangement/union" for same-sex couples have caused concern among many across the world. Several Catholic bishops, archbishops and even a few cardinals have not minced words in their criticism. Even some Orthodox Patriarchs have distanced themselves from Pope Francis. Many claim that Pope Francis is leading his flock astray! Would this really be true?
As a catechist who works with adults (including college students and young professionals), who also follows the Holy Father carefully, I believe some clarity could be offered, which might aid the pastors of our Church. Importantly, given that Homiletic and Pastoral Review aims at addressing pressing pastoral issues in the Church's life and mission, a perspective of the sort given here may aid pastors in the U.S., and their brothers in faith in the rest of the world.
I believe making pastoral sense of Pope Francis' "civil agreement" proposal requires two simultaneous moves: (i) paying attention to Pope Francis' message and his intent, and (ii) staying true to the Church's tradition and teaching. Needless to say, the Pope too would like us to do the same!
Pope Francis, his orthodoxy, his mercy-orthopraxy
The Pope has iterated several times in the past the universal call to holiness, consistent with the teachings of the Second Vatican Council. Even in his apostolic exhortation, he clarifies that "growth in holiness is a journey in a community, side by side with others."1 The "other" is everyone – but especially the "least" (cf., Matthew 25) which must include those in the margins. When we pay attention to the other, to the least — to his or her pain and unique sufferings — only then are we able to offer healing, and in so doing, we too grow in love and holiness. This is why pastoral function is so central to the vibrancy and spiritual richness of the Church.
Inspired by Franciscan ideals, an essential feature of his papacy, Pope Francis tends to pay attention to what is being spoken, especially by the minority groups, across the Church and the world. He is a pastor who believes that dialogue and listening is essential to building bridges and fostering a sympathetic because mutual understanding. If anything, this is one of the central messages in his recent encyclical, the very thoughtful Fratelli Tutti.2
While Pope Francis maintains orthodoxy, he also values orthopraxis — particularly in the implementation of laws in a spirit of mercy. His teachings are geared towards a clear vision, aimed at creating a society that freely chooses Christ and his ways. Like Christ, he too wishes that people choose their paths, not through coercion, but by paying attention to the call of God. Christ never forces but always teaches so we can hear the Father's voice clearly and internalize his ways, his commands, internally as a vocation. In that sense, the Church has always been an advocate of the "primacy of conscience," a key Catholic teaching, which draws upon the dignity of the human person.3
In the post-synodal apostolic exhortation, Amoris Laetitia, Pope Francis has clearly and unequivocally turned down the suggestion of same-sex union as being equal to marriage in the eyes of the Church. However, about families having homosexual members, he states: "Such families should be given respectful pastoral guidance, so that those who manifest a homosexual orientation can receive the assistance they need to understand and fully carry out God's will in their lives."4
The key to Pope Francis' approach is to create pastoral conditions wherein an un-coerced, well-formed conscience comes about among those who are same-sex attracted and their family members. He is not interested in adding encumbrance through legal or governmental oversight on people who are same-sex attracted. He would rather have people with a homosexual orientation accept Church teachings, through their own personal journey of faith and spiritual maturation.
Preferential option for those in the margins: a guiding principle
Many have characterized Pope Francis as a very pastorally minded person. They are right — for his approach is consistently care-oriented and therapeutic. His approach to people, especially those who are poor and those in the margins, comes from his desire to offer healing to the world. This is in keeping with the tradition of the Church, wherein it is understood that sanctity can indeed be rightfully pursued through mercy.5
In fact this is how one may even interpret his encouragement to Sister Monica of Argentina, who works with transgender people towards their rehabilitation and employment.6 In the Holy Father's way of thinking here, it is only right to first address the basic and psychological needs of, say, employment, physical safety, security, affection, and integrity of families (including those families that have members who identify as sexual minorities). Once these essential needs are addressed, the Holy Father hopes a secure environment wherein higher calls can be fostered and thus heard rather clearly by the faithful. He is trying to create a stage of charity whereupon the voice of the Church can be heard more clearly and convincingly.7 This, in due course, would likely yield a well-formed conscience, wherein the person will have the opportunity to discern clearly and draw closer to the mind of the Church and thus to the mind of Christ, as they are one and the same. It is in this situation that the person with same-sex attraction can move towards life-altering decisions, such as a free choice of celibacy (perhaps even consecration) as a way of life.
Focus on the human person and primacy of conscience
We have seen that Pope Francis is a pastor — first and foremost. He responds to suffering with immediacy when he sees it. It is after and during healing that he wishes for people to pay heed and listen, so that they may, through the freedom of their conscience, follow Christ and his teachings as expressed in and through his Church on earth.
In Pope Francis, we see a pastor who understands the Church's requirement of celibacy from homosexual persons. On the other hand, he also sees the reality wherein same-sex individuals often find their lives or physical safety or integrity threatened by laws in their own countries or their own societies. In the meanwhile, it is also well known that many are currently unprepared to take on a vow of celibacy or live a life of perpetual continence. He also understands the alienation, isolation, and even rejection from families that people with same-sex attraction and their partners face. The negative psychological and harsh social implications for homosexual people who find themselves in these conditions are well known among caregiving professionals.
It is only reasonable to then conjecture that following Pope Francis' advice, once their essential safety and psychological needs and their dignity is ensured through civil structure; out of their own free will and conviction, many in same-sex unions and those who are homosexual (for that matter, those who are sexual minorities) would turn to the Church. Some would then get the psychological and spiritual maturity to live a life of celibacy and perhaps even consecrate themselves (privately or with their bishop).
Setting the context right, by first healing the wounds, and lifting structures that cause fear and isolation among sexual minorities is only reasonable at the moment. This way, in a secure environment, Church teaching can be more clearly heard and internalized; conscience could then be freely ordered, and personal will could be exercised in freedom.
Law of gradualness in pastoral practice
In addition to the primacy of conscience, to make sense of what is proposed by Pope Francis would also require an appreciation of the "law of gradualness" — a pastoral principle. To begin with, we may clarify that "what is known as 'the law of gradualness' or step-by-step advance cannot be identified with 'gradualness of the law,' as if there were different degrees or forms of precept in God's law for different individuals and situations."8
While truth remains objective and unchanging, the Church, as a fundamentally pastoral body also knows that arriving at the truth and the "mind of the Church" is truly a pilgrim journey. In fact every human being (except Christ and the Blessed Mother, of course) would need to go through a process to form a well-ordered conscience. None of us are born saints but are on our way, slowly and gradually. Hence the Church has always allowed a certain freedom, and even ensured this "space," in the hope that people may choose Catholic teaching through a genuine interior growth and exercise of free will.
Freedom for personal growth, healing and positive integration, made available through provision of basic psychological, social and family needs holds the key to pastoral care of homosexual persons. The processes involved are inevitably gradual; in the meantime provision of essential support is essential. It is this that Pope Francis' proposal offers. He does not wish to see same-sex couples rendered vulnerable or see them coerced into accepting separation or life-long continence. As they heal, and experience interior growth, some of them will freely adopt Church teachings — when their psyche and conscience are ready for it. The Church in the meanwhile will remain the mother of all faithful who edifies through care and perennial teaching — not relying on coercion, but relying rather on patience, healing and love for one and all. An unencumbered and supportive overall environment will only aid Church teachings' eventual acceptance as a truly viable option, for those who turn to her. This would be true of people who are same-sex attracted too.
Conclusion
To understand Pope Francis' recent message, we ought to remember that he is a pastor first. Following the footsteps of Christ and his beloved name sake St. Francis of Assisi, he cares for wounds and inequities — here and now, on an urgent basis. He has demonstrated consistently that he stands for justice and truth simultaneously, and he also firmly believes in the evangelical value of Church's teachings.
Given his recent proposal on allowing "civil agreements" among same-sex couples, it is clear that Pope Francis understands that in many parts of the globe the prevailing legal, societal or familial strictures does not aid the safety or psychological well being or the social integration of same-sex couples, and related groups of people. This causes profound harm, as is well known to those in caring professions.
It is with this context in mind that Pope Francis speaks with conviction about the value of having essential safety-related, and psychological and social, needs met, even if it means having legal structures such as "civil agreements" in place. It must be noted, however, that this is an arrangement which he himself in Amoris Laetitia clarifies as being unequal to sacramental marriage. He knows that once the wounds and inequities are addressed, the energizing and evangelical power of Church teachings will eventually come through effectively, and reach the hearts and minds of all people, especially those who feel their lives do not matter much.
It is ultimately in the hearts of people, rendered truly secure and emotionally and spiritually well-integrated, that Church teaching will find both understanding and whole-hearted acceptance. In the prevailing situation however, there exist several impediments to such positive integration among people with same-sex attraction. The Pope's proposal comes from this standpoint. He is thus attempting to balance orthodoxy and what can rightfully be considered a mercy-orthopraxy, while holding onto the Catholic principles of "primacy of conscience" and trusting the power of the pastoral "law of gradualness" in this context.