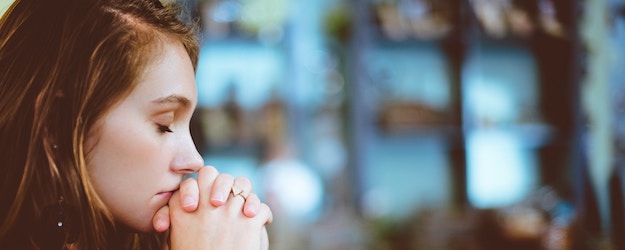 In the fall of 2014, I got on a train to enter the convent. I was happy and healthy, with an intact family, great friends, a list of accomplishments I was proud of, and no history of mental health trouble, having passed my psychological evaluation with scarcely a blip. Ten months later, I discerned to leave. I reentered the world anguished and spiritually disoriented, with almost no clothes, no phone, no computer, no money, no prospects, and most of my relationships in a state of serious disruption.
I hoped that within a year or so I would be back to my old self, but it wasn't to be. I spent the next not one, not two, but three years battling anxiety and depression. I struggled to find a job. I would have spells of nausea and faintness that would send me to the couch for hours at a time. For long stretches I was unable to go a day without crying. On good days I could make it to 8 or 9 p.m. before breaking down; on bad days I would have to excuse myself at 3 o'clock in the afternoon. As time went on, I started to think "I should be better by now." I believed there was something wrong with me for having such an extreme response, and I was afraid to tell anyone how bad it really was.
It wasn't until a few years passed and I started to speak to other women who had discerned out of the convent that I realized I was far from the only one. A little digging on the internet provided me with still more proof. Leaving the convent can be an extraordinarily painful experience, and it didn't seem like the average priest or layperson had any idea.
My intention for this article is not to guilt trip or to play the victim. I simply hope to draw our attention to an area requiring a unique kind of pastoral care. Women have been leaving the convent since the Church's earliest days, there are more of these women out there right now than you may think, and they will continue leaving the convent for years to come. It is a natural and necessary part of the discernment process. My hope is that, through sharing my own experience, as well as through sharing some of the research I have discovered, that I will shed some light on the truth: that, for very real psychological reasons, the experience of leaving the convent is much more complicated and difficult than, say, leaving a job, a school, or even a boyfriend. I also hope to provide enough achievable, concrete suggestions that spiritual directors, confessors, counselors, and mentors of women who have left the convent will feel a little more equipped to point them in the right direction.
The Science
Statistically, about one in two women who enter the convent will discern to leave before making their final vows. This means that for every beautiful and happy nun you see walking around, there is at least one woman out there who weathered the transition out of the convent. Studies show that women's experiences of this transition vary widely. Some don't have trouble with it at all. Some, however, experience it as a downright trauma and, depending on various factors, may respond with such drastic behaviors as descending into addiction and risky activity, leaving the Church, or even contemplating suicide. Lest this sound a little rare or outlying to you, I myself can personally name someone who responded in each of these ways.
Jennifer Muñoz, in a recent doctoral dissertation through the Institute for Psychological Sciences (now Divine Mercy University), explored this phenomenon. While she had difficulty pinning down numbers, she concluded that the number of women who experience exiting the convent as a trauma is not negligible. She also suggested that the nature of this trauma is most akin to that of losing a spouse or getting a divorce. It makes sense: the religious life, after all, is fundamentally an espousal to Christ. If a woman has begun to enter into this reality emotionally, you would expect the break from relating to Christ in this way to be correspondingly painful.
Intense emotional and behavioral responses are also not just something that affects the so-called fragile millennials. Muñoz's research clearly shows that they have occurred consistently across all age groups, both before and after Vatican II.
In my own case, when I finally had the money and the access to a Catholic counselor that I needed, I began meeting with one, and immediately began to make marked progress. But he, too, as an ordinary layman, had little experience with convent life. When I began to describe all of the transitions that go into adjusting to life outside the convent, he said, "I've never even thought about that before." But his instincts were good. He began pulling from his experience with people suffering divorce, returning members of the military, and people suffering PTSD after growing up in the inner city (my convent had been in the inner city, and this had played into my anxiety). He immediately called my experience what it was — a trauma — and set to work helping me. It was still a long journey, and sometimes I still don't feel totally back to my old self, but I am happy to say that my depression is gone, my anxiety attacks are few and far between, and I am still an enthusiastic and practicing Catholic.
Holes in Current Pastoral Care
Along the way, I had no shortage of caring — I would even say saintly — priests who were willing to offer me a listening ear (something I am by no means discounting). The problem was that they were simply unequipped to give me any usable advice, and sometimes when they tried, it only made things worse.
In one case, my anxiety attacks were becoming more regular, and I said to a priest who was well acquainted with my situation, "I think I might have a problem." "I don't think so," he said, shutting me down quite confidently, and I could tell he thought I was exaggerating, fishing for pity, or else just being overly sensitive. In another case, I distressedly told a priest similarly acquainted with my journey that I felt like I couldn't be joyful. He responded, "Well even in Auschwitz . . ." He trailed off, but he was obviously suggesting I should be more like Maximillian Kolbe, who found supernatural ways to sustain joy under even the worst conditions of duress. In both cases, the priests failed to recognize that what I was experiencing was a psychological phenomenon beyond the immediate control of my will, that it was a fairly common experience, and that it lay beyond the scope of their expertise to fully treat. These were good priests — priests who love their priesthood, live deep lives of prayer, and lay themselves down in heroic service on a daily basis. Like my counselor, they simply hadn't ever thought about all the implications of leaving a convent, and it didn't add up to them that I was suffering in the ways that I claimed to be. I argue that we as a Church need to invest some time and energy into equipping them for this very situation. As more women enter convents, more will discern out, leaving them in need of knowledgeable pastoral care.
Arguments for Investing in
Women Who Have Left Convents
If the fact that women who have left the convent are still daughters of God, infinitely loved and worthy just because they are, and that exercising compassion toward the suffering is a humane thing to do and part and parcel to the Gospel — even if these were not reason enough why we should extend conscientious pastoral care to women who have left the convent, there are also some very good practical reasons. They have received deep formation not readily available to most laypeople. They have spent significant time in prayer, and their knowledge, gifts, and spiritual preparation make them an enormous asset to the Church's mission of evangelization and service.
One woman I know who spent three years in religious life, after going back to school, went on to write materials for a young women's spiritual mentoring program, and later became a diocesan marriage prep coordinator. She said of her convent experience, "Religious life gave me a deep appreciation of the value of formation, and I've brought that experience to my ministry work with both teens and couples. . . . People are actually thirsting for this formation."
Another woman I know also spent about two and a half years in religious formation with a teaching order before discerning to leave for health reasons, and she now exercises ministry by teaching in a bilingual school in Texas. She has been vocal in speaking up for the dignity of the immigrant during this difficult moment in our nation, as well as active in helping to solicit humanitarian aid for the border. She says of her convent experience, "I will always carry a piece of the convent and their charism in my heart, and the way I live, love, and teach is better because of it."
I myself caught the bug of evangelization during my time in the convent, and afterward I discharged that passion through getting involved with a project to found a first-of-its-kind parish missionary program in my home diocese. While the program was ultimately unable to sustain itself due to recruitment issues, my convent formation supplied me with tools for community living that proved vital to keeping the household together. My fellow missionaries and I succeeded in founding a women's ministry that provides spiritual nourishment and fellowship for women to this day, and it later gave rise to a parallel men's ministry.
All of our convent formation has borne great fruit in the Church, but it wouldn't have if we had ended up in the unfortunately well-populated category of former religious and seminarians who leave the Church.
A Few Concrete Suggestions
As I said above, I did not intend this article to be a guilt trip for busy priests who already feel overwhelmed by the demands they face every day. I also do not have illusions that my singular experience or research make me an expert on this issue. I simply hope to offer my own testimony, and to suggest that the phenomenon of women having trauma-like reactions to the experience of leaving the convent is real, it's not marginal, and it's in our interest to address. I also want to emphasize that addressing it is highly doable, so here are a few practical things that could help.
Priests and others responsible for the care of souls can educate themselves and others on the fact that trauma-like reactions to leaving the convent are fairly common. If a priest meets a woman who has recently left the convent, he can be sure that she is in a spiritually and emotionally vulnerable state, and that a little TLC would not be amiss. She may not want to have a heart-to-heart chat about it right away, but he can at least bear her situation in mind when, say, greeting her at Mass or hearing her confessions. And if at any point he recognizes that she is having a seemingly disproportionate response to leaving the convent and suggests that she talk to a mental health professional, his words can have great power in giving the woman the encouragement she needs to seek help, and can head off years of needless suffering or even the loss of her soul. This recognition can also stop him short of doing further damage, either by minimizing the situation, moralizing the woman's emotions, or dismissing her experience outright. (Incidentally, this goes for all of the various traumas that are becoming more and more common in our society — divorce, abuse, addiction, etc.)
Counselors can avail themselves of Jennifer Muñoz's research, and even consider offering free sessions to women who have left the convent. There is a ragtag little ministry for women who have left the convent called Leonie's Longing. Several women I have spoken to have found the Leonie's Longing blog to be an incomparable comfort during the time of their transition. Leonie's Longing also purports to offer three free sessions of phone counseling to women in need who cannot afford to pay. About a year and a half into my anxiety and depression, when I was starting to think that maybe it wasn't going to go away on its own, I reached out to Leonie's Longing and asked to be connected to their counselor. The problem? The counselor was not licensed to serve clients outside of her home state. If you are a counselor capable of supplying phone or tele-counseling and you feel so moved, offering your services through Leonie's Longing can be a very concrete way of serving women who are suffering after leaving the convent. Additionally, you can educate yourself through reading the research of Muñoz and others like her so that you will not have to fumble around in the dark once you begin.
Those involved in formation — of priests, religious, and even laypeople — can begin to talk about this phenomenon in national forums. This is an issue we need to talk about. Perhaps we are afraid that if we admit that leaving the convent is as hard as it is, people will be less inclined to enter. On the contrary, I believe that if we talk about it, talk will lead to action — to the conscientious care and support of women as they transition out of the convent — and it will ultimately strengthen vocations initiatives. Women will be more inclined to enter if they know they will be supported even if they discern to leave. But when I was discerning, people often said things like, "Try it, and if you don't like it, you can always leave," as if leaving were quick, easy, and emotionally uninvolved. But this is not reality. Everyone ultimately benefits when a person finds his or her vocation, whether as a priest or religious or not. There is no reason why priests and religious cannot coordinate to make sure women are accompanied at every stage of their transition out of the convent.
Catholic writers and bloggers can do their part, too. Dr. Randall B. Smith made a great start in his 2017 article for Catholic World Report, in which he discussed the ways that seminaries and religious orders could soften the transition on their end, and laypeople could think differently about the vocations of the men and women they receive back into their ranks. Incidentally, that article fell into the hands of my counselor right as I was beginning to work with him, and when he passed it on to me, just the knowledge that someone out there was seeing this issue was a consolation. Doing the legwork of collecting data and telling women's stories can serve as a great engine to move the Church in a direction of more effective pastoral care.
The Bottom Line
There are many legitimate reasons why women who have left the convent fall through the cracks. Religious orders, when a woman transitions out, must often cut ties with her for the sake of preventing both her and the women who remain from experiencing the pain of separation again and again. Parish priests often don't even know when a woman in this position has entered their parish. My hope is that by raising this issue and by naming it in unambiguous terms, everyone involved will recognize a little better what's at stake and begin to think proactively about where they can take responsibility for closing the gap in pastoral care, retaining these uniquely formed and gifted individuals, and administering to them the balm of healing that the Lord so longs to give.