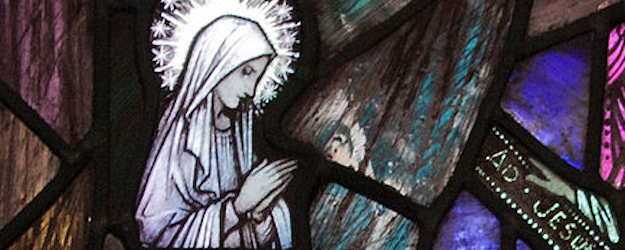 What could it mean that the Blessed Virgin Mary, appearing in Northern Indiana, USA, on September 25, 1956, in private revelation to Sister Mary Ephrem, CPpS, "promised that greater miracles than those granted at Lourdes and Fatima would be granted here in America, the United States in particular, if we would do as She desires"? How is it that the Blessed Mother when she appeared the very next day as "Our Lady of America" could promise "miracles of grace" through the power of the intercession of her Heart with the Heart of her Son? What is it that the Immaculate Virgin Mother desires? An initial part of the answer entails an understanding of the messages from Our Lady of America and their content.1 These include the following statements from the day when she first appeared as Our Lady of America when she gave the answer in terms of grace: "I promise to reward their love by working through the power of my Son's Heart and my Immaculate Heart miracles of grace among them I do not promise miracles of the body, but of the soul."
Specifically, Our Lady of America wants to obtain for us particular spiritual benefits, including the infusion of the virtue of purity.2 She first expressed this desire to the visionary nun on the next day when she originally showed herself under the specific appearance as Our Lady of America:3 "I am Our Lady of America. I desire that my children honor Me, especially by the purity of their lives."
On the afternoon of that same day, the Blessed Mother spoke to the visionary emphasizing this point: her wish that the United States of America become the country dedicated to her purity: "The wonders I will work will be the wonders of the Soul. They must have faith and believe firmly in my love for them. I desire that they be the children of my Pure Heart. I desire, through my children of America, to further the cause of faith and purity among peoples and nations."
Furthermore, Our Lady of America made clear on September 27, 1956, how vast indeed the graces she is offering to obtain: "I desire to make the whole of America my shrine by making every heart accessible to the love of my Son." Therefore, it is through the grace of purity that the heart of every American can become "accessible to the love" of Jesus, i.e., to the bond of divine charity. Purity is a virtue. Virtues operate on the faculties or powers of the soul and are either humanly acquired or divinely infused.4 Furthermore, from the Gospel beatitudes, we know that:  "Blessed are the pure in heart, for they shall see God" (Mt 5:8). The phrase "pure in heart" refers to those who have attuned their intellects and wills to the demands of God's holiness, chiefly in three areas: charity; chastity or sexual rectitude; love of truth and orthodoxy of faith. There is a connection between purity of heart, of body, and of faith."5 Based on the content of her messages as Our Lady of America, it is obvious that the Blessed Mother seeks to engage this threefold connection.6 Therefore, this "seeing God" means the Christian faithful possessing the gift of charity, having within them "the fire of His love": in this life, having and recognizing the Divine Indwelling of the Most Holy Trinity; and, in the next life, enjoying the bond of perfection, communion with God, extended to the eternal reality of the beatific vision.
Purity of heart obviously overcomes the World, including its threefold concupiscence, and this virtue thus encompasses more than temperance and chastity; but, genital purity, avoiding what Saint John calls "the lust of the flesh" is certainly part of purity of heart.7 We know that Mary is concerned about this, because, as Our Lady of Fatima, she said to Jacinta shortly before she died in 1920: "More souls go to Hell because of sins of the flesh than for any other reason."8
So, what warrants our certainty of the reality that Her statements can yield for the Blessed Virgin Mary the expectation she expresses desiring for us? The answer is the wonders God has worked previously in salvation history, including those wonders brought through private revelation by Our Lady, coupled with an understanding of the doctrine of grace, gives us hopeful confidence that our response to Her request will yield the vast graces she desires.
For instance, evidently what occurred at Lourdes, France, in and around the Grotto of Massabielle after her appearance there holds some importance in understanding what the Blessed Mother Mary desires as Our Lady of America because initially she appeared in Northern Indiana as Our Lady of Lourdes when she also made specific reference to the miracles at Lourdes (and Fatima). This expectation of Our Lady becomes obvious when one understands how serenely potent each expression, each message, each statement of the Blessed Virgin Mary actually is. Her wishes and expectations, expressed as mere potency, can become highly efficacious realities when actuated by the response she requests.9
Take, for example, just one sentence which Our Lady stated to Bernadette Soubirous during the thirteenth apparition at the Grotto of Massabielle: "Go, tell the priests to come here in procession and build a chapel here." Consider the impact of the first nine words of that sentence, taken alone:  "Go, tell the priests to come here in procession." How many processions have occurred? How many millions of human persons have avidly participated in those processions?
So, her desires apparently relate to "miracles of grace" and these miracles occur when one responds to what Our Lady requests in Her messages and receives a spiritual cure, a moral healing, or another grace, as have thousands upon thousands at Lourdes. Literally, thousands of people have been morally and spiritually cured, and permanently converted, by responding to what Our Lady requested in two simple sentences which she declared to Saint Bernadette at Lourdes. Thus, Our Lady, solely because "she desires," she therefore can reasonably expect much for her children, in this case, when, if and as their bishops do as Our Lady of America requested.
But before we explore further these considerations about the vast intercessory power of the Blessed Virgin Mary in the economy of salvation, let us review what the Catholic theology teaches about "grace" so that we can better understand "miracles of grace." By understanding how the Church defines the dimensions, nature and scope of "grace" as a supernatural gift, we can better understand what Our Lady of America desires and expects to obtain from purity as a virtue, an infused habit, for her children. The Church distinguishes between "sanctifying grace" and "actual grace":
Sanctifying grace is an habitual gift, a stable and supernatural disposition that perfects the soul itself to enable it to live with God, to act by his love. Habitual grace, the permanent disposition to live and act in keeping with God's call, is distinguished from actual graces which refer to God's interventions, whether at the beginning of conversion or in the course of the work of sanctification.10
"Actual graces have three functions: to dispose the soul for the reception of the infused habits of sanctifying grace and the virtues, to actuate these infused habits, and to prevent their loss."11
Saint Thomas Aquinas and other Catholic theologians also distinguish grace as being "operating" or "cooperating" and "prevenient" or "subsequent". An "operating grace" is a divine help to a soul in which God is the sole mover. A "prevenient grace" is a grace which has an initiating effect on the will and healing by a unilateral gift from God. To the extent a particular sanctifying grace is "operating" or "prevenient" it has the effect, if you will, of God taking the initiative by "breaking the ice" with a soul so that it can both "cooperate" with and in, and enjoy, further grace "subsequent" to its initial infusion.12 An operating grace is similar to a prevenient (preventing) grace in that such a grace precedes or accompanies the free consent of the will in the performance of an act.13 An example of how the Church uses this terminology can be found in the Catechism of the Catholic Church §2670: "Every time we begin to pray to Jesus it is the Holy Spirit who draws us on the way of prayer by his prevenient grace."
As to the individual soul, as to each human person, this supernatural process always entails the infusion of grace which operates as an instantaneous action. Saint Thomas Aquinas, in his Summa Theologica states: "The entire justification of the ungodly consists as to its origin in the infusion of grace. For it is by grace that free-will is moved and sin is remitted. Now the infusion of grace takes place in an instant and without succession. . . . Therefore the justification of the ungodly by God takes place in an instant."14 In other words, as pure gift the Most Holy Trinity, through the intercession of the Blessed Virgin Mary, Mediatrix, can and does freely grant actual graces which alone initiate the conversion and healing of a sinner or a soul doing a good act without that soul doing anything at the outset, but having a receptive will.
The soul is free to respond or not to respond to this divine conversion initiative. Whenever the soul responds, that soul can embrace the healing as an habitual grace and enjoy a cooperating grace subsequent to the initial unilateral divine impulse. The Church recognizes that, in this work of the Most Holy Trinity, the Blessed Virgin Mary has a unique role as Mediatrix.15 Therefore, as Mediatrix we understand that the messages of Our Lady of America represent a fitting and proper discharge by the Blessed Mother of this office which she alone holds in the order of salvation.
So, the Church, in order to enjoy the graces of greater individual purity among the people of the United States of America, must have its bishops do what Our Lady of America asked more than 60 years ago. "On the morning of November 15, 1956, Our Lady taught me this little prayer."16 "Our Lady then asked me to draw a picture of her first appearance. She also requested a statue made according to this likeness and placed, after being solemnly carried in procession, in the Shrine of the Immaculate Conception in Washington, D.C. She wishes to be honored there in a special way as Our Lady of America, the Immaculate Virgin." Our Immaculate Virgin Mother clearly emphasized the primary role for the bishops of the U.S.A. in achieving her desires. In January 1957, she said: "Tell the Bishops of the United States, my loyal sons, of my desires and how I wish them to be carried out." "On February 23, 1959, Our Lady came to me and admonished me to work on the 'message' as soon as possible so that it might be placed in the hands of the Bishops who would be responsible for its fulfillment."
The only references in the messages of Our Lady of America to "the bishops" relate to only one specific request made by Our Lady in a single message which the bishops of the U.S. alone have the competence and authority to accomplish: the solemn procession and permanent placement of the statue of Our Lady of America alone is the one particular thing which Our Lady of America asked Sister Mary Ephrem, CPpS, be directed to "the Bishops". There is no specific episcopal program of prayer, or of study of the virtue of purity, or any other specific request which Our Lady of America directed to the bishops other than this procession and placement of the statue in the National Marian Shrine Church owned by the bishops of the United States.
As with Our Lady of Lourdes, the request of Our Lady of America is simple. As at Lourdes, the faithful should expect tremendous good fruit from simply doing what she asks. While Our Lady of America speaks about Her desires for the spiritual life of Her children, there is nothing specific which she suggests to achieve that other than a religious medal and a little prayer, but Our Lady of America does not direct those specific sacramentals to the bishops. All she asked of the bishops of the United States of America is the formal recognition of her image as Our Lady of America by the solemn procession and permanent placement of the statue in the National Shrine Church of the Immaculate Conception at Washington, D.C. From this single permanent act of devotion, many miracles are expected. Yes, miracles could occur from saying the prayer or wearing the medal of Our Lady of America devoutly. But, that is not what Our Lady of America uniquely requested from her bishop sons.
How then is it that one can expect a relatively massive, nearly universal, infusion of the virtue of purity from that requested procession? Because Our Lady of America in her messages clearly indicates that is what she desires. And what she desires it is apparent her Divine Son grants. Thus, this spiritual expectation by the faithful is also supported by an understanding of the Catholic theology of grace and the actual history of events subsequent to the prophetic statements made in other approved private revelations which have had an historic impact on the Church and on the course of Christianity. Our Lady delivers on her expressions of desire.
So, while the Blessed Virgin Mary is, for example, "Mother of All Mankind," she has acted many times through specific nations. As she did at Lourdes in France, here in the United States, the Immaculate has expressed her specific desire to accomplish something more or less unique through her title and image as "Our Lady of America," and she has a particular (exclusive) role for the United States bishops in accomplishing it. At Lourdes, she asked the priests (not the bishops as such) hold processions at Massabielle grotto. The priests have done these processions for more than 150 years, and the spiritual fruit has been so great that no one can actually count it.17 Our Lady of America, besides a beautiful medal (similar to what Our Lady asked at Rue du Bac in Paris of Saint Catherine Labouré) and a simple prayer honoring her Immaculate Conception, asked for all the bishops in this nation to have a single procession and permanent placement of her statue with her holding that lily as the obvious symbol of purity.
For Our Lady of America, in the beginning and in the end, it's about the bishops of this country having that solemn procession and permanent placement into the National Shrine Church of the Immaculate Conception at Washington of that statue of Our Lady of America holding the Lily of Purity. In her private revelations to Sister Mary Ephrem, CPpS, Our Lady explains what motivates this special offer of graces through the bishops of the United States. That episcopal procession as an act of faith is plainly the trigger.
Our Lady of America obviously refers to widespread actual graces, otherwise how could Our Lady of America make "every heart accessible to the love of my Son"? "Heart" must refer to the human will. The Catholic Church clearly recognizes that mysteries of grace exist in the economy of salvation.18 fortified by so many and such powerful means of salvation,19 fully incorporated in its society, and subject to its "entire system,"20 e.g., participating in Penance (Reconciliation) by private individual Confession; worshiping in communion with the Most Holy Eucharist; and, marked by that indelible seal of Confirmation which "remains forever in the Christian as a positive disposition for grace, a promise and guarantee of divine protection" (CCC 1121). "God has bound salvation to the sacrament of Baptism, but he himself is not bound by his sacraments" (CCC 1257).
So, as magnificent as it may seem, the Blessed Mother as Our Lady of America must refer to a very widespread, if not vast, conversion among the people of this nation, even to include many of those souls who are not already baptized. While God in some sense loves all of His creatures, "the heart" of no human soul can become accessible to "the love of My Son" — to charity, that is to say, one cannot experience actual divine love, except through some form of baptism.21 Because the Blessed Virgin Mary cannot be confusing, how else can one parse her words that she desires to make "every heart accessible to the love of my Son"?
It seems apparent then that Our Lady of America's desire is for all Americans to become her children and to receive the gifts of sanctifying grace and the virtues, especially purity. It is not clear if these miracles of grace will coincide both with a sudden simultaneous sanctification of the existing Christian faithful and the conversion of non-Christians to the Catholic faith, or if such spiritual effects will happen over a longer time span. Given who she is, reasonable it is to believe that when, if and as the bishops of the United States of America humbly have that solemn procession and permanent placement of Her statue in our National Shrine Church of the Immaculate Conception, Our Lady of America will be faithful to her promise in a way which accomplishes her vast desires and realizes her expectations. In what other way (other than an infusion of grace and virtue) can Our Lady of America possibly "make the whole of America my shrine by making every heart accessible to the love of my Son"?
Let us pray, then, that a substantial group of the Catholic bishops of the United States of America will do what she has asked with her statue so that she can obtain a nearly universal infusion of grace and a concomitant infusion of the virtue of purity, both "actual" and "sanctifying" grace, both "operating" and "prevenient" grace, both an incipient and abiding infusion of virtue. In this way, the citizenry of the United States can have a real religious and spiritual (supernatural) means to make purity of body, purity of heart, and purity of Christian faith a reality in each of them. And this will by necessity also entail, for many souls, an infusion or re-infusion of faith and charity.22 Indeed, we have great expectations from the words of Our Lady of America! "By thy Holy and Immaculate Conception, O Mary, deliver us from evil!"