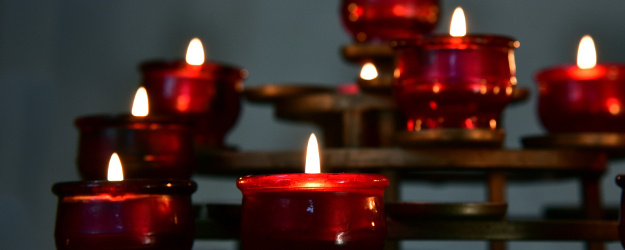 Let me share some reflections by Baroness Catherine de Hueck Doherty and St. Francis de Sales, including inspirations in prayer, liberty of spirit, prayer and solitude, dryness and prayer, prayer and mystical theology, methods of prayer, reverence in prayer, perseverance in prayer, and the transformation from prayer to one's duties in life.
Inspirations in Prayer
God's grace in no way forces our free will. His inspirations, calls, and attractions allow the human will to be perfectly free, unfettered, and exempt from any form of constraint. God's grace is so gracious it does not impair our free will. His grace entices our heart with love. God's grace presses but it does not oppress. His grace entices our heart but does not violate holy liberty. As a result we can consent to the movements of grace or we are able to resist these movements. (De Sales, Treatise on the Love of God II, 12, 131–35) We see this grace in action in the Bible account of the woman at the well. God's inspirations make themselves felt. However, after we feel them, we are free to consent to or reject them. They never make us consent to them.
Paradoxically, Jesus was free to consent or desist from his father's will during his prayer in the Agony in the Garden. His was an authentic prayer, as was his mother's at the Annunciation scene, "not my will but thine be done." Hopefully, we will enjoy liberty of spirit in our prayer that leads us freely to embrace God's will.
Liberty of Spirit
Francis Corrignan writes: "To journey in simplicity along the way of the Lord is, in fact, to proceed in liberty of spirit. Francis [de Sales] wants people to be free in their service of God, for God is love and freedom and he doesn't want before him people who are slaves and still in fear of Him." (Spirituality of Francis De Sales, 120) Francis de Sales wants us to respond with love.
Since we are created in God's image and likeness, human beings are capable of liberty and love. (Treatise I, 6) De Sales urges us to do everything through love and nothing through force. When we act this way, we are truly united to God.
Prayer and Solitude
Prayer is essential in the life of every Christian. Prayer is our love-life with God. Without prayer we lose contact with God and our spiritual life is in danger of dying. Solitude may be helpful to prayer, but it is not essential to prayer. To love a life of solitude like the hermit monk is a special vocation. Thomas Merton, a famous Trappist, was attracted eventually to a life of solitude in a hermitage on the monastery grounds.
The important thing is to accept the solitude of one's heart. It is an inward journey to meet God. A person doesn't need a cabin or cottage in a remote area to pray. In her book Poustinia, Baroness Catherine de Hueck Doherty puts it very simply: "The hut, the log cabin, the chapel is the human heart in which we learn to pray." (120) Of course solitude helps us to pray, to have a loving contact between God and oneself. We see a similar phenomenon in young lovers who seek solitude to express their love.
If one seeks solitude to pray, it need only be a small place, perhaps a prayer room in one's home or an altar in a basement. I recall visiting the home of parishioners in St. Francis de Sales Parish in Robesonia, Pennsylvania. The husband proudly showed me the prayer room on the first floor that his wife used to pray to God. Prayer is a full-time calling, whereas for most people solitude is a temporary thing.
Solitude of heart many not be easy for people in today's world. Whether one is jogging, on a plane, train, or elsewhere, many have music blaring into their ears. My concern is they may not discover the solitude of the heart. Yes, there may be street noises and voices, but we can still reach the solitude of the heart.
Catherine de Hueck Doherty writes solitude and silence are above all attitudes of mind and heart. But there is also more: Poustinia involves "prayer, penance, mortification, silence, offered in a spirit of love, atonement and reparation to God." (Poustinia 30) Poustinia for Catherine is a place a person goes to summon the courage to spread the words of truth, for God is truth, and to proclaim the word of God. Prayer, penance, fasting, and mortification will cleanse us like in ancient times when the angel touched a burning coal to the prophet's lips.
The desert to which the heart is called to love God is more than a physical desert. It means a quiet, lonely place where people strive to enter into discourse with God who dwells within them.
As you may know, Francis de Sales begins with interiority. He considers it both the principle of the Christian life and an apostolic method. Strange as it may seem, he expresses this in the Introduction Book III, chapter 23, dealing with exterior mortification. De Sales disassociates himself from spiritual directors who begin with a person's externals.
For De Sales externals are necessary but secondary. The heart must be won over first. Here are some of De Sales' reasons discussed by Francois Corrignan:
In the Treatise I, 10 De Sales says the heart is the seat and the source of love; that is, it reaches deep into the will and rises from the soul, from the human heart as its source.
The heart is the place of encounter with God. The baroness describes it in a similar way.
The heart is the first place of conversion a lover of God allows his will to be gradually transformed into God's will.
The heart is the center of decisions which totally engage one's life. Our choices are acts of the will, so De Sales is convinced we must win over the heart.
The heart is the source of actions. (Spirituality of St. Francis de Sales, 24–28)
His teaching "one must begin with the interior" is in union with the Bible and God's way of dealing with his people and all of humanity.
St. Paul also gives priority to the interior over the exterior. De Sales recommends mental prayer which is from the heart. (Introduction II, 2, 74 point 2 and II, 12)
For De Sales, reason must reign within interiority. He is not simply seeking intimacy, which can become pure introspection and remain on the level of religious sentiment or romantic feeling. He seeks a well ordered interiority where reason reigns. For Francis the heart must be enlightened and guided by reason, the most human of faculties and which alone makes us men. This reminds me of a saying from Marriage Encounter: love is a decision. For a fuller discussion of this matter consult The Spirituality of Francis De Sales 33–70 and Introduction III, 3, 202 ff: "We Must Preserve a Just and Reasonable Mind."
In his own life, Francis de Sales is an example of someone who is reasonable in line with the Gospel. In his life he gives feeling, passion, and emotions their proper place. He was an affectionate man, loved passionately and was faithful to his friends. However, he directed the affected heart according to God's will.
Dryness and Prayer
We may experience spiritual dryness in our prayer life. Mother Therese of Calcutta experienced this much of her life. St. Theresa of Avila and St. John of the Cross write about this in their books on spirituality. In the Introduction De Sales has a chapter on "Spiritual Dryness and Sterility." (IV, 249–53) Here he tells us never to lose courage. We must patiently await the return of consolation. In the meantime we are to continue on in our customary way. He observes that the more we lack consolation, the more it multiplies good work and abounds in true virtues, such as patience, humility, self-contempt, resignation, and renunciation of self-love. (Ibid., 252–53)
Prayer and Mystical Theology
In a chapter in the Treatise entitled "Description of Mystical Theology, Which is Identical with Prayer" (III, 1, 268), De Sales draws on the thoughts of St. Bonaventure and some of the Church Fathers to explain prayer in this context:
Bonaventure: Prayer generally speaking comprehends all acts of contemplation.
St. Gregory of Nyssa: Prayer is a conference or conversation of the soul with God.
St. John Chrysostom: Prayer is a discussion with the divine majesty.
St. Augustine and St. John Damascene: Prayer is an ascent or elevation of the mind to God.
De Sales sums these up as follows: Prayer is a colloquy, a discussion or a conversation with God, and in turn God speaks to us. We aspire to him and breathe in him; he reciprocally inspires us and breathes upon us. (Ibid., V1, 1, 268) What do we discuss in prayer? De Sales says we speak only of God. What person in love can either discuss or speak except of the beloved? For this reason he says prayer and mystical theology are the same. In all prayer we should follow the attraction of grace.
Methods of Prayer
In Conference XVII, after he discusses the Sacraments and the Divine Office, Francis de Sales responds to a request to say something about prayer. First, he clears away some misconceptions: some people make big mistakes about how they should pray. They think a great deal of method is required and eagerly strive to find a particular art of praying. They continually examine into their prayer, and fear that any coughing or movement will cause the Spirit of God to withdraw. He calls this a great folly. Methods are all right, but we must not cling to them. This leads to confusion and repetition. (Ibid., 359)
In speaking to God, reverence is needed because even the angels tremble in the divine presence. By reverence he means an attitude that keeps the highest power of the soul humbled before God and conscious of his infinite greatness and our profound littleness and unworthiness.
Regardless of any difficulty we may encounter in prayer, we must never give up. Later in her life St. Theresa of Avila regretted the period in her life when she abandoned meditation. In addition we must not go to prayer preoccupied with the desire for consolations and satisfaction. We would not be uniting our will with the divine will. It is God's will that we be prepared to suffer distraction, dryness, and disgust which may occur. We must remain as constant as we would in peace and consolation. Prayer made with difficulty is especially pleasing to God. It does not mean we will not struggle at times. Jesus had to struggle at times in prayer, as revealed in the Agony in the Garden, where he struggled to unite his will with that of his heavenly Father that he suffer and die. Keep yourself in peace and tranquility or at least let there be no other desire or intention than to be with him. The so-called Transcendental Meditation uses breathing exercises to clear the mind of logical thought to be able to enter conversation with God without preoccupations.
Francis tells the Sisters of the Visitation prayer that reflects on the mysteries of the life, passion, death and resurrection, the Father's love, the Gospels, and the mysteries of faith are good subjects for meditation. We could also reflect on the love in the Trinity: the Father loves the good in the Son and the Son loves the good in the Father and both love the goodness in the Holy Spirit. In staying close to Jesus we learn what God wishes. De Sales also mentions the considerations given to us by the Fathers of the Church. At any rate, we should be humble, resigned, composed, and trusting in God. He will give us the grace we need to remain united to him. I recommend you read this conference and also book two of the Introduction, which contains good advice on prayer.
Transition to Duty
In his treatment in the Introduction II, 8, 75 ff, De Sales gives excellent advice on transitioning from prayer to normal duties. Gradually move from silence to other activities. As long as you can, try to preserve the feeling and affection you have conceived in prayer. Look straight ahead. If you meet someone you must speak to, that is alright. However, preserve in your heart the dispositions you carry from prayer. He has a later chapter on spiritual retreat, which may assist you in reflecting upon the good thoughts from your earlier prayer.
For Further Reading
Baroness Catherine de Hueck Doherty. Poustinia: a Christian Spirituality of the East for the Western Man.
Francois Corrignan. The Spirituality of Francis De Sales: A Way of Life. Trans. J.D. Bowler, OSFS, and L.S. Fiorelli, OSFS. Bangalore, India: S.F.S. Publications. 1992.
Francis de Sales. Introduction to a Devout Life. Trans. and ed. John K. Ryan. New York, New York: Image Books. 2003.
___________. Treatise on the Love of God. Trans. John K. Ryan. Garden City, New York: Image Books. 1963.
The Conferences of St. Francis de Sales. Trans. Abbot Gasquet and Canon Mackey, OSB. Westminster, MD: The Newman Press. 1962.