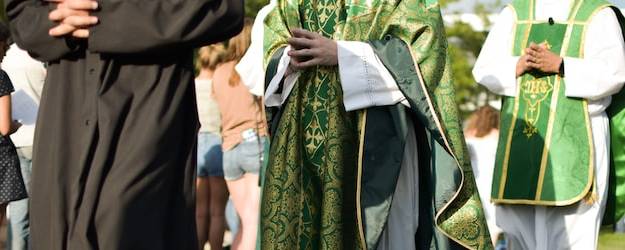 Many times, Pope Francis has been very critical in speaking about priests and even seminarians, and for sure bishops. He is calling the Church to a renewal, and he does not seem to have this concern without some experience. He began his talk to the Theological Symposium by saying, "I should speak about brother priests whom I have had to accompany because they lost the flame of their first love and their ministry had become barren, repetitive and almost meaningless." As a diocesan bishop, he understood the pain of priesthood today. He goes on to explain how "the lack of contagious Apostolic zeal" is part of our problem today. But how do we inflame again a fire that burns only in embers?
The Holy Father said, "The life of a priest is above all the salvation history of one baptized person." Yes, each one of us has our own part to play in the salvation of the world. Many priests do not know the good they do, and others get some recognition; however, salvation history is not about advertising the good that is done. The administration of the sacraments and the celebration of the Eucharist are the bedrock of ministry, but salvation history takes place in the encounter of one person with another person, hopefully bringing that person to an encounter with Christ. We are icons of Christ, as the Pope has said many times. At the beginning of his talk, he said that there are three words that define the life of a priest, and of a Christian as well, because they are taken precisely from God's style: closeness, compassion, and tenderness. In his talk, he speaks about the four closeness characteristics for priests.
Closeness to God
First, he speaks about closeness to God: "I am the vine and you are the branches." We could not be any closer to the source of our ministry than centering our life on intimacy with God and forming a relationship from which we draw strength, needed in our ministry. There are many stumbling blocks in our efforts to come close to the Lord. We all have the intention to pray, to meditate, and to find that inner spiritual union with God that seems so elusive at times. The Pope says that closeness to Jesus makes us unafraid of the times when we seem not to find that closeness to God. In our life, this closeness to God can sometimes take the form of a struggle with the Lord Himself, especially in those moments when His absence is most felt in our lives and in the lives of the people entrusted to us. We can easily tire of doing good and of developing a spiritual life, which takes discipline and time.
Spiritual life is not a leisure activity. Pope Francis says, "Many crises in the priesthood originate precisely in a poor life of prayer and a lack of intimacy with the Lord, and the reduction of our spiritual life to religious practices." But what is a spiritual life? Years ago when I was a priest in Newark, one of my good friends went to the Cistercians for almost nine years. He returned to the archdiocese, and everyone sought him out to become their spiritual director. This priest was viewed as some kind of a guru who could immediately help people develop a spiritual life. One day this friend came to me and said, "Nick, they all want me to be their spiritual director but there is nothing to direct." A spiritual life consists of effort at prayer and a certain regime of activity that goes beyond just celebrating the Eucharist and even praying the Divine Office. Something is missing when these religious practices cannot bring us to that closeness to God that we want and seek. I do recommend that we all have a spiritual director, but please bring them something to direct! Your prayer life, your struggles, and your attempts at intimacy with God. A good and wise spiritual director can help you. A good spiritual director can help you grow in prayer and virtue, root out vice, and deepen in spiritual maturity.
The Holy Father goes on to say, "Once we accept the desolation that is born of silence, fast from our activities and words, and find the courage to take a sincere look at ourselves, everything takes on a light and peace no longer based on our own strengths and abilities." Silence, yes silence, is the language of God. It seems that in the moments when we feel most alienated from God, in those dry, silent times, that is when God wants to speak to us, because everything else is gone. Mother Teresa once said, "God cannot fill something that is not empty," regarding the charism of celibacy. When we are empty, God can fill us; when we are silent before Him is the time He speaks to us.
There comes a time of pruning in everyone's life; some painful experience is necessary to make us grow stronger. It comes in different forms and in different circumstances for all of us. But the vine dresser, the Lord Himself, is never closer than in the pruning. In 2001, when I was serving in Camden in New Jersey, I had a meeting one day with the mother superior of the Sisters of Christian Charity in Mendham, New Jersey. Before we talked about their mission in the Diocese of Camden, Sister wanted to tell me something that one of her older sisters told her which was the fruit of her meditation: "The vine dresser is never nearer except at the pruning." A real insight from prayer at a time of the breaking news of the sex abuse crisis.
In this way we bear more fruit. The Holy Father says, "Closeness with God enables the priest to touch the hurt in our hearts, which if embraced disarms us even to the point of making possible an encounter" (with Christ). Pope Francis goes on to compare an enlarged heart to a physical disability which can become a spiritual advantage. We must feel the hurt in the hearts of those whom we serve and not concentrate on our own hurts. We need to experience our own deficits in order to fill others with the grace that God wants to give them. Francis ends the session saying, "In the Acts of the Apostles we saw that the Apostles invented (and uses that word) the office of deacons so that they could devote themselves to prayer and the preaching of the Word. If bishops, successors of the Apostles, have that as their primary responsibility for the life of the diocese, so too it is with the priest. Closeness to God is something we all want and must work for in our priesthood."
Closeness to the Bishop
Pope Francis does not speak about closeness to the bishop as a one-way street based on the promises of respect and obedience; rather, he challenges bishops to earn respect and to not burden those whom they guide with unreasonable obedience. He says, "Obedience is not a disciplinary attribute but the deepest sign of the bonds uniting us in communion." I spoke about obedience this morning, but perhaps respect needs some clarification. In the two dioceses where I served as Ordinary, I always told my priests that respect for me means when you have a problem with me, I should know about that problem. But please do not talk behind my back; come to me and explain the problem to me directly. That is the only respect that I ask of you.
We all know how it is in a diocese: everyone tries to quarterback the game. Understand the signals that are passed from one person to another; however, we will never win the game in the diocese unless the quarterback has our full trust and attention. The bishop is both coach and quarterback. He needs all our energy focused on the signals and the direction he gives. The Holy Father further defines obedience by saying, "Obedience is the fundamental decision to accept what is asked of us and to do so as a concrete sign of universal sacrament of salvation which is the Church." Obedience can also be discussion, attentive listening, and in some cases tension, but not a rupture. Again, as I said in my first talk, obedience is dialogical; we should not be asked to do something that is impossible for us. But we must make that known to the bishop. He can take it into consideration and listen to concerns and come to a decision together with you. I know your bishop well, as he lived in the same residence with me for four years and we worked side by side. I know the kind of person he is, and I know you should never be afraid to go to him and explain your personal situation.
Closeness to Priests
The Holy Father names another closeness necessary: the closeness to other priests. He begins by saying, "Fraternity like obedience cannot be a moral imposition from outside. Fraternity means choosing deliberately to pursue holiness together with others, not by oneself." He uses an African proverb which says, "If you want to go fast, go alone; if you want to go far, go with others."
Certainly, this first applies to any spiritual director we might have, or a support group to whom we belong. How important it is that we find others to help us along the way. To find the right path we need the help of others. The Holy Father makes concrete what he was speaking about regarding priestly fraternity. He cites Chapter 13 of the First Letter to the Corinthians, and he calls it "the road map of love." It is a very popular reading for most weddings. "Love is patient, love is kind. It is not jealous, [love] is not pompous, it is not inflated, it is not rude, it does not seek its own interests, it is not quick-tempered, it does not brood over injury, it does not rejoice over wrongdoing but rejoices with the truth. It bears all things, believes all things, hopes all things, endures all things. Love never fails. If there are prophecies, they will be brought to nothing; if tongues, they will cease; if knowledge, it will be brought to nothing."
Over the years I have developed this approach to that reading. I tell the couple, put yourself into the reading, and once a week together read this wonderful chapter of Corinthians. Saying your name, question yourself. Am I patient and am I kind? Go down the list. This is certainly something we priests can do, not as a chapter of faults, but rather as an incentive always to do better and to love more, and to love correctly.
Unfortunately, we see too often in the diocese the lack of fraternity between priests. The first problem is that they do not know one another, coming from different seminaries. They have never had the opportunity to form close friendships which occur at that level of formation. And then there is that vice of jealousy, especially when the priests do not know one another. They see one is getting ahead of another, getting a promotion or a better parish (as if these things really existed). I have used the image of a bucket of crabs to describe this phenomenon. If you have ever been crabbing normally, you just throw the crabs into a bushel. You do not have to be afraid that anyone is going to escape because there is always one crab pulling down the other. They all remain in the bucket. Talking about others without charity is a destructive force not only in marriage, but also in the priesthood. Taken to heart, 1 Corinthians 13 can be the way of unity.
Before he ends this section, the Holy Father speaks about celibacy: "Celibacy is a gift that the Latin Church preserves and yet is a gift that is to be lived as a means of sanctification, calls for healthy relationships of true esteem and true goodness that are deeply rooted in Christ. Without friends or without prayer, celibacy becomes an unbearable burden and a counter-witness to the very beauty of the priesthood." Priestly fraternity is one of the sure means of making the promise of celibacy more of a joy than a burden. True friendships allow us to see life as it really is, especially the life of a priest that accomplishes so much good in the world and can bring so much joy to the one who serves.
Closeness to People
The Holy Father ends his talk speaking about closeness to people. In a different day and age we were all cautioned, "Do not get too close to people, do not visit their homes, do not get too involved in their personal lives." It was a different day and age and a different view of priesthood and ministry. The Holy Father says, "Priestly identity cannot be understood without belonging to the holy faithful people of God. Priests serve people, this is our purpose in life. We are ordained not for ourselves, but for others." The Pope asked for a renewed understanding of the identity of the priesthood, saying, "Sometimes we are tempted to be the kind of Christian who keeps the Lord's wounds at arm's length, yet Jesus wants us to touch human misery, to touch the suffering flesh of others."
I am not always thrilled about some of the things that Pope Francis has said, but when it comes to touching migrants he compares it to touching the body and blood of Christ. This man, this Pope, has, I would say, "an enlarged heart." But there is so much other suffering in our world today. So many human problems that we encounter as priests. Sometimes we go out of our way to share closeness, compassion, and tenderness with others as good Samaritans, as the Pope suggests. Not clerical functionaries or professionals of the sacred, but as men of courage ready to draw near to those in pain and lend a helping hand.
As you well know, the Pope is an enemy of clericalism. He says clericalism is a distortion because it is based not on closeness but on distance. Those who favor a clericalization of the priesthood keep a healthy distance from people for many reasons. For some they see priesthood as an elevated state of life, or for others it is just plain fear of getting too close to others. Closeness to people is the best antidote for clericalism. Pope Francis also cautions about the "lay clericalist elect" which is a great temptation. Sometimes lay ecclesial ministry becomes an excuse for clericalism of the laity.
As you see, the Holy Father is very practical in this theological reflection given to the seminar on the priesthood. He ends by saying, "The forms of closeness that the Lord demands, closeness to God, closeness with the bishop, closeness among us priests and closeness with the holy faithful people of God is not a burden, but a gift that He gives us to keep our vocation alive and fruitful." I am so happy that he said "us priests." Yes, the Holy Father has the heart of a priest. He understands the priesthood and even seems to have some insight into secular priesthood, even having been a religious.
So, we do want to spend some time with questions and answers. I am probably much better at that rather than trying to preach. Whatever you wish to comment on — what was said or something that was not said — I will be happy to engage you.
Thank you for this wonderful opportunity to speak with you today about the priesthood that I love so much.