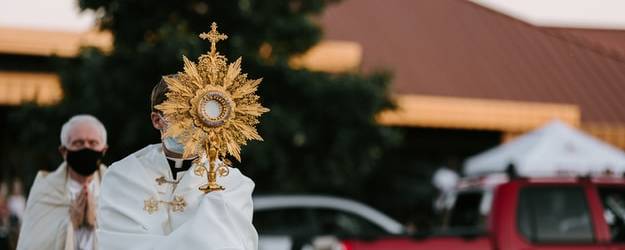 Many states are opening up, no longer mandating face masks for its citizens. Many people may think that this goes against charity or Church teachings. But freedom is aligned with charity, so we can be okay with getting away from focus on masking to a focus on salvation. Cardinal Raymond Burke stated this with pastoral courage:
Our nation is going through a crisis which threatens its very future as free and democratic . . . there is the mysterious Wuhan virus about whose nature and prevention the mass media daily give us conflicting information. What is clear, however, is that it has been used by certain forces, inimical to families and to the freedom of states, to advance their evil agenda. These forces tell us that we are now the subjects of the so-called "Great Reset," the "New Normal," which is dictated to us by their manipulation of citizens and nations through ignorance and fear. Now, we are supposed to find in a disease and its prevention the way to understand and direct our lives, rather than in God and in His plan for our salvation.1
In these words, we are challenged to be led by God and His loving providence rather than fear and manipulation. This fear and manipulation embody the words of the prophet Isaiah, who said, "Woe to you that call evil good, and good evil: that put darkness for light, and light for darkness: that put bitter for sweet, and sweet for bitter. Woe to you that are wise in your own eyes, and prudent in your own conceits."2
This embodiment has happened in two tragic ways: concerning the way we treat the elderly as well as placing the "human tradition," i.e., "the new normal," over the Word of God. Jesus warned us about this: "For the sake of your tradition, you make void the word of God" (Matt. 15:6).
I would like to explain, but before I continue, I want to note that I am not saying we should ignore our health or be imprudent, or that the Corona-19 virus is not a real disease. I know people that have had the disease and it is tough to go through. The good news, however, is that according to Statista, which cites the CDC COVID-19 report, as of April 8, 2021, "there were almost 134 million global cases of COVID-19. Almost 108 million people had recovered from the disease, while there had been over 2.9 million deaths."3 This means that even if you get COVID-19, worldwide there is an over 70% recovery rate and only a 2% death rate. Now of course, every life is important, but this information can be a start in a perspective of hope, to realize you most likely will recover even if you get the disease. It also is important to remember we do have to be particularly careful with the elderly when it comes to this disease, but this does not mean we should dehumanize them.
This brings me to the first way we have tragically embodied the words of Is. 5:20–21 in putting "bitter for sweet, and sweet for bitter" by "being wise in our own eyes and prudent in our own conceits."
The world now says to isolate, avoid human interaction, and stay away from the elderly at all cost under the guise of doing what is best for everyone. However, this should be examined on a circumstantial basis, not as an absolute rule for everyone. Case in point: This weekend I was called in to give Viaticum to someone who was dying in hospice care. Her family surrounded her, and she was happy to be around them. Was she sick? Yes, but we must ask ourselves this crucial question: "What is more tragic: dying from COVID or dying alone as you take your last breath?" The person in their last days of hospice knows they are going to die. So why are we trying to pretend they are not going to do so? Would it not be more loving to support them in preparing to meet God rather than continually have them focus on possibly meeting "a bout of COVID-19"? Is it wise to focus on avoiding COVID-19 to the point of avoiding love, community, and God?
This brings us to the second way we are embodying Is. 5:20–21, which is placing the wisdom of man, i.e. the "new normal," over the Wisdom of God. This Wisdom is found in Scripture and the very mouth of Jesus Christ, Word Incarnate. Jesus tells us in the Gospel:
Then the King will say to those at his right hand, 'Come, O blessed of my Father, inherit the kingdom prepared for you from the foundation of the world; for I was hungry and you gave me food . . . I was a stranger and you welcomed me . . . 'Truly, I say to you, as you did it to one of the least of these my brethren, you did it to me.' Then he will say to those at his left hand, 'Depart from me, you cursed, into the eternal fire prepared for the devil and his angels; . . . for I was hungry and you gave me no food . . . I was a stranger and you did not welcome me . . . sick and in prison and you did not visit me.' . . . Truly, I say to you, as you did it not to one of the least of these, you did it not to me.' And they will go away into eternal punishment, but the righteous into eternal life." (Matt. 25: 34–46)
Jesus tells us the righteous will visit the sick, not ignore or ostracize them. He tells us that we should welcome the stranger, not dehumanize them. It is loving to care for your neighbor; to see Christ in them; but unloving to miss Christ in the person and only see him or her a potential disease. St. Charles Borromeo followed up on this Wisdom from Christ by encouraging the clergy of his time during a localized plague, saying, "We have only one life and we should spend it for Jesus Christ and souls, not as we wish, but at the time and in the way God wishes. It would show presumption and neglect of our duty and God's service to fail to do this." Then in another letter, he wisely disciplined his priests by writing, "Do not be so forgetful of your priesthood as to prefer a late death to a holy one." We should not be so afraid of death that we forget to live for Jesus Christ! We should not focus on trying to delay our death so much that we forget our calling to live with Christ for all eternity!
When we forget this calling to eternity, we place human traditions over the Word of God. We call "good things evil and evil things good" (Is. 5:20). Here are three examples of this in modernity. In the first, Jesus tells us, "I am the living bread that came down from heaven; whoever eats this bread will live forever; and the bread that I will give is my flesh for the life of the world" (Jn. 6:51, New American Bible Revised Edition). Jesus is the bread of life, but in the New Normal Perspective, we should continue to shut down churches and keep people from Communion because they may die! The book of Revelation tells us we should have the exact opposite view. It says, "Blessed are the dead who from now on die in the Lord" (Rev. 14:13). Blessed are they who die in the Lord and there is no more intimate way to be "in the Lord" than Holy Communion. But the worldly wisdom wants us to fear death in receiving the Bread of Life.
A second irony is that the deeds found in Matt. 25 are the Corporal Works of Mercy. But the New Normal Perspective says these Works of Mercy are acts of selfishness, even inhumane. To visit the sick is no longer an act of mercy pleasing to the Lord, but an act of selfishness that is politically incorrect. In other words: following the words of Christ is now seen as diabolical (visiting the sick and welcoming the stranger are discouraged in this "new normal") but ignoring the dying and avoiding Communion are hailed as virtuous, loving, and the "right thing to do"! Avoiding Communion with God is now seen as a high honor and the loving thing to do in society . . . and we do not think there is something wrong with that perspective?
In conclusion, we must remember to courageously accept the challenge of Cardinal Burke by letting the Wisdom of God and not let the wisdom of the New Normal guide our paths. If you can travel to Walmart with thousands of people touching the items you put in your basket, you should be able to travel to your dying relative's house to touch their heart with the love of Christ, so they do not have to die alone. Yes, we should wash our hands to keep away germs and viruses, but we should never wash our hands of concern and care of our neighbor, because God calls us to love them in Matt. 25. If you feel the need to "mask up" to have a safety barrier, make sure the masks do not put a barrier between you, God, and others so you feel unsafe to give and receive love. That is a barrier not worth standing behind!
Thus, we need to get a proper perspective this year. To do this, we must answer the question Jesus proposes to us, "I am the resurrection and the life. Those who believe in me, even though they die, will live, and everyone who lives and believes in me will never die. Do you believe this?" Do we believe that we can never truly live again because COVID-19 now directs our lives, i.e. the New Normal Perspective? Or do we believe that if we get sick or even die, because we are living in and for Christ, we will always live in the love God has made us for, i.e. The Righteous Perspective from Matt. 25? The choice is up to you. I pray we choose to allow the United States and the world not to be mastered by COVID-19, but to focus our nation and world on Christ our Lord!
Cardinal Raymond Burke, Homily for the Solemnity of Our Lady of Guadalupe, December 12, 2020. Accessed at: www.cardinalburke.com/homilies/our-lady-of-guadalupe-2020. ↩
Is. 5:20–21. Douay-Rheims Translation. ↩
Dr. John Elfien, Number of coronavirus (COVID-19) cases, recoveries, and deaths worldwide as of April 8, 2021, Statista. Accessed at: www.statista.com/statistics/1087466/covid19-cases-recoveries-deaths-worldwide. ↩