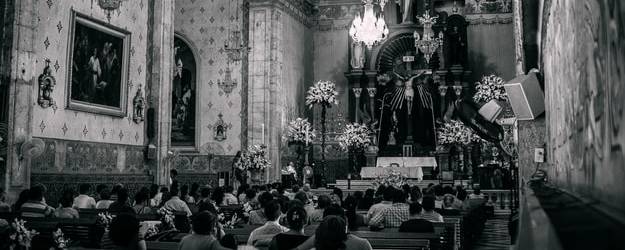 Last fall my wife was five months pregnant with our 11th child. We had already named her Philomena after the great wonder worker and favorite saint of St. John Vianney. This is when we found out that Philomena had a heart defect that would require surgery a few months after birth. We were told there was a 97% success rate, so we were optimistic. We chose the middle name after Blessed Pauline Marie Jaricot who also suffered from a life-threatening heart condition. At the urging of her friend St. John Vianney, she made the perilous journey to visit the relics of St. Philomena in Mugnano, Italy. Her miraculous healing in front of a packed church led to St. Philomena's canonization just a few years later. The stars, or in this case the saints, seemed to be aligning, and we were very hopeful about Philomena's chances.
Unfortunately, God had other plans. Her short ten weeks of life were spent in the ICU. We were told by one of the best children's hospitals in the world that she was a difficult case. Day after day they discussed what could be done to help her, but nothing was ever done. While I sat with my daughter in the hospital those last days, I reflected on how the doctors talked about doing many things for Philomena, but instead they always waited, hoping for a better time. As they waited, she grew weaker and eventually it was too late to mend her ailing heart.
While I continued reflecting on her final days, it struck me how Philomena is a proper metaphor for our parishes today. She needed surgery to repair her heart so that it could pump blood to the rest of the members of her body. Without this, the members, in her case the lungs, could no longer function properly, and Philomena died a natural death. Many of our parishes, like Philomena, need heart surgery. They need our Eucharistic Lord placed at the heart of the parish, so that He may feed all members, ensuring they avoid spiritual death.
As I held our dying daughter in my arms, knowing she would soon be in heaven with our Lord and His Blessed Mother, I asked her to pray for three things. First and most obvious is our family, that we may spend eternity in heaven together. I also asked her to pray for all those who prayed for and thought about her. Finally, I asked her to pray for Holy Mother Church and especially our parish priests. I believe that it is you, our parish priests, who are called to place our Eucharistic Lord at the center of our parishes, so that He may bring supernatural life to the Church and end this current crisis.
God has always placed a great desire in my heart to help our priests, but I am just a simple layman. What can I do to help? I thought of St. John Vianney and wondered if he gave us a blueprint for converting parishes. Below is my humble attempt to help you in this great endeavor, an attempt to show how St. John Vianney converted his parish and that these methods are relevant in our current culture. Since I am far from a skilled writer, I will do this primarily by quoting from Abbe Francis Trochu's book The Cure d'Ars.
Are today's parishes anything like the parish he inherited?
Let's take a quick look at how Abbe Francis Trochu describes the people of Ars.
"M. Vianney was well aware that the most formidable obstacle that lay in his way was the inertness of a population that did not wish to be disturbed in its habits of life."1

"The great misfortune of those people was their ignorance of religion and the indifference that resulted therefrom." (121)
"Most men refused to perform their [Easter] duties; a number of them had not fulfilled this essential obligation for ten, fifteen, or even twenty years." (131)
"They eagerly seek comfort and are keen in the pursuit of pleasure. Only a lively faith can save them from a headlong rush into sensual enjoyment." (131)
Sound like your parish? Let's look to see if St. John Vianney has given us a blueprint for converting parishes.
How did St. John Vianney convert his parish?
St. John Vianney had a single goal: Lead his entire parish to heaven!
"O my dear parishioners, let us endeavor to get to heaven! There we shall see God. How happy we shall feel! If the parish is converted we shall go there in procession with the parish priest at the head." (126–127)
"We must get to heaven! What a pity it would be if some of you were to find yourselves on the other side!" (127)
He is single-minded in his love for God while holding a desire to lead his entire parish to heaven. Nothing else matters. This will continue to be apparent as we walk through seven practical elements which played an integral role in the conversion of his parish.
1. Prayer, Penance and Personal Holiness
The patron saint of parish priests did not rely on himself to convert his parish. In his profound humility he turned to the Lord giving himself and his parish over to Him in prayer, penance and the practice of personal holiness.
"'My dear friend, you have shown me the way to Ars; I shall show you the way to heaven.' The spot where they stood marked the boundary of the parish. On hearing this the new curé knelt down to pray." (101)

"Long before the first rays of dawn appeared on the horizon, whilst Ars was as yet plunged in deep sleep . . . M. Vianney, lantern in hand, passed from his house into the church. The good soldier of Jesus Christ was going to his post of intercessor for the people . . . 'My God,' he pleaded, 'grant me the conversion of my parish; I am willing to suffer all my life whatsoever it may please thee to lay upon me; yes, even for a hundred years am I prepared to endure the sharpest pains, only let my people be converted.'" (112)

"He came upon M. Vianney, who was praying on bended knees. The priest had not noticed the good man. He was weeping bitterly, repeating again, and again: 'My God, convert my parish.'" (113)

"To prayer the Cure d'Ars joined penance . . . Surely God would forgive sinners more readily if someone paid the ransom of their sins! To save souls the price must be paid." (113)

"HIs instinct warned him that the evil spirits wield a tyrannical power over impure souls, and his keenest anxiety was to set souls free from so dreadful a bondage. 'This kind is not cast out but by prayer and fasting.' (Mt 17:20) . . . 'That which beats him (the devil) is the curtailment of one's food, drink and sleep. There is nothing the devil fears more, consequently, nothing is more pleasing to God . . . it happened at times that I refrained from food for entire days. On those occasions I obtained, both for myself and for others, whatsoever I asked of Almighty God.'" (118)
It is not hard work and long hours that will convert your parish but a reliance on God and becoming His instrument which will lead to the conversion of your parish.
2. Beauty, Reverence and Devotion to the Holy Eucharist
Beauty inspires and convinces the onlooker that what they see and experience is valuable, true and good. It creates a sense of wonder and awe. Beauty is instrumental in seeing the Eucharist for who He truly is.
". . . saying Mass with a solemnity they had not witnessed before." (108)

"His first objective was the sanctification of the Lord's day, since there can be no Christian life without it. The house of God was deserted; the faithful must be brought back to it, and to this end it must be rendered more attractive . . . When he undertook its restoration he began with what holds the foremost place, the altar, which is the centre and raison d' etre of the sanctuary. Out of reverence for the Holy Eucharist, he wished to secure as beautiful an altar as possible." (120)

"On Maundy Thursday, in order to commemorate the institution of the Holy Eucharist, M. Vianney insisted on providing a splendid altar of repose, and his heart rejoiced at sight of the decorations which enhanced the majesty of the tabernacle." (215)

"Corpus Christi was for Ars the feast of feasts, and a truly unique spectacle it always was." (215)
Make the church and the Mass the most beautiful experience of their week. Parishioners deserve this. Even more so, our Eucharistic Lord deserves this.
3. Devotion to the Blessed Mother
The Blessed Mother should not be underestimated. She loves her children, and she wants to bring them to her Son. The graces she can pour out are infinite.
"He had loved Mary from the cradle. As a priest he had exerted all his energy in spreading her glory . . . small statues of her adorned the front of every house in the village. In each home there was also a coloured picture of the Mother of God, presented and signed by M. le Curé." (376)

"M. Vianney wished to honour our Lady in proportion to his love for her. In pursuance of this thought, he conceived the plan of opening a side chapel which should be dedicated to the Blessed Virgin . . . M. Vianney conceived a special love for this quiet secluded corner of his church. Every Saturday, for forty years, he said his Mass in the new chapel." (155)

"He had erected a large statue of Mary Immaculate on the pediment of his church… he had dedicated his parish to Mary conceived without sin . . . ordered a heart to be made, in vermeil, which is, even to this day, suspended from the neck of the miraculous Virgin. This heart contains the names of all the parishioners of Ars, written on a white silk ribbon." (376)

". . . implored his people to recite the Angelus 3 times a day . . . following the example of their pastor, blessed the hour — that is, they interrupted their work and said a Hail Mary." (204–205)
Honor our Blessed Mother every chance you get. Spread the rosary. Consecrate your parish. Sing hymns to her. Crown her in beautiful fashion. Process with her through the streets. Our Blessed Mother will draw them to her Son.
4. Knowing and Caring for his Flock
It is human nature to trust and desire to please those who love and care for us. Part of being a spiritual father is intimately knowing your children.
"At first his visits were not uniformly welcomed . . . On these first preliminary visits, by which he strove to get a knowledge of the people, he confined the conversation almost exclusively to ordinary topics: the work in hand, the prospects of the crops, and so forth. He was anxious to know the position of every family, the number of and ages of the children, and the relations and connections between the various families. Before leaving he would make some remark about religion. The way in which his words were taken enabled him to gauge the faith or lack of faith of the members of the household." (110)

"All these houses were still visited at stated times by M. Vianney, in order to foster by this means the religious customs and practices he had introduced. He was now on easy terms with everybody, so he called quite unexpectedly, very often at the hour of meals . . . He inquired after the health of the parents and children, the work in hand, the state of the crops . . . he managed to slip in a few of those pious words that give wings to our poor earthly conversations and lift them to a higher plane. In this way he discreetly examined the conscience of all the members of the family." (205–206)

"In the pulpit the Cure d'Ars spoke for the benefit of all; in those private visits he was able to apportion to each family its own need of advice and, at times, blame." (206)
Loving your parishioners is not enough. They need to feel your love for them.
5. Instructing the Ignorant
Thanks to the catechesis of the past fifty years, most people have no idea what it means to be Catholic.
"'We are convinced,' he declared from the pulpit, 'that this sin [ignorance of religion and the indifference that resulted therefrom] alone causes the loss of more souls than all the other sins together, because he who is ignorant does not realize the harm he does by his sin, nor the great good he thus forfeits.'" (122)

"His first care was the instruction of the youth of the village . . . Their first Communion was nothing more than an ephemeral incident in their lives." (122)

"M. Vianney burned with an even more fiery zeal for the instruction of the adult population of his parish . . . In the pulpit, M. Vianney's only thought was of the salvation of these poor souls. He knew that in the pulpit a priest fulfils one of the most important duties of his sacred office." (125)

"In conformity with the Council of Trent, which lay on pastors the duty of frequently explaining the solemn rites of the Mass, the Cure d'Ars strove to instil into the minds of those of his parishioners who practiced their religion, a real love and understanding of the sacred ceremonies. He explained in turn the nature, the necessity, the value, and the fruits of the Eucharistic Sacrifice. The leading idea of his whole priestly career was to detach souls from earthly preoccupations and to draw them to the altar of God." (128)

"The fact was that from their childhood upwards these good people had had the privilege of being taught by a saint." (124)
To live our Catholic faith we must know our Catholic faith. Teach with a simplicity and clarity they can understand and live.
6. Create a heart of the parish
The typical Catholic parish has very little visible example of what it means to be Catholic. This void can be fixed by creating a smaller group within the parish to become the heart of the parish. The members of this group must have a strong devotion to the Eucharist and the Blessed Mother, frequent the Sacrament of Confession, active prayer lives and most of all they should be filled with joy to share their faith. This gives you a place to send parishioners interested in the faith and a way to grow the parish from the inside out. 
"His plan was to form an elite which, together with the priest, should be the heart of the parish and should help him in his task of winning souls. This humble country parish priest, even though he did not wholly escape the influences of the period, was yet far ahead of his contemporaries, for he was far-sighted enough to realize that devotion to the Eucharist is, and always will be, the most powerful means towards the regeneration of a people." (173)
Identify those who will make up the heart of your parish by holding pious events such as Holy Hours and Eucharistic and Marian processions to identify the devout parishioners. Then work closely with them to develop a truly Catholic community. As this community matures and grows, it will transform the parish.
7. Root out all sin
We are too comfortable and accepting of sin. All sin is opposed to Christ and must be rooted out in order to convert the parish. St. John Vianney understood this and how the devil would use any and all sin to strike at our Lord and stop conversion.
"He spoke for the benefit of his flock alone, and did so with great clearness, directness, and without a shadow of flattery. Some of his sayings strike us as very harsh indeed, but in those first years he struck hard to the end that the shaft might penetrate. At times his manner was calm, gentle, appealing, for he was not only an apostle out to convert, he was likewise a shepherd and a father. Among the audience there were necessarily hearts that sought comfort, wills that needed encouragement." (126)
"During long years, acting on the counsels of St Paul, he was 'instant in season, out of season,' he 'reproved, entreated, rebuked,' in the pulpit, in the confessional, when visiting the people on the occasion of chance meetings, 'in season and out of season.' Nothing stopped him." (132)

"The battle was launched. The Cure d'Ars was determined, if God granted him life, not to lay down his arms until he had won a complete victory." (129)
In many instances fear stops us from attacking the sins of the day. The Cure is a great example of how even the most entrenched sins can and must be rooted out. He lived out Christ's and St. John Paul II's axiom of "be not afraid."
But I'm not a saint?
You may say to yourself, I can't do this. I am no St. John Vianney. And you would be correct, but if you let God work through you all things are possible.
"The new pastor was painfully aware of his helplessness; he did not lose heart, however — God and time would work for him." (111)

"The field entrusted to M. Vianney was a barren one, and though he was not slow in discovering the wheat, it seemed so choked by the cockle that he took alarm . . . However, instead of wasting time in idle regrets, he set to work. He did not pretend to convert the world; the field he meant to till was the tiny village that God had entrusted to him . . . He knew that though abuses and vices assume ever-varying shapes, they remain essentially the same. Hence he was not on the look-out for new remedies, but contented himself with adopting those that have been tested and proved by preceding ages.

"His programme — which he pondered before the tabernacle — was that of every pastor who has at the heart the welfare of souls . . .

"How weak and helpless he felt when he considered the magnitude of his task! But his soul was filled with a divine energy, and God makes choice of the helplessness of the lowly ones to crush the power of human pride. A holy priest is able to achieve great results with means that would seem wholly inadequate." (107–108)
St. John Vianney did not convert his parish because of his intelligence or gift for oration. He converted his parish through a humble trust in God, and a willingness to do whatever it took to lead his parish to heaven. No matter the personal cost. What is stopping you from doing the same?
Is imitating St. John Vianney worth the risk?
According to the devil, no one has more to lose than he, as he often hissed in St. John Vianney's ear: "If there were three such priests as you, my kingdom would be ruined."2
Mary, Queen of the clergy, pray for our priests.
St. John Vianney, patron of parish priests, pray for our priests.
St. Philomena, virgin and martyr, pray for our priests.
St. Philomena, our baby girl, pray for our priests.