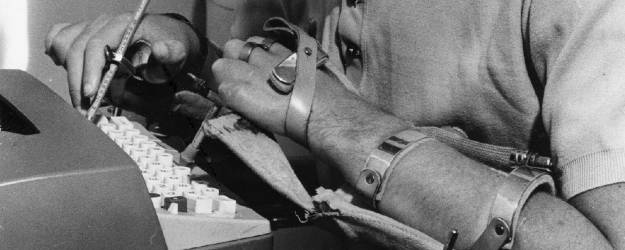 Relatively few people have yet heard the story of Fr. Bill Atkinson, an Augustinian priest who died in 2006 — and the first quadriplegic priest in Church history. Fr. Atkinson is now being considered for canonization, perhaps a new patron saint for the disabled.
A new docuseries on his remarkable life, extraOrdinary/The Bill Atkinson Story, is currently airing on PBS (check local listings). The producer, Tom Farrell, has given HPR the following interview.
HPR: Can you tell us a little about Fr. Atkinson's background — his origins, family, how he discerned his vocation as an Augustinian priest?
Farrell: Fr. Atkinson grew up in a large Catholic family in Upper Darby, PA. Bill went to Msgr. Bonner High School in Drexel Hill, PA, where he was introduced to the Augustinians. It was at Bonner where he received his calling into the Augustinian Order of Priests.
HPR: Fr. Atkinson distinguished himself by succeeding, despite a serious disability, in becoming a priest and carrying out a highly active ministry. How did he overcome the obstacles of his condition?
Farrell: Fr. Atkinson overcame his obstacles in life with a combination of two things. One was his sheer determination and the second was the support he received from his family and friends.
One specific example of how dedicated he was to his teaching vocation: he would type his own tests. Using a pen in his mouth, Fr. Bill would type the entire test letter by letter. He would also mark his own papers with a red pen, again using his mouth. He would also never let his disability serve as an excuse for not attending school activities like football games and school plays. He also served as a role model for others with disabilities. If he could say an entire Mass from a wheelchair and teach classes on a daily basis, one would think twice before complaining about their lot in life.
HPR: What kind of support did he have in his efforts? Who helped him along the way?
Farrell: Fr. Atkinson had a large family who all pitched in to help, and his Augustinian Brothers also helped him every moment along the way.
HPR: You were one of Fr. Atkinson's students at Msgr. Bonner High School. What was he like in person?
Farrell: Fr. Atkinson was a great guy. A regular guy that I could identify with. He was an excellent teacher and a good person to look to if you ever felt like you could not do something in life. He was an inspiration to me many times. He was a good man and a holy man who was an example to all who he crossed paths with.
HPR: Fr. Atkinson's cause for canonization has just been opened, though he died only fourteen years ago. Have you noticed a difference in people's perception of sanctity when they hear of saints who were our contemporaries?
Farrell: This is a great question! I think the Catholic church needs Fr. Atkinson to become a saint. He is a person that people can identify with — a regular guy who did some unbelievable things in his life. Today younger people can look to Fr. Bill and see a person like them.
HPR: Regarding the new docuseries, extraORDINARY, what sources does it draw on to tell his story?
Farrell: We interviewed his family and friends and fellow Augustinians. A lot of archival pictures and video.
HPR: Do you think that Father's story will help set precedents to expand opportunities for disabled young people?
Farrell: I think Fr. Atkinson is a great example for disabled young people. He overcame so much in a time with limited resources compared to what is available today. If he could do it, then hopefully they can draw strength from his experience, to help them push forward to overcome their challenge in life.
HPR: What do you hope audiences will take away from learning about Fr. Bill?
Farrell: I hope the audience comes away from the film wanting to learn more about Fr. Atkinson's path to sainthood. We need Fr. Atkinson to become a saint — the Catholic Church will be a better place if he is canonized.