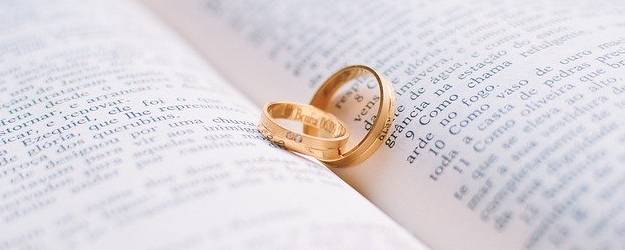 Dr. Gregory Popcak recently suggested that a woman ignore the advice of her priest, who claimed that she should have sex with her husband despite his adultery.1 This priest said the woman was creating an "undue burden on her cheating husband and driving him away" because "sex is a 'right' of marriage." Popcak argued that the reason sex (in this paper, sex is equated with intercourse) is a "right" in marriage is because this is the "right place for people to have sex" due to a lifetime commitment of faithful and fruitful mutual love.2 Who is correct? What advice should a pastoral counselor offer regarding availability of marital sex in this and other difficult situations? These questions refer to conjugal rights (also called the marital debt). This paper defines Catholic conjugal rights and offers principles for application.
Conjugal Rights Defined
When a couple marries, they enter into covenant with each other in the Lord. More than a contract, a covenant is a sacred and mutual exchange of good, services, and persons.3 Covenant speaks to an accurate understanding of conjugal rights. This first section examines the biblical, historical, and pastoral aspects of Catholic marriage as connected to conjugal rights.
Conjugal rights were stipulated in the Old Testament. In The Mystery of Marriage, Perry Cahall explains that in the Old Testament a husband owed his wife a common life, physical provision, sexual intercourse, and respect; while the wife owed her husband similar rights, her primary obligation was "exclusive right to have intercourse with her" to protect the "identity of the [male] children" as his heirs.4 Although allowing the man to divorce his wife, the law of Moses protected the wife from arbitrary rule of her husband.
In the New Testament, Jesus restored marriage by instituting it as an indissoluble sacrament and identifying lust as a sin of the heart (Mt 5:27—32, RSV).5
Historically, there is substantial recovery of the full meaning of conjugal rights together with doctrinal development. Within this short paper, only the most pertinent considerations are addressed, notably devaluation of women following the Protestant Reformation in the sixteenth century. Sr. Prudence Allen, in The Concept of Woman – Volume 3, traces the decline in women's equality following the Protestant Reformation based on: (1) the literal interpretation of Scripture, leading to a change in marriage vows from mutual consent to one-sided obedience of the wife to the husband in Protestant and Catholic marriages; and (2) the requirement of men in theology, law, and medicine to study Aristotle, who theorized that because of a "defect in women's nature her virtue was to obey, and man's was to rule."6 Women's inequality in nature and marriage was not corrected until the twentieth century.7
The Second Vatican Council and teaching of St. Pope John Paul II on marriage and integral gender complementarity brought authentic development.8 The Second Vatican Council described married life as a "partnership."9 Then, John Paul II, in audiences from 1979–984 called Theology of the Body, explains that, with grace, couples can live in communion. He interpreted Ephesians 5:21—33, firmly stating that St. Paul
does not intend to say the husband is the "master" of the wife and the interpersonal covenant proper to marriage is a contract of dominion by the husband over the wife . . . it is in her relationship with Christ — who is for both spouses, the one and only Lord — that the wife can and should find the motivation for the relationship with her husband . . . This relationship is nevertheless not one-sided submission. According to Ephesians, marriage excludes this element of the contract, which weighed on this intuition and at times does not cease to weigh on it. Husband and wife are in fact, "subject to one another," mutually subordinated to one another . . . Love makes the husband simultaneously subject to the wife, and subject in this to the Lord himself, as the wife is to the husband.10
Ephesians 5:21, "Be subject to one another out of reverence for Christ," summarizes right marital relations. Reverence and respect for each other emerges in and from recognition of equal dignity in the Lord.
Canon law reflected this development. Cormac Burke, former auditor on the Tribunal of the Roman Rota, explained the difference between the 1917 and 1983 Code of Canon Law, c. 1057, §2. The old code focused on "exclusive right over the body, for acts . . . suitable for the generation of children," while the current code focuses on "an irrevocable covenant" by which the spouses "mutually give and accept each other in order to establish marriage." Burke adds, "The object of consent is no longer presented as mere 'right over the body, but as mutual 'self-donation.'"11 Related to Popcak's advice regarding conjugal rights, c. 1151–1153 clearly specifies the right of the innocent spouse "to sever conjugal living" in the case of adultery, when in physical or spiritual danger, or if a spouse renders "common life too hard," all presupposing due process of canon law and sound discernment.12
In light of these developments, a sound and current definition of conjugal rights is possible and certainly necessary. According to John Hardon, S.J., conjugal rights are "principally the mutual rights to marital intercourse between husband and wife . . . In a broader sense, conjugal rights include all that a husband and wife may justly expect of one another in terms of attention, affection, co-operation, and patient forbearance."13 Conjugal rights, then, are more than a right to sex from one's spouse for any reason. According to the 1997 Catechism, "conjugal love involves a totality" and "aims at a deeply personal unity, a unity that, beyond union in one flesh, leads to forming one heart and soul."14  The one-flesh union typifying marriage is meant to foster and reflect oneness of spirit, a true communion of persons.
Conjugal rights include sex within the context of non-sexual marital intimacy. After all, "experiencing human intimacy as a man or woman cannot and should not be reduced to genital activity."15 In the introductory case, Popcak correctly advised the woman with the adulterous husband of her options.
Conjugal Rights Applied
Further in the same article, Popcak stated that in the absence of a loving marriage, "you have a right to stop having sex and start learning how to really love each other."16 How so? Since it is not possible to examine every scenario, this section responds to difficult NFP situations in which pregnancy may be dangerous to the mother and baby due to repeated preeclampsia, placental abruptions, or postpartum psychosis. According to Humanae Vitae, these certainly qualify as "just reasons" to space children.17 These situations may be further complicated by the difficulty of interpreting NFP signs with breastfeeding, menopause, or health problems lending to the need for extended marital abstinence.18 Assuming openness to life and reasonable attempts to resolve physical and psychological issues, this second section suggests seven principles to apply in discernment regarding the conjugal right of sex in difficult situations.
First, sex belongs in marriage. In a healthy, holy marriage, sex is a spiritual ritual or intentional practice that bonds the couple. At creation, God told man and woman to "be fruitful and multiply," and they "become one flesh" (Gen 1:28; 2:24). Julie Hanlon Rubio writes, "If the covenant of marriage is to be experienced and deepened, couples have to find a regular sexual practice that is agreeable to both . . . sex is unique to marital friendship and plays a key role in the development of one-flesh unity."19 Popcak states, "Christian married couples with a deeply spiritual sexuality spend as much time and energy nurturing, planning, and rejoicing in the private, physical celebrations of their wedding day as they did nurturing, planning, and rejoicing in the public celebration of their first wedding day."20 Marital sex renews sacred vows as an expression of love between the spouses, since the "body expresses the person."21
Second, chastity is a marital virtue. Chastity is not a virtue exclusive to single people and persons consecrated to the Lord. In Catholic Sexual Morality, John Hardon, S.J., explains how chastity is a marital virtue. Chastity in marriage recognizes that sex is essential to marriage, the pleasures of which are God's reward for the corresponding difficulties of marriage.22 Yet, even in marriage, as can be seen from 1 Corinthians 5:4—5 above, sex can be validly used and not used. During sex, spouses are called to love purely. Sometimes they need to abstain, as in the case of geographical distance, illness, NFP, harmonizing frequency, etc. Chastity is the heart of marital spirituality as the ability to "reverence" the other.23 In other words, marital chastity stems from marital love worked out in prayer.24
Third, men and women experience sex differently. Simcha Fischer, in The Sinner's Guide to Natural Family Planning, notes, "Men need sex in order to feel loved, and women need to feel loved in order to want to have sex."25 This reality is echoed by counselor Willard Harley in His Needs, Her Needs: "When it comes to sex and affection, you can't have one without the other . . . The typical wife doesn't understand her husband's deep need for sex any more than the typical husband understands his wife's deep need for affection."26 The communion of persons within matrimony requires affection leading to sex and sex leading to affection, both of which fall under Hardon's definition of conjugal rights. Rekindling the marital fire by (re)connecting affection and sex is the topic of Popcak's popular book, Holy Sex.27
Fourth, favor the marriage. A valid marriage is indissoluble, or until death, meaning that no "human power" can disband it.28 Pastoral counselors should see marriage difficulties within the context of permanent solidarity and bolster efforts to maintain and refresh the marriage. Germain Grisez, in The Way of the Lord Jesus Christ, stipulates that spouses "should do all they can to overcome marital trouble."29 In How To Heal Your Marriage, Popcak explains that spousal exhaustion from futile efforts leads to oppression (brain "lockdown"), and provides tips toward a more hopeful marital climate.30 Though the spouse feels helpless to resolve marital difficulties, the pastoral counselor should help dispel thoughts of giving up or settling in hate. Spouses should lean into matrimonial vows and draw upon matrimonial grace while fostering their prayer and sacramental life.
Fifth, spouses should discern together. Couples are to "be subject to one another" and abstain "by agreement" (Eph 5:21; 1 Cor 4:4—5). In healthy marriages, couples share a marital spirituality, coming together in study, prayer, sacrament, discussion, and lifestyle to honor the Lord within Catholicism. While this may be easier said than done, the couple should develop a discernment process that reflects their unique marital spirituality. Discernment requires holy indifference. Popcak recommends that couples "pray. Engage. Argue. Take a break. Pray again. Repeat. Eventually you will get to where you want to go." In marriage, both spouses come, perhaps over much time and discussion, to reconciliation. Regular negotiation, ideally, accommodates reasonable requests of one's spouse in fidelity to "what God is calling me to do."31
Sixth, personal rights are legitimate. If a common agreement cannot be reached and one spouse believes, after research, prayer, and appropriate consultation, that abstinence is necessary, it is cognizant to insist. Love and respect transcend but include self (Mt 22:37—39). Dietrich von Hildebrand calls this Eigenleben, that it belongs to a person fully alive to desire love and respect in return.32 "Reciprocal enrichment" lies at the heart of the communion of persons created through the spousal gift.33 It is not contrary to authentic Catholic love to insist on respect, especially in dire NFP situations. In fact, it is just and holy to do so.
Standing up for one's rights while respecting the other's rights is assertiveness.34 Applied to conjugal rights, Popcak states, "No one owes someone else the 'debt' of using them."35 This principle may apply particularly to women. "The primary problem for many women is not self-exaltation but self-negation" and conversion means "discovering self-worth in relationship with God."36 Theology of the Body teaches that, with grace, the unity of the couple can be restored. Unity is restored when the husband protects rather than dominates his wife, and she respects rather than fears her husband (Gen 3:16). In marriage, the two become one and unity is achieved through mutual self-donation, not the annihilation of one or the other. According to John Paul II, strong identity contributes to strong "bi-subjectivity" of the married couple.37 The marriage is only as strong as both spouses are spiritually and psychologically healthy.
Seventh, apply necessary boundaries. In a situation like that described at the beginning of section two, and in which the husband is not compliant but pressures for sex, the wife should set boundaries. She is not "an object" of lust and should not allow herself to be treated as one.38 In Boundaries in Marriage, Cloud and Townsend explain boundaries as good property lines that keep the bad out but allow the good in.39 Boundaries do not control the other person, but are about taking responsibility for one's self.40 Germain Grisez, in The Way of the Lord Jesus, offers a stunning teaching on various aspects of marriage. He states, "under some conditions, however, one spouse may, or even should intentionally break off common life, including marital relations."41  Boundaries should be reasonable, enforceable, clear, and communicated. They exist to heal festering relationships.
Unfortunately, the need to utilize the sixth and seventh principles indicates serious marital problems. Unless the husband has a mistaken understanding of Church teaching regarding conjugal rights, the marital relationship needs resuscitation — for real love sees, respects, and works for the good of the other. Pastoral counseling would facilitate healing of this marriage. At this juncture, it is only right to reiterate that this paper does not address all situations and to acknowledge situations where sex is unjustly withheld.
The process of implementing these seven principles should be undertaken prayerfully, prudently, respectfully, sequentially, and firmly in the case mentioned above. The husband's willingness to abstain for an extended period in the face of such a boundary set for a dire reason and with sound discernment is heroic. At the same time, the wife is heroic in her own right as this is a difficult decision, and one which she may need to sustain with great resolve. While the marriage of the Blessed Virgin Mary and St. Joseph is not the norm, it provides a model of the type of non-sexual intimacy a couple in this situation needs to foster until they can come together in peace in marital sex.
Conclusion
Conflicting advice to a woman whose husband was committing adultery opened this paper. In section one, the conclusion was reached that Catholic teaching on conjugal rights incorporates both sex and affection in a true union of spouses. Canon law revealed the right to refuse sex when a spouse is committing adultery. Section two built on this teaching to include another possibility, that in which prolonged abstinence was necessary to prevent pregnancy due to dangerous complications. Seven progressive principles were offered for discernment regarding the appropriateness of sex in such a case.
The development of women's equality and dignity in the teaching of John Paul II makes such a stance possible, while the expertise of Catholic Christian counselors, such as Gregory Popcak, makes the process discernable. Although the case of adultery in section one and the case of dire NFP situations in section two are at the extreme of conjugal rights, they are not hopeless. Catholic teaching and pastoral application provide "the way" forward (Jn 14:6). With time, even these couples can discover that "the cross of marriage is its glory!"42
Select Suggestions for Further Reading:
Cahall, Perry J. The Mystery of Marriage: A Theology of the Body and of the Sacrament. Chicago: Hillenbrand Books, 2016.
Cloud, Henry and John Townsend. Boundaries In Marriage. Grand Rapids, MI: Zondervan Publishing House, 1999.
Crosby, John. Introductory Study of The Nature of Love (by Dietrich von Hildebrand). South Bend, IN: St. Augustine's Press, 2009.
Esper, Joseph. Saintly Solutions to Life's Common Problems. Manchester, NH: Sophia Institute Press, 2001.
Fisher, Simcha. The Sinner's Guide to Natural Family Planning. Huntington, IN: Our Sunday Visitor, 2014.
Grisez, Germain. Living a Christian Life. Vol. 2 of The Way of the Lord Jesus Christ. At
Healy, Mary. Men & Women Are From Eden: A Study Guide to John Paul II's Theology of the Body. Cincinnati, OH: Servant Books, 2005.
Popcak, Gregory. Holy Sex: A Guide to Toe-Curling, Mind-Blowing, Infallible Loving. New York: Crossroad Publishing, 2008.
—. How To Heal Your Marriage And Nurture Lasting Love: When Divorce Is Not An Option. Manchester, New Hampshire: Sophia Institute Press, 2017.
—. The Life God Wants You To Have: Discovering the Divine Plan When Human Plans Fail. New York: Crossroad Publishing, 2011.
Popcak, Gregory and Lisa Popcak. Praying For (& With) Your Spouse: The Way to Deeper Love. Frederick, MD: The Word Among Us Press, 2018.
Popcak, Gregory and Rachel Popcak. "Does My Husband Have a Right to Sex?" Faith on the Couch (blog). 12 June 2017. At http://www.patheos.com.
Pope John Paul II. Man and Woman He Created Them: A Theology of the Body. Trans. Michael Waldstein. Boston: Pauline, 2006.
Pope Paul VI. Encyclical Letter On Human Life Humanae Vitae (25 July 1968). Trans. Janet Smith. New Hope, KY: New Hope Publications, 2009.
Smith, Janet. Introduction to Humanae Vitae: A Challenge to Love. New Hope, KY: New Hope Publications, 2009.