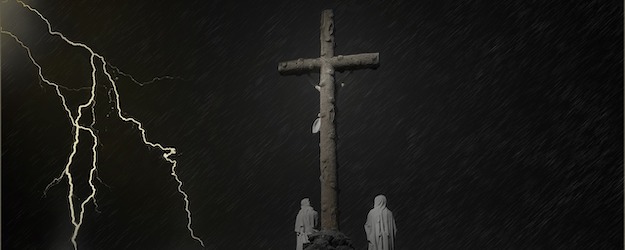 For many, the worldwide spread of the COVID-19 virus has meant enforced quarantining in terms of stay-at-home/shelter-in-place directives by federal and state authorities. Despite innovative responses by dioceses and parishes to provide a virtual connection to our faith communities and "spiritual communion" to the Mass, the social distancing and isolation together with near constant attention to streams of media may result in unexpected anxieties and depressive episodes. Not discounting the very real and often raw emotions of this time, especially for those who have been infected by the virus or lost loved ones, I suggest that for those who are intent on progressing in the spiritual life and gaining greater union with God, this may stimulate what St. John of the Cross calls a "passive night of the senses."1
Why now? Outside of Purgatory, we know that God generally purifies souls little by little through the ordinary circumstances of life. So while God is always the first or efficient cause of the "passive night," the coronavirus pandemic and its related consequences, including the deprivation of communal participation in traditional religious and spiritual practices, could be the material which God uses to draw the individual. Further, the "passive night" typically follows the "active night of the senses," a period of active purgation, which the season of Lent offers us in miniature through the Church's imposed fasting and individual fasting from objects associated with the senses (e.g., chocolate, alcohol).
What Is a "Passive Night"?
In the spiritual journey, St. John of the Cross identifies this stage as a "dark night" because it is often a time of spiritual darkness and confusion. We cannot see with our limited human intellect what God is doing. The light seems to have been switched off. We grope around for something to hold onto. It is a night of the senses because it affects those faculties associated with our body through which we receive information — sight, hearing, taste, smell, and touch.
It is a "passive night" and in contrast to the "active night," when we ourselves engage in intentional actions of self-denial. In many ways, devout and disciplined believers are comfortable with this "active night" in our pragmatic, do-it-yourself, culture. We actively seek to improve ourselves, whether by losing weight or increasing our prayer life. And, if we are honest with ourselves, we also want to take the credit for it.
But the "passive night" is a different animal altogether. God knows that the senses need to be further purified because we cannot fully completely free ourselves from sensible attachments through our own efforts.2 So, rather than a self-imposed regime actively directed by the individual, God takes control of the process. Uninvited; it comes and goes according to its own agenda. As St. John of the Cross explains, the soul does nothing, but God works in it.
The Via Negativa in the "Passive Night of the Senses"
In the "passive night of the senses," St. John of the Cross draws upon via negativa (or the apophatic way) mysticism. The via negativa or apophatic theology recognizes that God is indescribable, beyond what human language can articulate. Twentieth-century Protestant theologian Karl Barth writes how God is "wholly Other" (ganz andere). Thus, language tends to focus on what God is not, rather than what God is.
Many scholars believe that St. John of the Cross was familiar not only with the writings of Pseudo-Dionysius, but also Meister Eckhart and Jan Van Ruysbroeck. For example, Van Ruysbroeck suggests that, as a prelude to the interior life, we need the freedom to know God "without hindrance from sensible images."3 When Meister Eckhart asks God "to rid me of God," his petition is not a request to deny God's existence, but rather that he may be purged of previous images of God so that he may come to understand God in a new way. Thus, apophatic prayer emerges as a new way to encounter God devoid of images and words.
An analogy can be made with the pre-exilic Jews who associated the presence of God with the Temple. During the Diaspora, bereft of their external images and means of connection to God, they adopted new methods of prayer and worship through the synagogues. In a similar way, laypeople who are now physically deprived of public gatherings for the Eucharist and communal prayer during the quarantining may discover an increased yearning for the presence of God that is only satisfied with corresponding shift in their prayer lives.
Prayer during the "Passive Night"
In the beginning stages of spiritual growth, the individual is often very fond of vocal prayer, including the Our Father, Hail Mary, even the Rosary and novenas. As the soul progresses, he or she may move into a kind of discursive meditation. Discursive meditation is thinking-based meditation, whether one is actively analyzing or pondering a particular Scripture passage or any other truth from Sacred Tradition. Generally, one examines the passage or teaching from various angles to discover how it applies to one's own life.
Those who have participated in the prayer of lectio divina will recognize this style of prayer (meditatio), which is practiced during in the second stage of the process. "As the Catechism puts it, "Meditation engages thought, imagination, emotion and desire. This mobilization of faculties is necessary in order to deepen our convictions of faith, prompt the conversion of our heart, and strengthen our will to follow Christ . . . but Christian prayer should go further."4
As the "passive night of the senses" descends, the individual often experiences a spiritual aridity or dryness. There is a profound emptiness in spiritual things and pursuits which used to give joy and "warm fuzzies." He or she finds it difficult to pray, read Scripture, or serve others. The dryness does not stem from the lack of the presence of God but rather the removal of the usual consolations associated with these actions. In other words, the same actions no longer produce the good feelings.
Thus, the shift begins the entry into contemplation or infused prayer. God is now drawing the individual into himself. The soul "finds pleasure in a simple loving attention directed towards God." For those who are accustomed to much activity, whether in secular or ecclesial roles, this style of prayer may be a bit disconcerting at the beginning. As St. John of the Cross advises, the spiritual director should "allow the soul to remain in peace and quietness, although it may seem clear to them that they are doing nothing and are wasting their time, and although it may appear to them that it is because of their weakness that they have no desire in that state to think of anything."5
Detaching from the Senses
The goal of the "passive night" is to help the individual to detach from inordinate desires and attachments of the senses. St. Ignatius of Loyola, in the Spiritual Exercises, often speaks of desires and attachments in the soul, which are not in and of themselves are sinful but often provide insight into what we value. An attachment results when we habitually choose what we desire.6
Sometimes these attachments become disordered. For example, before the coronavirus became widespread, my husband and I had planned to travel with friends to Paris later in the spring. Now we are faced with the decision of canceling those plans, which may result in some financial losses. While I might be disappointed in not being able to go to Paris, if I were inordinately attached, I could become stressed and angry over my selfish expectations for what was supposed to happen and when.
St. John of the Cross lists three attachments which the Lord seeks to purge from us in this "passive night." Essentially, these can be distilled down to "more being, more doing, and more having." Spiritual pride is perhaps the most insidious because it is the original sin before the Original Sin, when the angel Lucifer decides to rebel against the Creator. Spiritual pride prompts the individual to believe he or she is "holier than others" because of what he or she does (or does not do). Spiritual greed and gluttony can lead to an unhealthy attachment for spiritual things and experiences. For some, this manifests as a never-ending curiosity and desire for knowledge of God or the latest spirituality. Those in the clergy, parish service, apostolates, or volunteer service may be attached to "things of God," such as certain prayer forms or inordinately craving feelings of praise or consolation from "good works."
Why is this purgation so critical? While Jesus has already set humanity free through the cross and resurrection, Christians can still be bound to and cling unwittingly to lies and false idols which prop up the ego. Set free from unhealthy attachments, the individual is more capable of freely choosing God, God's perfect will in the future, and becoming all God designed him or her to be.
"Passive Night of the Senses" in Scripture
Many biblical characters undoubtedly experienced the "passive night of the senses." Here, I would like to use the prophets Elijah and Ezekiel as illustrations from the Old Testament: In 1 Kings 19, Elijah has just experienced a great spiritual consolation in his showdown with the false prophets of Baal at Mount Carmel. God has revealed his power over the Canaanite god by sending down fire from heaven to consume the doused altar. Shortly thereafter, in response to his prayer, Elijah experiences God through the torrent of rain which falls after a three-year drought. Now, he is on the run from the evil queen Jezebel who seeks his life.
As a prophet of God, Elijah would likely have enjoyed a robust prayer life, both talking with the Lord as well as hearing God's voice. But Elijah had to be trained to know God in a new way. He needed to be weaned from a former understanding and experience of God. When Elijah runs to the wilderness, he goes into a spiritual tailspin, almost a depressive episode. He begs God to allow him to die. But God does not give up on Elijah; he continues to provide for and pursue him. Twice, God asks, "What are you doing here?" Like the existential question posed to Adam and Eve after their disobedience in the Garden, this is not the plea of a blind deity. Rather, it is an invitation from God to look inward. Where am I? What am I doing here? How did I get here? Perhaps the word "doing" (Hebrew: לְּךָ֥) is significant because, in the "passive night of the senses," the movement is away from "doing" toward "being." Basically, God meets Elijah when he is not doing anything.
Next, Elijah has to be purged from his previous images of God. Thus, the example of the apophatic: God is not in the windstorm or in the earthquake or in the fire. Instead of momentous and powerful revelations through nature, God's presence is heard only in the "still, small voice." Elijah just needs to be quiet enough in his body and soul to hear it. Approximately 250 years later, God speaks through the prophet Ezekiel to the exiles in Babylon, who are bereft of their ancestral homeland and Temple. God allows a "passive night" so that they may be stripped of their material consolations and cultic attachments. In Ezekiel 36:25–26, God says, "I will cleanse you . . . from all your idols. I will give you a new heart and put a new spirit in you." Here, God is the primary agent, acting upon the passive creature and doing the work of inward purification.
Practical Advice for the "Passive Night"
How do we identify and navigate through our own "passive night of the senses"? If we are spiritual directors for others, how do we gently guide them?
Is this brought on by God or the self? Seek to determine if it is truly a "passive night of the senses" or if it is something else brought on by issues related to the coronavirus. While spiritual directors are not therapists, St. John of the Cross enumerates three signs to look for in this stage. First, the individual typically experiences no consolation in the things of God or in created things. (Does spending time in hobbies or relationships still bring you joy?) Second, one normally remembers and ponders on God but with a painful anxiety. (Are you determined to press forward in the things of God or do you feel lazy or lethargic in this pursuit?) Third, he or she is unable to meditate. (Are you able to just sit in silence with God?)7 Another sign that the "passive night" is from God relates to how willing the individual is to suffer. As St. John of the Cross explains, even though some Christians may want to go deeper in spiritual life, they do not want to go through the difficulties.8
Manage the temptations. According to St. John of the Cross, the "passive night" is often accompanied by common temptations.9 First, one may be assailed with a spirit of fornication. This may involve excessive sexual desire but also desires related to the sensual nature. For those who are isolated at home, this phase may manifest or exacerbate temptations to view pornographic images online, overeat, or perhaps even binge-watch films on Netflix.
Secondly, the soul is subjected to a spirit of blaspheme. One may begin to doubt what God has done thus far in one's life, question what God is doing now, and be anxious for what God will do in the future. Often, the individual experiences anger out of the sense of losing control. He or she may blame God or even question God's existence ("God, if you exist, you would do something about this coronavirus!") or why God would allow suffering.
Thirdly, the individual will often experience a spirit of confusion. This anxiety is grounded in the loss of a false sense of security, which may lead to excessive scrupulosity. He or she may begin to analyze everything for a source or scapegoat to blame. Like God's question to Elijah in the wilderness, the individual might ask, "What am I doing here?" After going through an examen and attending the Sacrament of Reconciliation, the individual can then be reassured that he or she may be exactly where God wants.
Pray in a new way. Rather than plunging into a frenetic series of novenas and devotions, the individual might be encouraged to sit in silence before an icon or image in one's home, especially when parishes are closed during the quarantine. He or she might choose a scriptural passage, sacred image or scene from the life of Christ as a means of focus and reflection. A variety of digital methods are available as well, such as live streamed Adoration. As the weather warms, the individual may move toward sitting outside on a bench in silence.
Let go and let God. Consent to the work God is doing within. The spiritual director can help the individual realize that by letting go of trying to control what is going on around, this is indeed co-operating (working with) with God.
Stay the course. Individuals may wonder how long the "passive night" will last. Here, St. John of the Cross does not define a specific time as this is completely in the will and hand of God. Each person will experience the stage differently. Yet, God is a "gentleman" and will not allow the individual to suffer longer than is necessary to accomplish the end. The individual should be counseled to persevere and practice the virtue of patience, with the assurance that God is not absent. God is indeed with us but without the feelings. The sooner the individual can accept this condition of aridity, the sooner God can work in the soul, which is being prepared for a deeper union with the Blessed Trinity.
"Passive Night" and the Paschal Mystery
The movement of the liturgical year from Lent into Easter is a powerful reminder of how we participate in Christ's suffering, dying, and rising to new life. So too is this same Paschal Mystery experienced in the "passive night" Distress over the perceived absence of God leads to a death to the old self and former images of God toward a new relationship with the divine.
According to St. John of the Cross, one of the chief fruits of this new spiritual life is self-knowledge which leads to humility. We become "little" in recognition that the self can do nothing without God. We stop trying to project a false image of ourselves to others. As St. Thérèse of Lisieux writes, we learn to "line up behind the imperfect."10 A greater sensitivity and obedience to the still, small voice of the Holy Spirit may emerge within us during our day-to-day circumstances and interactions with others. We may feel an increase in compassion and "love of neighbor" without the prideful attachment to consolations associated with acts of serving others.
While our struggles related to the coronavirus can be a trigger to entry into the "passive night of the senses," fundamentally it is an invitation which requires our consent and surrender of our will. We are not in control and we cannot save ourselves. Like the physicians to whom we must entrust our bodies in a time of physical sickness, let us trust the Divine Physician to heal our souls.