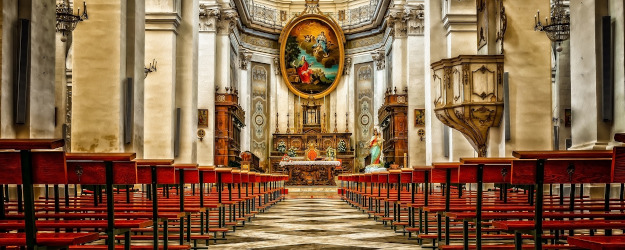 We've seen it in most of our parishes: empty pews, easy-out parking, friends and familiar faces who we no longer see at Sunday Mass. This mass exodus we have been experiencing over the last few generations is a true crisis of faith — affecting our happiness in this life — with eternal, perhaps infernal, consequences in the next.
Why Have They Left?
The truth is, despite the many excuses given as to why Catholics no longer attend Mass, the main reason is most simply don't understand it. A recent Pew Research study illustrates this point. This study found that a mere 31% of Catholics believe that the Eucharist we receive at Mass is the Body and Blood of Christ, while 69% think it's only a symbol. Further, the survey showed that more than six out of ten Catholics who attend Mass at least weekly, believe in the Real Presence of Jesus in the Eucharist, while only one in ten Catholics who rarely or never go to Mass do. For if Catholics only knew what the Mass is, Who is there, how we are to participate, and what immeasurable graces are available for us, many never would have left. Conversely, Catholics who will never stop attending Mass, despite the heinous acts and omissions of some of her bishops and priests, are those who know the Mass is the re-presentation of the sacrifice on Calvary, where Jesus is truly present, where we participate by offering ourselves along with His sacrifice to the Father, and where the merits of the Cross are made available to us.
While Catholics as a whole are statistically indistinguishable from the increasingly irrational and immoral culture, Catholics who frequently attend Mass, believe, and tend to live according to, Gospel, not secular values. Further, the reason why the Church seems so ineffective, irrelevant, and even iniquitous, is likely because the Mass, which is the source of her power, is poorly attended, poorly understood, poorly participated in, and poorly celebrated. Relatedly, the reason why our culture has the highest rates of drug use, depression, anxiety, emptiness, and isolation, where the rates of suicide have skyrocketed by 30%, is because too few knowingly and worthily receive the Eucharist, thus have no divine life within us (Jn 6:53). Thus, without knowing what we are doing, or Whom we are receiving, instead of transforming the increasingly secular and sinful culture, as she has always done, the Church has essentially been transformed by the culture. As a result, the three out of four Catholics who attended Sunday Mass in 1959, plummeted to less than one in four today — for every Catholic that enters the faith, more than six Catholics leave it — 80% of Catholics stop practicing by the time they reach twenty-three — and millennials are leaving the Church at the rate of 50%.
What Is the Mass All About?
In recent decades, many mistakenly think that the Mass is just a lame liturgical obligation, a common, communal meal, or the "Father X Show", oblivious to the immense, invisible, supernatural realities of these sacred mysteries. Maybe it's our lack of catechesis or lack of reverence in celebrating Mass, or both, but the result has been that the most important, powerful event, where Heaven literally meets Earth, is treated by too many with indifference, as an unpleasant obligation, where fewer each week bother to even show up. But Mass is not an optional, man-made obligation, or something ancillary to our temporal and eternal happiness; rather it is the very means left by Jesus for our salvation, which, according to Padre Pio, is more necessary than the sun.
Jesus celebrated the first Mass which began with the Last Supper on Holy Thursday, ended when Jesus vanished into the bread and his disciples went forth from Emmaus to tell the good news on Easter Sunday, with the climax being His sacrificial suffering and death on the Cross on Good Friday. Every Mass celebrated since is a participation in, and making present of, this same first Mass, enabling Catholics in every nation and generation who knowingly and worthily participate, to receive not only the graces and merits of His sacred sacrifice, but also the living, glorified, Body and Blood of Jesus. At this cosmic, trans-historic, trans-dimensional event, not only are we made supernaturally present at Calvary, but also at the eternal heavenly liturgy, where Jesus, our eternal high priest and victim offers Himself on our behalf to the Father in the Heavenly Holy of Holies (Heb 7:15–25).
During the consecration, our churches are filled with choirs of angels as the priest, in the person of Jesus, offers the bread and wine, as we lift up our hearts to the holy temple of Jesus' body, entering through the "veil of flesh" (Heb 10:19–20), His open side from where the Church, His mystical body, was conceived. Here, in the inner sanctuary of His sacred heart, the seat of God's mercy, our divided hearts of stone can be replaced with pure hearts of flesh (Ezek 36:26), and increasingly filled with and transformed by His divine life and love. Because the heart, in the Bible, is not only the source of love, but the seat of the will, it is fitting that Jesus gives us nothing less than His very heart in the Eucharist, filling us with His love and giving us the strength to do the Father's will. Scientific examination of recent Eucharistic miracles in Buenos Aires, Argentina, and Sokolka, Poland have even confirmed that the Eucharist is actual human heart tissue of one who suffers greatly.
How Are We Supposed to Participate?
Many mistakenly believe that participation by the laity at Mass means reflexively reciting the responses in pure Pavlovian fashion, singing loudly the familiar hymns from a veritable time warp of bad music, or forming circuitous conga lines of Eucharistic ministers around the altar. Yet participation in the holy sacrifice of the Mass, means offering ourselves through Mary to and with the sacrifice of Jesus to the Father in the hope that we might be transformed by and conformed to His sacrifice and made acceptable to the Father. This is the secret of the saints — letting the Eucharistic Jesus do the heavy lifting, accomplishing great things in us and through us, if we empty ourselves of our attachments, so that we can be filled with the fire of divine love to share with others.
Jesus poured Himself out completely and died for us so that we might choose to live for Him. We need to accept His gift of salvation, and Mass is the way He left us to do so. If we aren't present at and participating in this holy sacrifice, how can we unite our sacrifices to His, or partake of the sacred victim, so that we might experience the most intimate, personal relationship with Him? For the Mass, at it deepest reality is a sacrifice — the sacrifice which fulfills the old covenant sacrificial system of worship established by God Himself. As there are no spectators at a sacrifice (there are only priest, victim, and offeror), if we're not an offeror, offering ourselves and our families along with the bread and wine, we're not a part of this Holy Sacrifice. And according to the Old Testament, the sacrifice was not complete, or the benefits realized, until the victim was consumed, meaning our worthy reception of the Eucharist.
The Mass is a sacrifice, which requires a sacrifice of us, the sacrifice of our selfish wills, desiring, with God's help, to be holy and to fulfill the mission for which we were created, so that we might have peace, joy, and life to the fullest (Jn 10:10). Gradually, if we desire to do God's will and receive the Eucharist with the proper disposition, we are healed, restored to the image and likeness of God, redeemed into His family, and transformed by the indwelling presence of the Holy Trinity, where God is no longer "out there" beyond the cosmos, but our closest companion, abiding in us, dwelling with us, and extending the Incarnation in every age (Jn 15:4–10).
Why We Just Have to Be There!
Many Catholics feel that Mass is just a check the box obligation where we don't get anything out of it. But Mass is not about "getting something", it's about giving something; fitting thanks and praise to God, and offering ourselves as a spiritual sacrifice "acceptable to God through Jesus Christ and presenting our bodies "as a living sacrifice, holy and acceptable to God, which is our spiritual worship" (Rom 12:1). If we do nothing more than this, sanctifying grace can perfect the soul, so that we may abide and act in God's love, enabling us to resist the empty promises of the world which can never satisfy, and attracting others by our holiness, joy and countercultural witness of love, as did the early church. However, if we merely reflexively and routinely receive the Eucharist without a belief in His Real Presence, or in a state of mortal sin, we may actually be doing great harm to ourselves (1 Cor 11:27–29).
Too often we approach the Eucharist with full hands and a heart full of worldly desires, and then wonder why we don't feel we "get something" out of it. In order to yield to the transforming power of the Eucharist and receive the infinite merits made present and available to us, we must give completely of ourselves, our wills and weakness, without reservation creating a space for God in our divided, distracted, deepest selves that only He can fill. Jesus lamented to Saint Faustina that, in His coming to souls in the Eucharist, "My hands are full of all kinds of graces which I want to give to the soul. But souls do not even pay attention to Me; they leave Me to Myself and busy themselves with other things. . . . They treat Me as a dead object."
The Mass is why He established and even died for his Church (Eph 5:25). It is why He, on the night He was handed over, instituted both the priesthood and the Eucharist (Lk 22:19). It is where He applies the graces of the Cross (CCC 1407) and fulfills His final promise to "be with us until the end of the age" (Mt 28:20). It is why the Church alone has outlasted and overcome every other earthly empire and institution, uplifting and transforming every sinful pagan culture she encountered; because the Mass is the source of her power (CCC 1074), and the Eucharist the source and summit of the faith (CCC 1324).
One final statistic — those who are among the happiest and most fulfilled, in a society lacking in both, are not the rich, famous, and powerful; they are actually habited religious sisters whose daily lives are centered on the Eucharistic Jesus, both at Mass and adoration. True Mass is an obligation, which if missed could be a mortal sin, but there is nothing better we could do, for ourselves, our families, our community, and our eternal happiness, than to frequently and worthily participate in Holy Mass.
"The Mass is the holiest act of religion. You cannot do anything to glorify God more, nor profit your soul more, than by devoutly assisting at it, and assisting as often as possible."
— St. Peter Julian Eymard