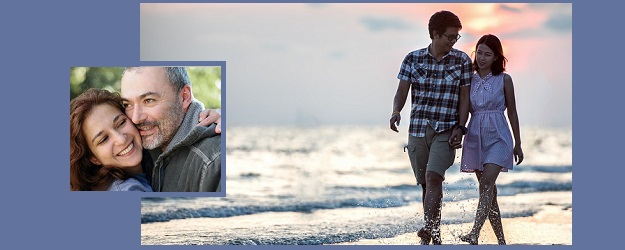 This article is a response to a Protestant couple that disagreed with the Church's teaching on the dignity of the marriage act.
It was a pleasant evening and we were discussing some of the books I was reading. The topic of contraception came up, and the Church's teaching against it. After some amiable dialogue, I ventured further and explained that the marital act has a dual purpose, to wit, unity and procreation. There wasn't much disagreement with this fact until the topic of periodic abstinence came up. In this Protestant couple's belief system, mutual masturbation was the answer to responsible parenting. Cringing a bit, I pushed further and explained that this type of act is an act of using the other person for pleasure, and that this is intrinsically wrong. The response was one of indignation and pulling out completely from the conversation with the following statement: "Men have needs. We are intimate when I pleasure him. This is intimacy to us. We are married and anything is allowable in the marriage bed." The conversation came to a screeching halt.
That night, my head was swirling with possible responses, recaps of the conversation where I could have stated things differently, and arguments to, for, and against. The result was a new look at Pope St. John Paul II's work, Love and Responsibility, under the specific purpose of looking for the answer to the question: What is authentic intimacy?
First, let's be clear on what the objections are:
Mutual masturbation, sodomite acts, contracepted acts can result in authentic intimacy if the persons involved are consenting.
The Catholic Church cannot say to a couple married 50 years, who are both willfully sterilized, that their marital acts are not acts of love but of using? The unitive aspect of the act is still present.
The purpose of this article is not to restate and rehash the Theology of the Body. Rather, I want to specifically answer the questions and objections posed to me on this one memorable night. In doing so, I'll need to define intimacy and ask the question why it is important. Then, I'll explain how to have authentic intimacy. In finishing, I'll address the objections directly.
A. What is Authentic Intimacy?
I. Authentic Intimacy Is Grounded in Dignity
If there is one area that Karol Wojtyla nails, over and over again, it is the importance of the dignity of the human person. "A person should not be merely a means to an end for another person."1 Man has a great dignity as a person. He, unlike the rest of visible creation, is able to think and self-determine. Man can decide what his actions will be, and decide the purpose of those actions. "When someone else treats a person exclusively as a means to an end, then the person is violated in what belongs to his very essence."2 Thus, every person has the innate right to be treated according to his dignity, to wit, worthy of being loved, and of not being used.
The objector poses the following question: Well, doesn't God use us to do His will? Karol Wojtyla answers this well: God, rather than using us to complete His will, simply shows us His will, and the end He is proposing, and allows us to cooperate (or not) with it. In this way, God is respecting our dignity. What about an employer? Does not an employer use an employee to meet his personal end? This case brings up another aspect of the argument, namely, that there can be a common good to which both parties are working towards. If this good is in common, for example, making widgets to sell for money, then the common goal, or end, keeps the relationship from being one of using. (The exception to this is when the employer does not pay fair wages, and the person is working unseemly hours out of necessity, as seen in old workhouses of London during the Industrial Revolution). Apply this principle now to the marital act: What is the common good of the husband and wife in their act of love? Family and maturity in their relationship.3 (Note: pleasure is not a common good in marriage, but a personal good).
Now the objector would step in here and repeat the Protestant statement from the beginning: So what if both desire pleasure for the other person (and themselves), and yet don't want to have the consequence of children, and desire that pleasure now? Is not the husband seeking his wife's good, and she seeking his? Can you still call this "using"?
Very quickly, we come to a crux. Let's phrase the question in another way: Can we use our bodies (in particular our sexual organs) as we please? Can we use ourselves? Is anything permissible in the marriage bed? Can we not "love"each other in such a way that allows us to be used for our pleasure?
Again, the word "dignity" floats to the surface. Wojtyla states it well, "The person is a kind of good that is incompatible with using, which may not be treated as an object of use and, in this sense, as a means to an end … the person is a kind of good to which only love constitutes the proper and fully-mature relation."[4 Wojtyla, 25.] It is the right to due to the person to be "treated as an object of love, and not as an object of use."4 It is beneath our dignity as persons to be used. The person is always more important than the pleasure. Pleasure must be submitted to the dignity of the human person. The innate problem with the aforesaid objection is that it separates the body from the person. All acts that involve our sexuality are personal acts. We can't "use" our bodies for sexual pleasure or someone else's sexual pleasure without it being a slight against our dignity as persons. Thus, as husband and wife, we have to be so careful. When passions are running high, we have to keep the person in front of us, not just their body. We must desire their good before our own. This is why Karol Wojtyla teaches that men be educated in tenderness5 and become masters of their passions6 that they can enter each conjugal act saying interiorly, "I can be a father."7 "Parental readiness in the conjugal act guards love, and is an indispensible condition of a truly personal union,"8 as it protects the person.
II. Authentic Intimacy is Achieved through Love
Love is the opposite of using. In love, man is seeking the good of his beloved first. "Treating the person as a means to an end, and even to the end that is pleasure – the maximization of pleasure – will always stand in the way of love."9 Love is a response to the beauty that a person is. "Love enthrones the beloved, "10 as Dietrich von Hildebrand states. The beloved becomes not one to take and use, but rather one to give oneself to fully, to cherish, protect and devote oneself to. The result of this love for one another is unity and mutual indwelling. St. Thomas Aquinas explains that the lover wants "to possess the beloved perfectly by penetrating into his heart."11 He desires to grieve, suffer and rejoice with his beloved. Here, here in this mutual indwelling is where authentic intimacy is found
III. Authentic Intimacy is Achieved through Gift
Man, who is the only creature on earth which God willed for itself, cannot fully find himself except through a sincere gift of himself. – Gaudium et Spes 24:3 (Vatican II)
Unity leads naturally to the giving of oneself to the other. "The gift of one person for another person … is indispensible for the union of persons."12 This giving is what St. John Paul II calls 'spousal love.' The persons become a communion of persons. They become an analogy of God's gift of himself to man and in this way their love is sacramental.13), 501.] How does God give Himself to man? Fully, faithfully, fruitfully and freely. God, being the model and perfection of love has shown us how to love our beloved. By holding back our fertility through mutual masturbation or contraception, we contracept our love for our spouse.
B. Why Do We Need Authentic Intimacy?
Karol Wojtyla makes an important distinction in Love and Responsibility, namely that unity, authentic intimacy, is complemented by sexual intercourse. This needs to be repeated: Authentic intimacy is already achieved by the husband and wife prior to the marital act.14 The marital act strengthens, fulfills, and deepens the unity, but is not authentic intimacy per se. Note the use of the word "marital." Sexual intercourse only brings true unity within the confines of marriage. Outside of marriage, it is simply an act of using. Why? The conjugal act is an act of love that says more. It says I want to take responsibility for this person, their life, their health, and the children that we may be blessed with.15
"The interior and essential raison d'etre of marriage is not only to become a family, but above all to constitute a durable personal union of a man and woman based on love."16 True intimacy is on the level of persons, and seeks a structure that brings the intimacy stability. This structure is the institute of marriage. Marriage justifies the intimacy before the community, before God, and to the persons themselves,17 and works to protect the person from being used as a means to an end.
I. Intimacy Makes for a Lasting Marriage
Unity of the soul comes first18 and the "body concretizes and intensifies that union."19 Through the conjugal act, knowledge of the person is intensely deepened – and knowledge of the beloved results in unity. This unity is to last until death. The Venerable Fulton Sheen lays down the foundation of unity as being that which is common between the two. Both husband and wife, to have a lasting marriage need to both agree on what "happiness" is, and how to achieve it. They need to be one in faith, liturgy, and, especially, in receiving the Body and Blood of Christ. Here, in communion with their Lord, they become one body in Christ.20
If authentic intimacy were to be found primarily in the conjugal act, then when the conjugal act fails or ceases, then intimacy begins to crumble. Authentic intimacy is found at the level of the soul, is made stronger through the conjugal act, and is a glue that helps hold the couple together. In response to the second objection: to suggest that intimacy for a man is found in sexual pleasure is to depersonalize him, and bring him to the level of an animal.
II. Intimacy Leads to a Habit of Love
Love is more than an affective response to the beauty in the beloved. Love is a virtue. "What starts as a passion of love, becomes an act of love, and then a habit of love,"21 states Fulton Sheen. In the habit of love, the intimacy between the lover and the beloved moves them closer to a mutual indwelling with each other, and then with the Author of love. When love becomes a habit, the man sees his wife (body and soul) and wishes her only the greatest good (which is God Himself) and acts accordingly.
C. How does a couple have authentic intimacy?

I. Self-Mastery
In order to achieve authentic intimacy, man must be able to give himself completely. In order to give himself completely, he must be master of himself. As master of his drives and passions, he then "reaches that deeper and more mature spontaneity with which his 'heart,' by mastering these impulses, rediscovers the spiritual beauty of the sign constituted by the human body in its masculinity and femininity."22 As master of himself, man can love, take responsibility for love, and act with tenderness.
II. Chastity
Pope Pius XI stated it so well in his encyclical that it is worth quoting in full:
This conjugal faith, however, which is most aptly called by St. Augustine the "faith of chastity," blooms more freely, more beautifully, and more nobly, when it is rooted in that more excellent soil, the love of husband and wife which pervades all the duties of married life, and holds pride of place in Christian marriage. For matrimonial faith demands that husband and wife be joined in an especially holy and pure love, not as adulterers love each other, but as Christ loved the Church. This precept the Apostle laid down when he said: "Husbands, love your wives as Christ also loved the Church," that Church which of a truth He embraced with a boundless love, not for the sake of His own advantage, but seeking only the good of His Spouse. The love, then, of which we are speaking is not that based on the passing lust of the moment nor does it consist in pleasing words only, but in the deep attachment of the heart which is expressed in action, since love is proved by deeds. This outward expression of love in the home demands not only mutual help but must go further; must have as its primary purpose that man and wife help each other, day by day, in forming and perfecting themselves in the interior life, so that through their partnership in life they may advance ever more and more in virtue, and above all that they may grow in true love toward God and their neighbor …"23
III. Tenderness
The husband must be "educated in tenderness."24 Tenderness can only come about through self-mastery, otherwise it masks as seductiveness. "Tenderness is the ability to feel the whole man, the whole person, in all, even the most hidden movements of his soul, but always bearing in mind the true good of that person."25
IV. A Cross
"Man's love must also contain certain elements of struggle."26 "All love craves a cross by the very fact that love is forgetful of self for others."27 The essence of love, of marriage, is found in sacrifice as we see explicitly in how Christ loved His Church. Intimacy needs this self-denial, this sacrifice, this cross. "For love without sacrifice diminishes the love."28 This doesn't mean that a couple outright seeks struggle and hardship. It does mean however, that a couple embraces the struggle that will come, for example, with having another child, knowing that it is in the struggle that they will find greater intimacy.
V. Dialogue
"Dialogue is essential for experiencing, expressing, and fostering love in marriage…"29 Authentic dialogue needs to be apprenticed between the spouses, which includes time, listening, cultivating an interior silence, "nourished by reading, personal reflection, prayer, and openness to the world around us."30
VI. Sacramental Celebration
The couple's intimacy and unity is brought to a higher level through the gift of the Holy Spirit that is poured out in the Sacrament of marriage. "The gift of the Spirit is a commandment of life for Christian spouses, and at the same time a stimulating impulse so that every day they may progress towards an ever richer union with each other on all levels-of the body, of the character, of the heart, of the intelligence and will, of the soul-revealing in this way to the Church, and to the world, the new communion of love, given by the grace of Christ."31
When a couple focuses on regular communion with Christ, making their heart more like unto His, then they will ipso facto grow in unity with each other.
VII. Unity of the procreative and unitive aspect of the act
"A meeting of two orders takes place in the conjugal intercourse of a man and woman, namely of the order of nature, which aims at reproduction, and of the personal order, which is expressed in the love of persons, and strives to realize this love as fully as possible."32 Keeping both aspects of the act intact protects love from using and intimacy from desecration.
D. Response to Objections
The objections have been answered already, but it is helpful to review the material and have the responses succinct.
1. Mutual masturbation, sodomite acts, contracepted acts, can result in authentic intimacy if the persons involved are consenting.
Response: Authentic intimacy is found prior to pleasure. Pleasure can deepen the intimacy, but must always be at the service of the person, and their dignity. The first thought of the spouse must be the good and dignity and personhood of the other. This is taking responsibility for love. Intimacy is found in the loving of the spouse as Christ loves His Church: faithful, free, full, and fruitfully.
2. The Catholic Church cannot say to a couple, married 50 years, who are both willfully sterilized, that their marital acts are not acts of love but of using? The unitive aspect of the act is still present.
Response: The conjugal act "plunges its roots into the very order of the person."33 There is an inner truth to act that demands the potential for procreation and unity not be separated using artificial means. "When the conjugal act is deprived of its inner truth because it is deprived artificially of its procreative capacity, it also ceases to be an act of love."34 Fulton Sheen states it poignantly, "God hates voluntary barrenness and sterility. Those who refuse to bring new life into the world will not be blessed by God."35 He goes on to make the comparison to a priest who refuses to bring new souls, directly or indirectly (through prayer), to God, and will thus be the recipient of God's judgment.
Couples that have willfully sterilized themselves can seek a reversal if possible, seek forgiveness, and move forward with an attitude and intention to fully, faithfully, freely, and fully love as Christ loves.
Conclusion
Every person is made for relationship. They desire in their innermost being to be intimate with another. We see this easily as most songs that are written are about love and relationships. In a world that is blinded by passion and pleasure, it is important to revisit the truth about intimacy, the intimacy that is authentic and true, the intimacy that enthrones the beloved and seeks the common good of their marriage. In our western society where many marriages end in divorce, we desperately need the Church's teaching on this subject.