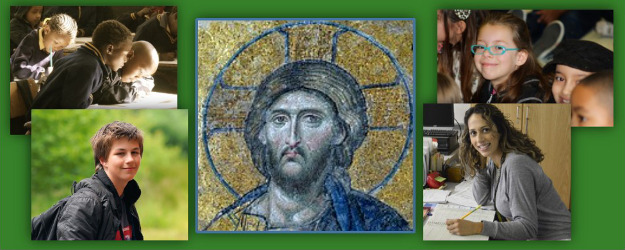 I have spoken with several bishops recently about the Catholic schools in their dioceses. The conversations brought home to me that what I recently heard from these bishops are the same questions, and the same challenges, that I have been hearing for the last 15 or so years. In broad terms, the challenges encountered by bishops in the last 15 years regarding Catholic schools have not changed, just grown in their scale and complexity. We have learned some valuable lessons, and best practices, about meeting those challenges at the diocesan level that may be helpful in planning for Catholic schools. Catholic schools remain central to the mission of the Catholic Church in the United States. It is important not to confuse financial instability with pastoral effectiveness. With few exceptions, Catholic schools remain an effective means for evangelization and catechesis, an effective tool with which to proclaim the message of Jesus to children and their families. There is good research to back that up, synthesized well in recent years by Archbishop Dolan's writing in America (9/13/2010). There are twelve key guiding principles for planning the future of Catholic schools in any diocese.
1.  Name the Core Financial Problem Without Watering It Down
Our schools do have a financial problem: Catholic schools have been living beyond their means for a long time. At diocesan and parish levels, this should be professionally quantified, and be a baseline for any plan. It is both as simple, and as complex, as that. Bishops and their pastors have increased their reliance on parish funds to supplement ever increasing costs, to the point where the resources of parishes are maxed out. Underpinning this are disjointed, loosely coupled networks of schools within dioceses across the United States that, in many cases, have not been able to successfully adapt to rapidly changing operating conditions that have implications for issues such as scale, location, quality, governance, staffing, and other strategic and operational considerations. As much as the Catholic community wants to continue to provide Catholic schools, their capacity to maintain the networks, without significant systemic change, has become significantly depleted over the last 20 or more years.
2.  Act Systemically and Ask the Right Question
Many of the efforts to help Catholic schools over the years have focused on problems school by school. This is clearly ineffective. Systemic problems need systemic solutions. Hence, there is a need to take a whole network perspective, and stop focusing on individual schools. Catholic schooling cannot be strengthened one school at a time. Only by attending to strengthening regional networks, whole diocesan networks, and national networks can long-term solutions emerge. Successful regional efforts have not begun by asking, "Which schools do I close?" The right question is "How can I organize to offer the best Catholic school education to the most people in this region?" This is a Catholic school version of the bishop's central planning question: "How do I organize the diocese to best meet the pastoral needs of the people?" Being willing to ask these questions, and to build the capacity to effectively implement the answer, is the key to the future.
3.  Funding Schools, and Funding the Diocese, Are the Same Question
Funding Catholic education for the poor is central to the ethos of Catholic education. However, the means for funding Catholic education for the poor cannot be solved out of context of whole diocesan financing systems for both parishes and schools. Catholic educators cannot serve the poor without the help of the dioceses and parishes to which they are so intimately connected by mission, by Church structure, and by finances.
What I have observed is that stable funding for service to the poor—whether through Catholic schools, Catholic Charities, or parish outreach—does not start with strategic plans, infusion of money, or even great educational programs: It begins with catechesis of the faithful, including both laity and clergy. It begins with catechesis of the faithful in three areas: communio, mission, and the notion of "Local Church," referring to the diocese, not just the parish, where most Catholics (including many pastors) experience Church. Pope John Paul II wrote extensively on the connection between communio and missio (For example, see Redemptoris Missio); how the people of God come into communio for the purpose of missio, and missio flows out of communio. While Catholics experience communion, most often and clearly through the parish, their understanding of Church as more than the parish is essential to their more complete understanding of "Church." Unless Catholics, both laity and clergy, see the children of the poor as the children of all of us, there is no ownership of what it takes to give the gift of Catholic education to the poor.
4.  Parishes and Catholic Schools Are Interdependent
Developing solutions for Catholic schools cannot succeed without addressing the problems of Catholic parishes. Parishes and schools are two systems that converge in terms of mission, beliefs and values, worship, membership and enrollment, governance, management, Human Resources, financial management, facilities, and leadership. They are one economy. If I may paraphrase the recent words of an observant vicar general: "Behind many shaky Catholic schools are one or more shaky parishes. Conversely, strong parishes and strong Catholic schools coexist. This is true, at least, to some extent."
5.  Unify the Language of Mission
Flowing out of the catechesis of the faithful is a need for unity around the mission of Catholic education. This is not a new idea, and many correctly say that the mission is unified. However, what the marketers who have looked at the challenges facing Catholic schools find is that the language we use about Catholic schools is too diverse to effectively feed a branding effort at national level, or even sometimes at diocesan level. It seems that the key to unifying the mission for this purpose is to state the mission directly from the universal mission of the Church. The more localized the mission language we use, the further we dilute branding efforts for Catholic schools. Parish and school mission statements might actually be somewhat unhelpful. A better approach would be to take the universal mission of the Church as the basis, and develop a local vision statement, rather than a local mission statement. A related common challenge contributing to the misalignment of mission language is pastors who are not as supportive of Catholic schools as their bishop. When pastors, the community, and the bishop are aligned, the whole local Church wins in their experience of both communio and missio. Frequently, the pastor needs to teach the community about the true meaning of "Local Church."
6.  Focus on People More than Facilities
At present, many Catholic school networks are inflexible because they plan according to time frames based on their buildings, rather than on their current operating conditions. Catholic school networks, and related planning, are very tied to high capital investment in facilities. Such diocesan networks would be well-served to plan based on the current market, rather than on facilities and, in doing so, to maintain flexibility through which they can readily adapt to rapidly changing operating conditions. For example, there are only cultural barriers to leasing facilities, rather than owning. The same barriers exist in the mindset of Catholic school leaders who resist appropriate space-sharing arrangements. Creative thinking on this matter will serve the longevity of Catholic schools very well.
7. Plan to Adapt
There is no such thing as stability in the operational environment for Catholic schools.  This is one of the lessons for Catholic schools from other loosely coupled network endeavors.  The days of linear planning, based on static operating conditions, is over. Static 5-year plans are counterproductive when demography, financial conditions, and leadership continuously and rapidly change. We see the frustrating results of using obsolete plans for Catholic schools to drive some diocesan decisions. When that happens, costs per student rapidly rise, while revenues just as rapidly fall. Adaptive planning models are well-developed at this time in history. They teach Catholic school networks to continuously adapt to rapidly changing conditions. In the best run Catholic school networks, adaptive planning is embedded in the ongoing cycle of both governance and management.
8. Best Practices in Governance and Management Are Essential
The best laid plans for parishes and Catholic schools fail if governance and management are below standard. There are standards that can be applied to Catholic governance and management: a combination of the Catholic Standards for Excellence (National Leadership Roundtable on Church Management) and the National Standards and Benchmarks for Effective Catholic Elementary and Secondary Schools (Loyola University Chicago) are powerful tools that Catholic dioceses can implement. Many dioceses, and parishes, and schools will find that they are already meeting many of those standards, but comprehensively assessing the quality of management and governance ensures unified quality, and gives an external, and well-researched measure of quality not previously available.
9. Plans Are Mission Driven and Data Informed
In the last five to seven years, great strides have been made in identifying those metrics that actually matter in planning for parishes and Catholic schools. Dennis Cheesebrow of TeamWorks International has developed valuable metrics for Catholic school planning, distinguishing between being able to provide analysis and succinct information, versus providing just data, or even worse, data overload. Parish and diocesan leaders need to understand their schools at the systemic level, relating what is happening in parishes to what is happening in Catholic schools over the whole, local Church system. It is possible now to name the conditions for vigorous sustainability in a given demographic environment, to effectively debunk operating myths with great analysis and information. Benchmarks and metrics are now sophisticated enough to have reliability and validity. That has not always been true.
10.  Plans Are Documentation of Intentional Relationships
In the recent past, many dioceses, parishes, and Catholic schools had a reputation for planning without effective implementation. The primary cause of this has been misunderstanding of Church planning. In the Church context, as elsewhere, planning is the creation of intentional relationships within the communio that is oriented to mission. A strategic plan exists only when a diocesan, parish, and school community agree to gather for a particular, compelling purpose (e.g., proclaim the Gospel, make the name of Jesus known and loved, etc.), and there is shared understanding and agreement about how, and when, and by whom, that purpose is going to be carried out over a given time period. The essence of any plan is the intentional relationships related to the mission and the quality of the agreement about how to go about it. The more effective planning efforts for Catholic schools happen regionally—at a scale within which intentional relationships can be developed between schools, and between parishes—the better the generalization to the diocesan level can develop under the leadership of the bishop.
11.  Catholic Schools Benefit from Collaboration at All Levels
Any effort to invigorate, and financially stabilize, Catholic schools needs partnership and collaboration at all levels: between national Catholic organizations, between dioceses, between parishes, and between Catholic schools. For example, in the summer of 2011, the National Leadership Roundtable on Church Management held a two-day event that concluded with a set of 91 action-oriented recommendations. The essence of these next steps was partnership and collaboration. They suggested that Catholic schools benefit from national level coordination by bringing a high level of expertise from around the country to the task.
12.  Reframe the National Conversation about Catholic Schools
Much of the national conversation about Catholic schools has been about sustainability. That is a mediocre goal. Catholic schools seek excellence in their educational goals. Why not seek excellence in their goals related to the very existence of Catholic schooling? The national level of conversation needs outside perspectives, while shifting beyond sustainability toward something more, toward something close to a "reframing." "Reframing" is my term for taking a whole network view of Catholic schools at national, diocesan, and intra-diocesan regional levels. For example, simplifying the Catholic school framework at all levels, across all systems, by focusing on two of the founding principles in this country—passing on the faith and serving the poor—would provide a unified, national level, laser focus on catechesis and evangelization.
The national conversation also needs to look at foundational business principles that address challenges related to issues of:
Scale: A 40 percent, 50 percent, or 60 percent occupancy rate is hard to sustain—90 percent, or better, is ideal. Some support services such as business functions, information systems, maintenance, and purchasing are better approached systemically, rather than as individual schools and parishes.
Location: Reconnect school location and population location.
Mission driven, data informed: High quality analytics that combine both internal diocesan data and demographic data have a lot to say about the location of Catholic schools, the design of a Catholic school network, and the financial models adopted. A good example is how transportation issues have weakened Catholic education by determining when, how, and where it is delivered.
Flexibility: Adaptability to changing conditions is the operational normal.
Diversity: The Church in the U.S. is currently experiencing a growing demographic diversity, and rapid demographic change. Can Catholic school networks adapt at a rapid enough pace to serve and benefit from the changing faces of the Church?
Where to Go from Here?
Any financial stability for Catholic schools is intimately connected to the current state of parishes and, by extension, of dioceses and their ability to use best practices in education, management, and governance, and to their capacity to adapt to constantly changing operating conditions. We need a systemic perspective based on systemic data, implementation of standards for governance and management, and a catechesis of the faithful on the nature of the Church itself to bring Catholic schools in the U.S. to their full potential as a means for spreading the Gospel.