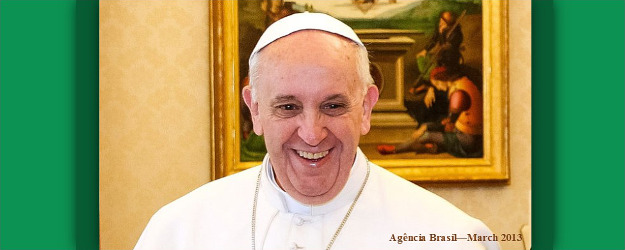 One of the oldest jokes for which we have evidence goes something like this:
A slave owner returns to the man who had just sold him his most recent purchase. "That slave you sold me last week just died." The man who sold him replied: "Hey, don't blame me. He never did that when I owned him."
The Philogelos, a Greek compound word for "the love of laughter" dates to about the mid-300s AD, and is an ancient collection of such funnies. This early joke book reminds us that laughter is a properly human characteristic. To be able to laugh—or, the gift of risibility (from ridere, Latin for "to laugh," from where we get the word "ridiculous")—is a healthy sign of maturity and the ability to see the incongruence of things.
A bit more recently than the Philogelos, I discovered Catholic Memes on the internet. For those of us who are over 18, a meme (from mimema, Greek for "that which is imitable") is a static picture or image, usually with a cheeky comment underneath. For example, playing off the popular craze of the Ice Bucket Challenge, there is a meme of the cutest baby being baptized with the subtitle that reads: "Catholics: pouring water on people before it was cool!" Another has Veronica holding the sudarium with the face of Christ impressed upon it, with the caption: "The Original Selfie." My favorite so far, though, is a picture of a newly elected Pope Francis in a hotel lobby, talking to the concierge who, admittedly, has a puzzled look on his face; the line underneath has the Holy Father saying, "Oh, that's right … I checked in under a different name." Like anything today, not all images on the internet are suitable for laughter, but such moments of smiling and chuckling often go unappreciated. Human laughter really is ultimately an argument: an argument that despite how bad things might be on any given day, we are made, not for toil and constant battle, but for perfect joy and the appropriate levity that flows from delighting in what is.
Laughter shows the mind's ability to handle ambiguity, semitones, equivocations, double-entendre, and absurdity. As Aristotle knew, the good-humored man is found between the buffoon and the boor: the former chortles at things that are not to be laughed at, the latter never cracks a smile at the risk of showing some humanity. Aristotle dealt with laughter in his work on ethics because he knew that this capacity to chuckle is not limited to the stage or the parlor, but has a political dimension as well. Dictators do not tolerate being laughed at, or as C.S. Lewis knew, "jokes as well as justice come in with speech" ("The Magician's Nephew," Chronicles of Narnia). Jokes are a matter of justice. Laughter always searches out an echo because joy is a sort of good infection which, by nature, refuses to remain solely within. It is a social reality joining others at an extra-mundane level.
This is why I think, that those who understand Christ deeply, laugh best. When the divine becomes human, what else compares? This is why we Catholics especially can laugh at ourselves. We are far from the boors Aristotle warned against, because we know that we are God's beloved sons and daughters, and that, in the end, all will be well. Could anything illustrate this contrast better than the recent "Muhammad Art Exhibit and Contest" down in Texas? Despite what one might think about "baiting" others or systematically poking fun at another religion, it is quite clear that Catholics are above murdering those who take part in, say, the local production of "Late Night Catechism," and we do not plan on harming "Father" Guido Sarducci, or any of the other myriad ways God and his Church are exploited to get a laugh. Unlike any other group, Catholics have the ability to laugh at themselves. It is a sign of security. It might even be a sobering reminder that oftentimes, we are, in fact, laughable.
Sometimes there is such dissonance between what one says and what one actually is or does, that laughter is our most fitting response. It's sad, but there are some lives that have become laughable. This is why even the Psalmist can depict the Lord laughing at hardened sinners and ridiculing those who think they can do whatever they want:
Kings on earth rise up and princes plot together against the LORD and against his anointed one: "Let us break their shackles and cast off their chains from us!"
The one enthroned in heaven laughs; the Lord derides them. (Ps 2:2-4)
Such laughter is the wise person's ability to see that God always wins and that, in the meantime, there are some truly hilarious attempts to take God's place.
When asked how many people worked at the Vatican, good Pope John XXIII quipped, "Oh, about half of them." Recently, Pope Francis told Christians they could not be effective witnesses of the Gospel if they walked around like "sourpusses." Do you remember his first Valentine's Day greeting at the Vatican (February 14, 2014)? He gave a beautiful address on the gift of love and marriage, and then ended by reminding us all that, "We all know the perfect family does not exist. The perfect husband does not exist, and the perfect wife does not exist … and let's not even talk about perfect mothers-in-law." The crowd, of course, roared with laughter. Developing a theology of laughter is worth our time and trouble.  It is a true gift from Joy Himself.
A question pondered from time to time by the Church's more serious thinkers is whether Christ laughed or not. We know he cried, and we know he grew angry, but the Scriptures never dare to depict our Lord guffawing. This is the incongruence with which G.K. Chesterton ends his monumental work, Orthodoxy:
The tremendous figure which fills the Gospels towers in this respect, as in every other, above all the thinkers who ever thought themselves tall. His pathos was natural, almost casual. The Stoics, ancient and modern, were proud of concealing their tears. He never concealed his tears; he showed them plainly on his open face at any daily sight, such as the far sight of his native city. Yet, he concealed something. Solemn supermen and imperial diplomatists are proud of restraining their anger. He never restrained his anger. He flung furniture down the front steps of the Temple, and asked men how they expected to escape the damnation of Hell. Yet, he restrained something. I say it with reverence; there was, in that shattering personality, a thread that must be called shyness. There was something that he hid from all men when he went up a mountain to pray. There was something that he covered constantly by abrupt silence or impetuous isolation. There was some one thing that was too great for God to show us when he walked upon our earth; and I have sometimes fancied that it was his mirth.
The laughter of God is, perhaps, something too awesome for us mortals to witness, but what a gift it will be in heaven where we can finally be large enough to enjoy it. As our summers begin, pray for the gift of laughter, and hear the Trinity's own divine delight in the all too human snickers and giggles of your family and friends.