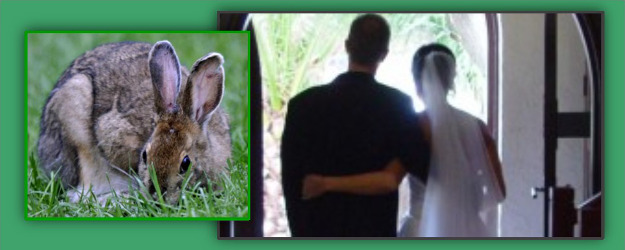 He said it. I wish he hadn't said it, but he said it: "God gives you methods to be responsible. … Some think that—excuse the word—that in order to be good Catholics, we have to be like rabbits. No." Pope Francis' unguarded line about an unnamed woman's choice to carry her eighth child—despite obvious problems with her first seven taken via cesarean section—has been analyzed, condemned from the right, and celebrated from the left (personally, I have been using this as an opportunity to tell those I know, who have historically disagreed with the Magisterium, that here is your chance: Hey, p#&* off the Pope: Have a huge family!).
Francis made a mistake. His words were demeaning and rude. The line profits no one: it is neither educative nor insightful. Furthermore, what does our Francis teach the world about Catholic charity by likening a woman, who is already obviously burdened with her eighth baby, to a subhuman creature known for its carefree copulating?
At one level, of course, what Pope Francis was getting at was correct: a family's sanctity and its number of children are not synonymous. We all know that Humanae Vitae §10 lays this out very clearly and that Pope Paul VI, even in the throes and rows of the 60s, kept the Church's message intelligently alive with his humble admission that regarding:
…physical, economic, psychological, and social conditions, responsible parenthood is exercised by those who prudently and generously decide to have more children, and by those who, for serious reasons, and with due respect to moral precepts, decide not to have additional children for either a certain, or an indefinite, period of time.

Responsible parenthood, as we use the term here, has one further essential aspect of paramount importance. It concerns the objective, moral order which was established by God, and of which a right conscience is the true interpreter. In a word, the exercise of responsible parenthood requires that husband and wife, keeping a right order of priorities, recognize their own duties toward God, themselves, their families, and human society.

From this, it follows that they are not free to act as they choose in the service of transmitting life, as if it were wholly up to them to decide what is the right course to follow. On the contrary, they are bound to ensure that what they do corresponds to the will of God the Creator. The very nature of marriage and its use makes His will clear, while the constant teaching of the Church spells it out.
When I am asked to do marriage prep, the question about family size inevitably arises. My response is always to tell the young man and woman, "Have one too many." That is, "Just when you think you're done, and you're ready to call it 'quits,' give God one more chance, knowing, then, that you have given him everything and have held back nothing. That last child will stand for you as an eternal sign of your youth, your love, and God's undying fidelity." That, however, is not what Francis said. He had no way of knowing how many children this woman, her husband, and God decided was the best amount for them.
What bothers me most of all is not this one line, but the fact that it seemed to come, not out of Catholic doctrine, of course, but out of Francis' "gut" response to this situation. C.S. Lewis captured this concern when he has us imagine how spontaneity reveals best a man's inner self: "… what a man does when he is taken off his guard is the best evidence for what sort of a man he is. … Surely, what pops out before the man has time to put on a disguise is the truth? If there are rats in a cellar, you are most likely to see them if you go in very suddenly. But the suddenness does not create the rats: it only prevents them from hiding" (Mere Christianity IV.7).
That said, none of us can know the Holy Father's soul, but I think he has already given us enough evidence that he is a holy and loving man. But he is also a man of his times and was trained as a priest and ordained in a world very different than the one in which we now live. When I look around at the solid young Catholics on so many college campuses these days, I see how different their world is than the one Jorge Mario Bergoglio knew at their age.
These young people today know what it is like to live in a post-Roe v. Wade world in which life is so easily discarded, and where sex really has nothing to do with children. There is a future pope who right now is a young man of a Catholic family somewhere on our globe: he might be one of eight kids, possibly home-schooled, he might attend Franciscan University or Thomas Aquinas College, sense a call toward priesthood, and so present himself to his local ordinary, and then, one day, be elevated to the See of Peter. He will receive a solid seminary training at Sacred Heart in Detroit, or Kenrick, here in Saint Louis, and know the best of our Catholic tradition, he loves Jesus, and is no stranger to the world.
When Humanae Vitae was published and promulgated in 1968 (Bergoglio was ordained in 1969), clerics simply did not have the knowledge required to preach sensitively and intelligently on the subject of responsible parenting, so many simply let the matter go. Their training in moral theology was admittedly dry and so casuistic, the theological and anthropological principles that provide Catholic ethics with its beauty were (for the most part) missing. The dry years hit, and then John Paul II manned the world's stage as the Vicar of Christ, and we began to speak of a Culture of Life, a Theology of the Body, and Heroic Womanhood.
This tapestry of heroic virtue and indefatigable Catholicism is precisely what was missing from Francis' recent gaffe. Yet, at every Mass, each of us prays for our Holy Father:
Remember, Lord, your Church, spread throughout the world,
and bring her to the fullness of charity,
together with Francis our Pope and N. our Bishop and all the clergy…
Even the best of us are still far from the fullness of charity. And so we pray.
Lent is now among us, a time to enter more deeply into prayer, the frailty of humanity through fasting, and Christ's own sensitivity to others through almsgiving. As Pope, Francis is our visible head on earth; as Francis, he is our brother, still growing alongside us all into the fullness of Charity. Together we are on this pilgrimage, a journey which, for the next 40 days, will take us through the desert, but which will bring us one day to the eternal morning of Easter.