This is an interesting book, simply written; it is also a book of practical spiritual guidance for our times.
Albino Luciani was the Holy Father, Pope John Paul I, for thirty-three days. Most people know little more about him. This biography shows him to have been a holy man with a wonderful smile.
As a youth he was lively and mischievous. When Pope, at an audience he laughingly said he hoped no one would look up his conduct marks in grade school.
His family was very poor. His father was often away from their village in Northern Italy to find work. Albino's brother remembers when he was working for a woman some distance from their home, at the end of the time the woman gave Albino a piece of white bread, a delicacy almost unknown in their poor village. Albino, though hungry brought it home for his little brother.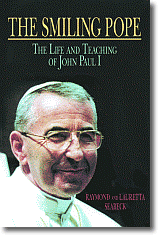 In the seminary he was, the faculty reported, "too exuberant. He has an original personality, only God knows how he will turn out." He turned out to be Pope.
He was sickly but was ordained a priest in 1935. The people loved him. As a bishop he told his priests to always be kind and courteous. "People greatly appreciate it if one is kind and polite."
He often said, "The will of God is my paradise." His joy and his peace were contagious. His secretary said, "Everyone who lived with him or came to him knew that he constantly radiated an indescribable feeling of serenity and peace."
He always defended the faith. After the Council he said, "The faith of the people is being compromised, not only by those who write and spread errors, but also by those who keep silent and do not write whereas they should speak out.
The second part of the book is his writing; they are excellent.
Fr. Rawley Myers
Colorado Springs, Colo.