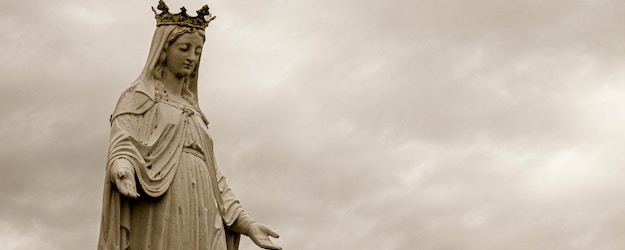 Catholics begin a new liturgical year by starting with a pregnant Virgin Mother in Advent, and we start a new chronological year by invoking her once again — the Solemnity of Mary, Mother of God. If God "started" with Mary, why shouldn't we? We have been leading up to this point for quite some time: November, such a mysterious month, pertinently preceded by another most mysterious time — October is the anniversary of the miracle of the sun, where God's Daughter plays with the sun like a jewel she dangles and twirls at will, and Halloween, the eve of All Saints, the cusp of November, which is the month when we are manifestly confronted with eschatological realities: All Saints and All Souls, with Purgatory, Heaven, and Hell; with saints and angels; with damned souls and demons. November, then, is a perfect time to ponder various paired realities that don't seem to be related, yet are, and we find them both at Fatima and in other appearances of Mary: horror and bliss, hideousness and lavish beauty, eternal loneliness and divine romance. Or in other words, Hell, sacrifice, and prayer. If we peer deeply into Mary's words at Fatima and other apparitions, we will discover some amazing realities, with a soupçon of infernal testimonies thrown in for good measure. Now, since sweet best follows savory and rest follows work, let's swallow the bitter first, and the sweet will follow in a wonderful manner.
San Nicolas, 1983–90 (approved May 22, 2016)
God's warning is over the world. Those who stay in the Lord have nothing to fear, but those who deny what comes from him do. Two-thirds of the world is lost and the other part must pray and make reparation for the Lord to take pity. The devil wants to have full domination over the earth. He wants to destroy. The earth is in great danger. . . . The majority of mankind has allowed itself to become contaminated and as a result the world is under a warning. . . . At these moments all humanity is hanging by a thread. If the thread breaks, many will be those who do not reach salvation. That is why I call you to reflection. Hurry because time is running out; there will be no room for those who delay in coming!1
Those are Mary's words. "Two thirds . . . the majority of mankind . . . lost/contaminated." She means people who, if they were to die right now, would not die well. Let that horror sink in. I know it's tough to dwell on, but since the Queen of Heaven and Earth — our Sister, our Mother, our best friend — wants us to, and since some of the people we know and love are probably in that majority, we ought — ought, not "should," not "might be a good idea" — to dwell on it a bit.
So let's add more information. About 151,600 people die each day. What is two-thirds of 151,600? It is 101,066 people, per day, approximately. Now you know why St. Teresa of Avila described souls falling into Hell as a snowfall. This is why Sr. Lucia of Fatima, in reply to Fr. Lombard's statement, "Do you really believe many will go to Hell? I hope that God will save the greater part of humanity," replied bluntly, "No, Father, many will be lost."2 Even in St. John Vianney's times, not nearly the horror show of rampant grievous sin lived as a lifestyle that we have now, the saint said, "I tremble when I see so many souls lost in these days. See, they fall into Hell as the leaves fall from the trees at the approach of winter."3 Many other saints echo St. John Vianney in this, and what Mary revealed at Fatima (Hell) and San Nicolas (souls on the cusp of Hell) is no different. There is no "modern Mary" who states that the saints of the past were wrong and that, really, most people want to be good and they go to Heaven when they die. We are, rather, combatants in a desolate landscape. So, what to do? Just as the thing to do when seeing a child playing in the street is not to wring one's hands, simply standing there watching in agony or avoiding the issue, but to run to get the kid out of the street, so it is in regard to the imminent danger of Hell: to wit, it does no good to ignore the reality we're living in; we can and must do something. Try ignoring cancer and see how that goes.
So this is the bitter part, and, honestly, we need to hear more of it, just as a cancer patient needs to hear about the cancer more than once — he or she will need ongoing care. My father, for example, beat cancer three times; he'd be dead long before now had he not listened to the many dire prognoses and what he needed to do about it. But Mary tells us that many are already in Hell and that a majority of our brothers and sisters are in danger of Hell, and these prognoses are widely ignored — which totally defies logic. Mary also said the following at San Nicolas:
Everywhere in the world where my messages have been given, it would seem that one preached in the cemeteries. The response which the Lord expected was not there. That is why your people were chosen. Preach, so that your brothers may answer the call of the Lord Our God.4
Her messages in all their weight of eschatological doom and glory need to become a part of our lives — we need to live those messages. With this bitterness, however, Mary brings vast sweetness. But where? We just need to do a tiny bit of theological spelunking.
Fatima, 1917
Many souls go to hell because they have no one to make sacrifices and pray for them [Mary said at Fatima] . . . her beautiful features taking on a look of great sadness.5
William Golding wisely observed that out of a little seed, a woman makes a baby, and: "If you give her a house, she'll give you a home. If you give her groceries, she'll give you a meal. If you give her a smile, she'll give you her heart. She multiplies and enlarges what is given to her."6 And that's just fallen women . . . what then of Mary, the Immaculate Girl, from whose womb comes the Incarnate God? What sweet things must she do with what is given to her! Here we come to what is, paradoxically, the sweetness of sacrifices. Prayer can have periods of dryness, of course, but it's more obviously sweet than sacrifice, so let's look at sacrifices first.
One Does Not Sacrifice Alone
Suppose you hate advanced algebra. The idea of figuring out problems of advanced algebra would appear intolerable. Let's add another, well, factor to this example. Suppose a gorgeous princess shows up and charmingly asks a young fellow, "Can you solve these advanced algebraic equations for me?" Yeah, he'd do it. He would hate the math, but he would sit down and work at it until he got it, perhaps with a dour look on his face and for hours and hours, yet he'd also be really happy. The reality with Mary is better than this, because she doesn't simply ask and obtain consent, leaving one to go perform heroic mathematical feats on his or her own. Rather, sticking with our example, the gorgeous princess, after using her chaste feminine wiles to get said fellow to pick up pencil and paper, then adds . . . "I'll sit beside you while you work." She's probably playing with the jeweled bracelet on her wrist while she says this, as Mary played with the sun. Kaboom. In that case, let's do advanced algebra all day, and tomorrow, too! The reality for each of us is that Mary is indeed not just close to us in a moral sense or a spiritual sense; rather, "she is with everyone and in everyone," as St. Hildegard of Bingen said.7
In point of fact, in Baptism one's heart and soul become one with Mary's heart and soul by virtue of being one with Christ. Further, this intimate union includes a "presence of Mary's person in soul and body [my emphasis] . . . it is a 'physical-mystical union by the physical-mystical participation in the life of grace of Christ and Mary'. . . . As she is in Heaven, so it could be said that the Immaculate is personally present before, beside, and within my soul which is upon earth."8 The devil too — yes, the devil — speaks to the reality of Mary's presence with us and of her stunning loveliness; while the devil is usually an untrustworthy source, in exorcisms he is at times obliged by the exorcist, Mary, or God directly to give witness to various truths. Being especially irate about Mary, who crushes him, at times he blurts out incredible insights about her. Here are three, and I'll provide more further on:
1) "Make her yours. She walks always at your side!"9
Sure, sacrifices sound tough — but we sacrifice with Mary actually beside us; she doesn't let us go it alone! And offering her our sacrifices is not only done truly with her, it is an act of tremendous love that touches her heart and delights her since our sacrifices are in reality a back and forth dialogue of love.
2) "Every joy, every pain, and every suffering offered to that Heart (of Mary) are sweet caresses of deep love. She accepts and offers them with her hands and raises them to that Creator."10
3) "She . . . the Most Beautiful One . . . The Clear One like the Dew, the Splendid One, Splendid like light that passes through water . . . When she was born, the world stopped for a moment. All creation stopped to look at her, all creation: the stars, the air, the fire, the water, the ground. All creation stopped."11
Mary is God's greatest gift to us after the Incarnation of the Son: Her beauty is meant to delight us as the hypothetical algebraic princess delighted that young man. Mary reflects in a special way found nowhere else the beauty of God. Imagine a girl so beautiful that the whole world, angels included, stops and gasps in awe. It's like Adam's "wow" when he first saw Eve but times almost infinity. This is who is with you in your sacrifices. Talk about encouragement and sweetness!
Turning from the demonic witness, let's look briefly at two apparitions that point to the reality of Mary's presence with each of us.
Mexico, 1531
Listen and let it penetrate your heart, my dear little son. Do not be troubled or weighed down with grief. Do not fear any illness or vexation, anxiety, or pain. Am I not here who am your Mother? Are you not under my shadow and protection? Am I not your fountain of life? Are you not in the folds of my mantle? In the crossing of my arms? Is there anything else you need?12
When Mary speaks of her mantle and her arms, she doesn't mean metaphorical mantles or spiritual arms. She means her mantle and her arms, she who has a body, a glorified body, which enables her from eternity to be with each person as if that were the only person in the world to her. Let these words of hers "penetrate your heart." Fast-forward 450 years . . .
Cuapa, Nicaragua in 1980
"Lady, let them see you so that they will believe! Because many don't believe. . . . Let them see you, Our Lady!"

She did not answer anything. She raised her hands to her breast . . . her face turned pale, her mantle changed to a gray color, her face became sad, and she cried. I cried too. I trembled to see her like that. . . . She told me: "It saddens me to see the hardness of those persons' hearts. But you will have to pray for them so that they will change."
This is just a portion of the apparition according to the man who saw her, Bernardo Martinez, but the important point for this article is that they did not believe she was there with them, even though she was — we lack faith. When the final apparition was over, Bernardo thought he would never encounter Mary again in this world and Mary left these wonderfully consoling words (the italics are my emphasis): "Do not be grieved. I am with all of you even though you do not see me."13 Her presence with them remains, invisible but just as true as before! We don't see, ordinarily, Jesus hidden under the image of bread and wine in the Eucharist, but He is there, present in body and soul. Likewise, we don't see Mary with us, not even under any sacramental appearance, but she in some mystical yet real way is with each of us both physically and spiritually.
To Sacrifice or Not to Sacrifice
When we offer sacrifices, we do so in Mary's arms, and when we sacrifice it is as one with Christ, which is why it is so necessary that we do offer sacrifices — this is part of our mission and our glory, part of "the new man" (cf. Col 3:9–10), that, as one with Christ, each of us participates in saving souls from Hell with Mary, just as Jesus did with Mary while on earth. If we do not do our mission . . . what damage! Although what we do is tiny by comparison to Jesus's sacrifice, imagine — this is an impossible example, of course — where we would be if Jesus decided not to fulfill His mission; in a much tinier way, but still crucial in regard to the souls for whom God wants us to sacrifice, imagine what will happen if we don't. We don't even have to imagine much, since Mary showed at Fatima what happens when Catholics, who are one with Christ, refuse their mission: souls end up in Hell. But as we've seen, it's a sweet mission! It's a pleasure to sacrifice with Mary, to wipe tears from her eyes, to console her, to be with her. Then imagine the joy when, in Heaven, souls come over and say, "If it weren't for Mary and you . . ." Yes, "Mary and [your name here]," forever inseparable. Give her little sacrifices and she makes saints. Spiritual union always results in fruit.
But as Mary said at Fatima, it's not only by our sacrifices that we save souls with her, but also in the most wondrous activity possible aside from Holy Communion, a very special prayer: the Rosary. (Regarding Holy Communion and Mary, see my article at the Homiletic & Pastoral Review here).
The Rosary
I understood how sweet it is to pray to the Most Holy Virgin and how generous she is to those who pray to her; how many graces she gives to the persons who come near to her; and how much joy she experiences in giving these graces.14
That's a quote from St. Catherine Laboure after seeing Mary in the Miraculous Medal apparitions. To pray to her is to come near to her. To pray is also to save souls. St. John Vianney not only said that many souls go to Hell, he also said that for some souls an Our Father and a Hail Mary is enough to turn the tide in their favor! The Rosary is comprised of many Our Fathers and myriad Hail Marys. The Rosary is in fact from Heaven, a fact well-documented in Fr. Donald Calloway's groundbreaking book, Champions of the Rosary: The History and Heroes of the Spiritual Weapon. Yes, the Rosary is a heavenly weapon so powerful that, as one demon said, "If you all knew it, I would be destroyed in less than a second"15 and, "She whips us with that chain! . . . Each bead of the Rosary you pray is, for us, a lash of the whip. It burns us. . . . It takes so many souls away from me because it is hers."16 In other exorcisms, the demons have made clear that to them the Rosary is like hitting someone in the head with a tire-iron or a baseball bat, over and over. We can well imagine what that would do to the head of a human person. There are various reasons the Rosary is so powerful against the devil, one being that the demons are reminded of what Jesus and Mary did, over and over — they can't stand it, it's like fire to them. "Every bead is a tear of that woman," the devil revealed. Here is one final insight squeezed from the infernal before getting to the saintly:
In the Rosary "she takes your hand, she extends it towards heaven and takes the hand of your God . . . she brings them together so they touch. When these two hands meet, she exults, exults, exults, and gets on her knees and prays. . . . Only a few men touch that hand. . . . They do not want to do it thanks to me who am their god. . . . [But] when it happens, all of Paradise exults."17
To pray the Rosary is — again, after Holy Communion — the most intense meeting of a human person and Mary in this world. Actually, the Rosary takes us partly out of this world. Why is it that Mary almost always appears to someone while they are praying the Rosary? Because to pray the Rosary is to be in her presence in a special manner. She and the one praying the Rosary are, so to speak, in her royal rose garden, sitting on a bench close together, loving each other, and the people they pray for are caught in their exchange of love:
When you pray the Rosary for someone, Mary places that person between you and her. As soon as you start, you radiate currents of love to Mary. She instantaneously responds, by sending currents of her love to you. Currents of love simultaneously radiate from the both of you, and the person for whom you are praying gets caught in the crossfire of your love. If that person is like a wilted plant, the currents will prop that person upward.18
The Hail Mary is the perfect prayer for this back and forth exchange of love. St. Louis de Montfort writes:
The Hail Mary well said — that is, with attention, devotion, and modesty — is, according to the saints, the enemy of the devil which puts him to flight, and the hammer which crushes him. It is the sanctification of the soul, the joy of angels, the melody of the predestinate, the canticle of the New Testament, the pleasure of Mary, and the glory of the Most Holy Trinity. The Hail Mary is a heavenly dew which fertilizes the soul. It is the chaste and loving kiss which we give to Mary. It is a vermilion rose which we present to her; a precious pearl we offer her; a chalice of divine ambrosial nectar which we proffer to her. All these are comparisons of the saints.19
In conjunction with St. Louis, St. Bernardine of Siena:
When you pray the Hail Mary alone without other pray-ers [i.e. without other people], with whom do you think you are speaking? . . . You must know that when you 'hail' Mary, she immediately greets you! Don't think that she is one of those rude women of whom there are so many — on the contrary, she is utterly courteous and pleasant. If you greet her, she will answer you right away and converse with you!20
Let's put those saints' quotes together. In the Rosary, one is sitting with Mary, who, as we saw above, is intimately close with each of us spiritually and physically, having a conversation. And not only just conversing intimately, but one is giving her red roses, a chalice of ambrosial wine, and kisses! Mary is a girl — Immaculate, but still a girl, the Girl of girls — she is overflowing with love for every person and simply loves flowers, kisses, beautiful things, and to be loved, more than any other girl ever does! Yes, the Rosary — how we need to get this into our heads, because it is true and makes the Rosary a more immediate experience — belongs to a glorified but still flesh-and-blood girl, and Mary relates to us as a girl. She is an embodied girl who hears our vocal prayers with her physical ears. Yes, she knows your voice. And per St. Bernardine, the Hail Mary does not result in a static, one-sided recitation, rather she participates, you are conversing with her as she is quietly responding to what you say; she is responding to your kisses in kind by kissing you back; she is giving you chalices of honeyed grace (if I might put it that way); and her scent, the scent of roses, lilacs, violets, and enrapturing spices, is flowing upon you. The Rosary is not a one-way street — it's you and Mary in her rosarium — so close the angels would be jealous of our intimacy if they could be — in a back-and-forth exchange of love and affection that all of Heaven thrills at. The love that flows between you and Mary engulfs those for whom you are praying — many who you don't know about — and your engagement with Mary allows her to snatch souls from the devil's grip. And then you come out of the Rosary covered with the scent of Mary. If God allowed that scent to be noticeable, people would look at you in awe, and say amazed, "Where have you been, and who were you with!? That scent!" Their next phrase would be, "I want to meet her!" That scent in itself turns demons away from the one who prays the Rosary and no doubt clings to those for whom we pray. We don't (usually) sense any of this, but that does not mitigate the reality, a reality that intensely affects us and the world.
The Rosary, the most elegant prayer, like suffering, is sweet.
Consoling Mary
Fatima, 1917
Their eyes feasting on the Lady, the children notice that she holds out the rosary on her opened and slightly raised right hand, as though entreating them to take it and grasp it to their hearts. Then their gaze is attracted to a heart which is vertically encircled by large thorns that pierce it on all sides.21
What is glaringly obvious from all that has been said is this: when a person makes sacrifices and prays the Rosary (and other prayers), reparation is made, the thorns in Mary's Immaculate Heart are withdrawn, and grace is released due to one's active relationship with Mary. Love is always in the will, it means communication and sacrifice; love in regard to Mary will then include those things in an extremely elevated fashion, which is just what we find in sacrifices and the Rosary. The consolation all this brings to Mary is immense, and the reality is jaw-dropping: souls are saved from eternal horror (while others are released from Purgatory) and the world radically changes because of one's loving union with the Princess of Heaven.
Nothing else we do is as important as loving Mary in union with Jesus and, with them, saving souls. Much of humanity is this very second on the edge of a dark, eternal abyss and we face in our times an absolutely unheard-of catastrophe. Imagine if the fire Mary mentioned at Akita in the early 1970s, which she said will wipe out a great part of humanity if we don't change (we haven't — and a "great part" sounds awfully like the "two thirds" she mentioned at San Nicolas), fell right now — then we're not talking 100,000 souls lost per day, but something in the order of three billion souls or more in a global event of fire simply falling on us with no more time to repent. Think Sodom and Gomorrah: the fire just fell. Mary does not threaten, she warns — after the warning definitely comes either us changing or else a reckoning. The time for carrying out the sweet life of union with Mary in sacrifices and prayers is now, whether or not fire from Heaven falls and puts to an end the earthly lives of some undetermined but large amount of humanity, and for many souls — perhaps for some reading this — it is literally this day or never. What if each of us said just one extra Our Father and Hail Mary per day, in addition to the Rosary, and offered up a few little sacrifices per day — a word withheld, work done better, food given up, maybe just no ketchup on the fries? Little seeds.
One last little sweet: There is a fairly new private association of Catholic faithful called Consolatio Mariae — "The Consolation of Mary," or "Mary's Consolation" — that exists to encourage the sacrifice and prayer Mary has asked for at Fatima: It is easy to join and there are no obligations beyond simply trying to do what Mary asked us to do at Fatima. There is no need to sign one's name or fill out a form, no meetings — one need only read how it works and decide to join by praying the Rosary and some prayers and offering Mary some sacrifices — it could not be easier: see here.
Loving Mary is sweet, for us and for so many more. This is the sweetness of Fatima.