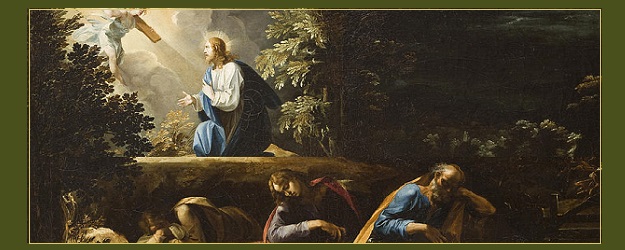 "Could you not watch with Me for one hour?… Keep watch and pray" (Matthew 26:40-41)
There are many sources of evil plaguing our society. However, we as a Church must be reinvigorated by the consoling certainty of God's Word, especially when it says: "Where sin abounded, grace abounded all the more" (Romans 5:20). As Catholics we know where this grace comes from, and where it points us to: Jesus Christ in the Holy Eucharist. As the Catechism of the Catholic Church aptly puts it in paragraph 1324:
The Eucharist is "the source and summit of the Christian life."
The other sacraments, and indeed all ecclesiastical ministries and works of the apostolate, are bound up with the Eucharist, and are oriented toward it. For in the blessed Eucharist is contained the whole spiritual good of the Church, namely Christ himself, our Pasch." This one source of life, this one summit we aspire to, is one which Catholics need to fall in love with again.
The numbers of the polls differ but the reality remains that many Catholics do not believe in the Real Presence of Jesus in the Eucharist, and this is because they have not encountered Him there. That is so partly because they have not heard persuasive, convicted preaching encouraging them to "Behold, the Lamb of God!" (cf. John 1:29), and to truly open their hearts to such an encounter!
But how are men to call upon Him in whom they have not believed? And how are they to believe in Him of whom they have never heard? And how are they to hear without a preacher? So faith comes from what is heard, and what is heard comes by the preaching of Christ" (Romans 10:14, 17).
Thus, many (not all) do not call upon our Eucharistic Lord in faith and love because they have not heard of His Real Presence. However, even among those who do believe this doctrine, there are not enough Eucharistic "adorers"; not enough lovers of the Blessed Sacrament struck with "Eucharistic Amazement" as Pope St. John Paul II talked about at the beginning of section six in his encyclical, Ecclesia de Eucharistia. Now in our time in the Church is a "very acceptable time" (2 Corinthians 6:2) for Eucharistic love and amazement to be stirred up in the hearts of Catholics (cf. Song of Solomon 2:7) because this is, in some way, the grace of graces; to abide with and in Christ.
In a time when there is a presence of profound evil in the world, we must remember that the outpouring of God's goodness is even greater. We are given the Presence of His Son, Jesus Christ, our Lord hidden in the Most Blessed Sacrament (the "hidden manna" cf. Revelation 2:17).
"It is the Lord!" – John 21:7
This Eucharistic awakening of hearts is often experienced as a kind of shock, a life-changing realization and experience of Christ's Sacred Presence. That kind of Apostolic recognition of Jesus "in the breaking of the bread" (Luke 24:35) is the kind of faith we need today if we are to turn the tide of sin into a deluge of God's love and mercy. However, we have mostly forgotten that Jesus is really there or we were never introduced into His Eucharistic Presence through the faith of another adoring believer. Many Catholics have never encountered any "wise men" in adoration before the Presence of the Incarnate Word. "And going into the house they saw the child with Mary His mother, and they fell down and worshiped Him. Then, opening their treasures, they offered him gifts, gold and frankincense and myrrh" (Matthew 2:11). What gift do we bring the King of Kings? I believe the gift of His Real Presence in the Eucharist deserves the gift of our real presence in perpetual Eucharistic adoration. However, we have not given Him the homage and loving attention He deserves.
"They treat me as a dead object." (Diary of St. Faustina, 1385)
We know that this pains the sensitive Heart of Jesus because unrequited love is the height of pain which the human heart experiences. Jesus Sacred Heart is fully human, perfectly sensitive, overflowing with love and, therefore, pained by the real absence of His people before His Eucharistic throne. Jesus spoke to St. Faustina (the bearer of the message of Divine Mercy to the world) about this unbelief in His Eucharistic Presence and confided to her, "When I come to a human heart in Holy Communion My hands are full of all kinds of graces which I want to give to the soul. But souls do not even pay attention to Me; they leave Me to Myself and busy themselves with other things. … They treat Me as a dead object." (Diary of St. Faustina, 1385) Once, when St. Margaret Mary (the Saint to whom the revelation of the Sacred Heart of Jesus was given) asked Jesus what in her was most displeasing to Him He told her that it was her inattentiveness to His Presence in the Eucharist. This should shock us awake just as the Apostles were awoken by Christ's words, "Could you not watch with me one hour?" (Matthew 26:40) Even a Saint— who received mystical revelations from Christ— had not been as attached and attentive to Our Lord's Eucharistic Presence as He wanted! How much more then ought we "yoke" ourselves next to His Sacred Body in the Eucharist as parishes and communities through perpetually adoring His Holy Presence? This is a sweet yoke which Christ desires for His Church to receive when He invites His bride to, "Come to me, all who labor and are heavy laden, and I will give you rest. Take my yoke upon you, and learn from me; for I am gentle and lowly in heart, and you will find rest for your souls. For my yoke is easy, and my burden is light" (Matthew 11:28-30). The Church and its members are called to be yoked next to and in union with Christ's Eucharistic Body. Jesus longs to gaze upon the unveiled faces of more of the members of His Bride, the Church, coming to adore Him but many remain outside the throne room and outside the banquet hall.
There is something to notice about Jesus' loving complaint towards His sleeping Apostles in the Garden of Gethsemane. Jesus highlights a kind of minimum expectation of the time we should give to prayer rather than a normative expectation: "Could you not be with me for at least one hour?" Rather than ensuring that we set aside "enough" time for a Holy Hour each day and treat that as the norm we should be open to the Lord asking us to abide in His Presence whenever He wants and for as long as He desires our company. Are we open to being called to His side more often or do we presuppose that He would not want us to keep watch with Him for more than an hour? We need not limit our time with Jesus in Eucharistic Adoration based on Christ's minimum expectation by arbitrarily making "one hour and one hour only" into the norm. Rather, our normative disposition needs to be that of the Saints who went where Christ called them as soon as His summons was heard. Further, love caused them to peacefully abide there as long as Jesus desired. We can become like Eucharistic handmaids, so to speak, by imitating our Lady's normative disposition and default posture as being one of sitting at the Master's feet ever attentive to the slightest movement of His hand indicating His heart's current desire. "Behold, I am the handmaiden of the Lord. Be it done unto me according to your word" (Luke 1:38) As adorers of the Eucharistic Lord our starting point is to be with Jesus, only leaving His Presence when He sends us out in order to invite others into His Presence. Being in His Eucharistic Presence then is the source and the summit of all our Apostolic ministry.
Further, we must be willing to pour out—like St. Mary Magdalene's perfumed anointing oil in John 12:3—our time and love at the Lord's feet either in silent adoration or in tongues of praise as the Spirit enables us (cf. Acts 2:4). Jesus knows our weakness, however, and acknowledges that, "The spirit is willing but the flesh is weak." This is the place of tension where we are called by the Lord to stretch our expectations and dispositions through intentional and extravagant love. "Where you do not find love, put love, and there you will find love" as St. John of the Cross simplifies it. We must become more and more willing to allow the Lord's "intrusions" into our lives by letting Him come and "plunder" our time, energy, faculties, and resources. In doing so, Jesus prevents them from the being dissipated on the cares of the world and transfers them to His sweet and kingly dominion. "But no one can enter a strong man's house and plunder his goods, unless he first binds the strong man; then indeed he may plunder his house" (Mark 3:27). How willing are we to allow Jesus to plunder our houses? To steal our time? Our plans? To steal our hearts and allow Him to take everything? He is like a thief in the night for whom we must keep all the windows and doors unlocked! We must surrender to Christ the deed to our house where all our possessions reside so that Jesus can move freely, dispossessing us of all our possessions so that He Himself may become our only possession; our pearl of great price. We must become possessed then of Christ's Spirit! We must allow this "Holy Spirit possession." This is true freedom: to be freed from sin and freed for love by the Son who alone makes us free (cf. John 8:36). We must choose self-forgetful love or we will continually be saddened at the remembrance of our many possessions like the rich young man (cf. Matthew 19:16-30). The "one thing" we and the rich young man lack is the total freedom to follow Christ wherever He leads. In our current state, however, the weakness of our sinful flesh (which Jesus highlighted in the Garden of Gethsemane) paradoxically is strong enough to bind the willingness of our spirit to respond to the Lord's summons to "keep watch and pray" (Matthew 26:41). We are rich with the goods and cares of the world like the rich young man but spiritually impoverished by our the very flesh of ours which enjoys them so much. The spirit is indeed willing but the flesh is weak wherever it is still bound by some sin or attachment. As St. John of the Cross's word of wisdom reminds us one remains bound by a rope just as by a thread so long as that thread is still holding fast hence the need for Christ to come to our sleeping, bound up spirits and rouse them awake as He did in the Garden of Gethsemane for His Apostles! Jesus' authority to "bind and loose" is continual work in our lives of binding the dispositions of the sinful flesh—which interrupt and delay the good we are called to do— and steadfastly loosing the ropes and threads which keep us enslaved to sin and various attachments. Romans 7:19-21 speaks of the opposition which exists between the willing spirit and the sinful flesh, "For I do not do the good I want, but the evil I do not want is what I do. Now if I do what I do not want, it is no longer I that do it, but sin which dwells within me. So I find it to be a law that when I want to do right, evil lies close at hand." So we must let Christ, Who is stronger than this "evil close at hand" within us, to be about His Father's business of deliverance and healing in our lives by frequenting His Eucharistic Presence where He ministers to our every need. Zeal for His Father's house consumes Jesus (cf. John 2:17) and that same Spirit of zealous love will consume our imperfections to the extent that we allow Him the opportunities to enflame our hearts more and more by drawing near the "Burning Furnace of Charity" (see the Litany of the Sacred Heart).
"O Jerusalem, Jerusalem, killing the prophets and stoning those who are sent to you! How often would I have gathered your children together as a hen gathers her brood under her wings, and you would not!" (Matthew 27:37)
Yet, as individuals and as a Church we keep Jesus waiting and do not give Him opportunities to free us! We then wonder when He will deliver us from evil! When, many wonder for example, will we be delivered of the evil of abortion in our world? However, does not this particular evil stem from society's lack of recognition of the gift of that newly created life; a certain "unbelief" about the presence of life in the womb? Many are unwilling to "see" the little person hidden underneath the veil the mother's sanctuary-like womb. A sacred presence of the image of God is borne within her yet the gift is unrecognized and therefore too often "treated as a dead object"-just as Jesus' Presence in our sanctuaries is "despised and rejected" or at the least ignored and unloved. Hear in the following prophetic complaint a foreshadowing of the neglect given to Jesus in the Eucharist: "He was despised and rejected by men; a man of sorrows, and acquainted with grief; and as one from whom men hide their faces he was despised, and we esteemed him not" (Isaiah 53:3).
"He came to His own home but His own people received Him not." (John 1:11)
Imagine if the members of the Church were all enkindled with the fire of "Eucharistic amazement" and recognized Jesus there, proclaiming His Presence like the Apostle John, "It is the Lord!" Like Peter diving into the sea so that he could be near Jesus as soon as possible we would have to tear people off of the roof tops of our churches because they would be so desperate to touch even the hem of His garment (cf. Matthew 9:21) let alone receive Him in Holy Communion! It is this type of Eucharistic love by which Jesus wishes to be lifted high in order to "draw all men to [Himself]" (cf. John 12:32). The magnetic and desperate attraction of love should have us as a Church eager to catch even just a glimpse of Jesus just like Zacchaeus (cf. Luke 19:1-9). It should cause us to cry out for healing and salvation like blind Bartimaeus shouting at the top of his lungs, "Jesus, Son of David, have mercy on me!" (Luke 18:38) Further, our faith would save not just us but those for whom we would zealously bring before the Master's feet in passionate intercessory prayer both at Holy Mass and during Eucharistic Adoration. As a Church we must lower our paralyzed and broken culture before the countenance Divine Mercy confident of the power of His saving gaze to ignite faithful repentance and revivify society out of its moral paralysis.
"Awake, O sleeper!" (Ephesians 5:14)
Jesus has given Himself to us in the sacraments and especially in the Eucharist in order to resurrect us to new life and love. "I am the living bread that came down from heaven. Whoever eats this bread will live forever. And this bread, which is my flesh, I will give for the life of the world" (John 6:51). Yet, how far we have fallen from the source of our life! How long will we wait—how long will we make Jesus wait—before we rouse from sleep and sprint towards the summit of holiness, the Eucharistic meal which Christ's Body provides for us? Increasingly we will share in His Divine Life to the extent that we allow the light radiating from His Eucharistic countenance to penetrate even into the dark corners of our hearts. Many people's faith in the Eucharist is like sleeping beauty in need of a wake-up call from Heaven! "But when anything is exposed by the light it becomes visible, for anything that becomes visible is light. Therefore it is said, 'Awake, O sleeper, and arise from the dead, and Christ shall give you light.' Look carefully then how you walk, not as unwise men but as wise, making the most of the time, because the days are evil. Therefore, do not be foolish, but understand what the will of the Lord is" (Ephesians 5:13-17ff). St. John Bosco was shown in a prophetic dream a vision which illustrates the urgency of anchoring ourselves more and more to Eucharistic devotion. In his dream St. John Bosco saw a huge ship which represented the Church. This ship was being tossed by violent waves while under siege from all sides. In the midst of this crisis the helmsman, the Pope, desperately tried to anchor the boat to two pillars. First, to a taller pillar on top of which was the Eucharist. Second, to a shorter pillar atop which was Our Lady. Let us awake then from the meaning of this prophetic dream into the reality Heaven kissing earth at the consecration of Christ's Body and Blood occurring on our altars! The meaning of this dream was caught by Pope St. John Paul II in his countless proclamations of Christ's Real Presence highlighting the Church's real need to abide with Him in Eucharistic Adoration. Hence, the voice of Christ speaking through His vicar urging of the Bishops, Pastors, and lay people of the Church to pray—to beg!— for the grace of Eucharistic conversions budding forth from a rekindled "Eucharistic amazement" in the Church. This is the way forward toward effectively evangelizing our culture of death: a resurrected awareness and love of the Body of Christ in the heart of the Church.
"He is here!" – St. John Vianney
We must totally transform our pastoral efforts and make them heroically Eucharistic. The patron saint of priests, St. John Vianney, knew the primary importance of drawing the Church's gaze towards Eucharistic Adoration when walked up to the pulpit and preached his famously fiery yet very short sermon. Pointing toward the tabernacle he shouted: "He is HERE! He IS here! HE is here!" He descended from the pulpit and took his seat. His parishioners heard him loud and clear. They knew where their Priest's pastoral focal point was: revivifying faith in the Real Presence. Our Priests need to imitate this kind of John the Baptist-like preaching: "Behold, the Lamb of God!" (John 1:29). The Priest is the "Friend of the Bridegroom" who must rejoice greatly at the Bridegroom's presence and voice so that the Bride will be stirred up in love. She shall respond to the call of the Bridegroom "as in the days of her youth" (Hosea 2:15) and return to the love which she had at first for Christ's resurrected and glorified flesh (cf. Rev 2:4). The Church will draw near and abide in Holy Communion with Christ's Body in the Eucharist so that the Church may more and more be one with Him entering into a New Springtime of extravagant love; a second honeymoon, if you will, coalescing into a New Pentecost. "My beloved speaks and says to me: 'Arise, my love, my dove, my fair one, and come away; for behold, the winter is past, the rain is over and gone. The flowers appear on the earth, the time of pruning has come, and the rice of the turtledove is heard in our land. The fig tree puts forth its figs, and the vines are in blossom; they give forth fragrance. Arise, my love, my fair one, and come away. O my dove, in the clefts of the rock, in the covert of the cliff, let me see your face, let me hear your voice, for your voice is sweet, and your face is comely'" (Song of Solomon 2:10-14). May the Bride of Christ console His heart with the constant vision of her face praising Him with her sweet voice and abiding in ever growing union with Him in Holy Communion! Here is the Triumph of the Immaculate Heart of Mary: worldwide, perpetual, Eucharistic adoration. O Mary, teach the Church how to be the Bride which your Son deserves! He deserves our constant attention and love! He deserves that every parish attend to His presence at all hours! He wants constantly to be with the one He loves. He wants to be with us. Let us give Him what He wants.
"You have forgotten the love you had at first." (Revelation 2:4)
For this to happen, however, our pastoral efforts as a Church must be redirected and renewed in "Eucharistic amazement." The modern Church has largely lacked the miraculous fruits proper to the power and presence of Christ in the world precisely because many pastors and laborers in the Lord's vineyard have forgotten the first love of the Church, namely, Christ in Holy Communion, from which flows all the other loves and activities of the Church. In the modern Church's many attempts to keep itself afloat, we've wasted too much time and energy in merely plugging up holes in our sinking ship wherever we notice hemorrhaging. Let us then take inspiration and counsel from St. John Bosco's aforementioned prophetic dream by anchoring ourselves to the Eucharist and Our Lady. It is the bridal love of the Marian and contemplative heart of the Church which empowers the Apostolic ministry, and guides the shepherds of the Church in leading their flocks to green pastures. After the Resurrection, Peter and John heard the voice of Christ commanding them to cast their nets on the other side of the boat. They were doing it all wrong; depending on their own efforts and human expertise. However, though they didn't yet perceive that it was the Incarnate Word of God speaking to them, they obeyed nonetheless, and "gave it a try" so to speak.
The abundant yield of fish which they took in after listening to Jesus' suggestion—or, rather, command—testified to the veracity of that Word which had directed them to do something different from what they had been doing up to now. Their rekindled amazement at the efficaciousness of Christ's Word sets them on fire with renewed love and deep repentance. Note the dynamic involving these particular "friends of the Bridegroom." John—in some ways representing the contemplative dimension of the Church— recognizes the Bridegroom, "It is the Lord!" and Peter—often seen as representing the governing authority of the Church— enthusiastically draws near to the Body of Christ standing on the shore. The shore here serves as an image for the dividing line between and heaven and earth. The place where the water and earth meet is right where the Incarnate God-Man stands. Analogously, a Eucharistic Adoration Chapel is like a portal, a gateway between heaven and earth precisely because within its walls stands the One Who is Himself the gate between heaven and earth. In this Gospel scene Peter swam towards Heaven's shore.
It is a good thing that Peter listened to John's prophetic word to him and followed his heart's desire to be with Jesus! Peter's desire to be near Jesus led him right to an encounter with the heart of Christ the Good Shepherd. Ashamed of having denied three times the one He loved Peter was busy about many things; burying himself in the work of fishing which was so familiar to him until He first encountered Christ. However, the call of love from John stirs Peter to put aside all his cares and dive into the darkness of faith swimming towards the shores of Heaven. Peter had fallen from the love He had at first. However, Peter's acceptance of John's contemplative intuition leads Peter to encounter the Resurrected Body of Christ on the shore. It is from that bodily encounter that Peter is sent forth to feed and tend to Jesus' sheep and lambs. With what shall Peter feed them? "For my flesh is true food and my blood is true drink" (See John chapter 6). To where share Peter lead the sheep? "In verdant pastures He leads me. He leads me beside still waters where He gives me repose." (Psalm 23: 2-3) Into the open pasture of Heaven, the soul in Holy Communion is able to wander in delight and rest in safety just as, at the Last Supper, John the Beloved got lost in the joyful contemplation of Christ's Words by resting his weary mind upon the gentle Heart of Jesus. "It is so good to know that when we receive Holy Communion we receive all of Heaven save for the vision!" so says St. Elizabeth of the Trinity. To be fruitful in the work of harvesting the Lord's vineyard the Pastoral worker must first listen in contemplation to the Bridegroom's voice emanating from Christ's Body "Let the children come to me and do not hinder them" (Matthew 19:14). Thus, the Pastors and leaders in the Church will "lead the ewes with care" right to the Good Shepherd who remains with His Church in the Eucharist, "even to the consummation of the world."
Desperate Times Call for Desperate Measures: Extravagant Love without Measure
We must sit at Jesus' feet like Mary Magdalene. However, as it is we are often overly anxious and troubled about many ministerial things like Martha and we are running the risk of losing everything. Eerily coincidental is the Biblical copyist's placement (intentional or not it matters little) of the verse describing how many of Jesus' disciples went away from Him after He preached the Bread of Life discourse. The mark of the beast spoken of in the book of Revelation is, of course, 666. John 6:66 says, "After [proclaiming the Eucharist] many of His disciples drew back and no longer went about with Him." This also seems to be when the first stirrings of betrayal began to rise up in Judas based on Jesus' words, "'Did I not choose you, the Twelve, and one of you is a devil?' He spoke of Judas the son of Simon Iscariot, for he, one of the Twelve, was to betray him" (John 6:70-71). Perhaps, there is a concern today among the faithful, and even the clergy, about how to share the doctrine of the Real Presence effectively. We may shy away from speaking too strongly on the Real Presence. We can understand the reaction of some of Jesus' listeners during His Bread of Life discourse when they said, "This is a hard saying, who can accept it?" (John 6:60) We can imagine an inner monologue sounding something like, "After all, when Jesus preached so strongly about the Eucharist in John chapter 6 many of His disciples left Him! I don't want to push people away from the parish or even the Church." Few would accuse Jesus of preaching this message inadequately but our times are different from His after all. Paradoxically, fear may cause us to believe, "If I am too clear about this then people may not clearly understand!" We also do not want to draw criticism from other people. Besides, we may think, "Shouldn't we gradually work up to teaching people about the Eucharist? Is this really so urgent? Is it the most important thing to focus on in our catechesis? How much of an emphasis should the Eucharist have in our Sunday schools and preaching?" We must always gently encourage each other by regularly proposing that we turn to the Lord for Wisdom in every pastoral intuitive and ministry. We must ask the Lord how He sees the matter. "What would you have me do, Lord?" as St. Paul said (cf. Acts 22:10).
"Will you also go away?" – John 6:67
Our concerns and hesitations about properly sharing the beautiful truth of Christ's Real Presence must be brought to Jesus in prayer. We must beg Him to give us the conviction of the Saints that we might acts like the Saints! Clergy and laity alike must continuously petition Christ, "Lord, increase our faith!" (Luke 17:5) And, "Lord, I want to see!" (Luke 18:41) After Jesus watched many of His disciples walk away in response to His Bread of Life discourse He turned to the Apostles and asked, "Will you also go away?" Peter spoke up for the rest of the Apostolic band by testifying to the absolute trustworthiness of Jesus' words. Peter said, in effect, "There is nowhere else I'd rather be than to be with you, Lord." Peter's exact words were, "Lord, to whom shall we go? You have the words of eternal life. We have to come to believe and are convinced that you are the Holy One of God" (John 6:68-69). We must ask ourselves in what ways have we gone away from the source and summit of life, the Eucharist, in our prayer life, our preaching, our teaching, our conversations, and the other areas of our lives. We can challenge ourselves by meditating on the fact that Judas' departure from Christ was a gradual process but it was—apparently—initially rooted in his lack of full adherence to Christ's Real Presence in the Eucharist. Staying anchored in Our Eucharistic Lord becomes then our safety. "Did I not choose you, the Twelve, and one of you is a devil? He spoke of Judas the son of Simon Iscariot, for he, one of the Twelve, was to betray him" (John 6:70-71). Perhaps in prayer before Our Lord in the Blessed Sacrament we can ask Him to show us the ways in which we have unwittingly departed from Him. Perhaps we can meditate on the Last Supper accounts where Jesus tells the Twelve that one of them would betray Him. We might ask Jesus candidly, "Is it I, Lord? Show me how I may have left You in some way. How are you are calling me to deeper union with You?"
Jesus invites us to keep watch and be ready for Him like wise virgins of the parable in Matthew 25: 1-13. Mary Magdalene can serve as a preeminent example of how to do this: stay close to Our Lord's Body and staying attentive to His Word! (cf. Luke 10:42) Unless we stay close to Christ's Body in the Eucharist then we risk having our lamp stand taken away from us as Christ warns the church of Ephesus in the second chapter of the book of Revelation. If they did not repent and return to the "love they had at first" then Jesus told them their lamp stand would be removed from them. Perhaps the large number of Catholics who have left the Church in recent decades may be explained partly by the fact that many just do not really believe in the Eucharist as the "source and summit of the Christian life" aka our "first love." Jesus' promise to Mary Magdalene is the same promise He offers to us: if we choose the better part of abiding near His Body and listening to His Word then this gift of Himself would not be taken from us. Why? Because Jesus Himself would protect her—and us— from anyone which would try to separate Jesus from Mary Magdalene. Sometimes they may even include the dear, well-intentioned, over-worked Marthas in the Church! However, let us remember that, "What God has joined together man must not separate" (Mark 10:9). God has joined His Son to His Bride, the Church, in a holy and nuptial communion of love whereby the Church is called to perpetually adore the Eucharistic Body of Christ. The act of faith on the part of the Church, wherever she exposes Jesus Christ on altars for the world to see, is an act which releases torrents of Divine Mercy from the Sacred Heart of Jesus. Rather than frenetically exhausting ourselves, like Martha, in ministerial initiatives we must recognize that "the better part" which Mary chose—and which we, too, must choose— is the quickest way to convert the world. We must more and more lovingly "waste time" sitting at Jesus' feet, listening to the guidance of His Spirit, and obeying His every Word. Perhaps our works in ministry are not as effective as we might have hoped because as a Church we have not come before Our Lord in the Eucharist imploring, "What would you have me do, Lord?" How much of our ministry planning is done in prayer? How many of our evangelization/catechetical ideas are truly inspirations of the Holy Spirit flowing from the silence of prayerful adoration sitting at Jesus' feet? Do we do this collectively as ministry teams? Do we do this as individuals? By the hemorrhage of people leaving the Church and the apparent lack of fruit seen in the low number of conversions to the Church (who then stay in the Church and become fruitful disciples themselves) we can rightly wonder: are too many over-worked Marthas in the Church and not enough joyful Marys? Martha can choose the better part like Mary did whenever she wants, however. It is not too late to turn the tide though currently there seems to be far too many ministers in the Church who are anxious and troubled by too many unnecessary distractions cloaked under the guise of "ministry."
Here a powerful witness can present itself to our people: The Priest in Adoration. People to see their shepherds before the Good Shepherd in humble adoration! The Priest is given the commission by Christ to teach His people how to pray. Catholics need the inspiration and immense grace flowing from their Priest leading them in Eucharistic Adoration. He is to be the Eucharistic adorer par excellence teaching his people how to pray by way of example and preaching. It is worth quoting at length two magisterial documents focused towards Priests.
The first is from Pope St. John Paul II's letter to the pastors of the Church, Pastores Dabo Vobis:
Pastoral charity, which has its specific source in the sacrament of holy orders, finds its full expression and its supreme nourishment in the Eucharist. As the Council states: 'This pastoral charity flows mainly from the eucharistic sacrifice, which is thus the center and root of the whole priestly life. The priestly soul strives thereby to apply to itself the action which takes place on the altar of sacrifice.' Indeed, the Eucharist re-presents, makes once again priest, the sacrifice of the cross, the full gift of Christ to the Church, the gift of his body given and his blood shed, as the supreme witness of the fact that he is head and shepherd, servant and spouse of the Church. Precisely because of this, the priest's pastoral charity not only flows from the Eucharist but finds in the celebration of the Eucharist its highest realization — just as it is from the Eucharist that he receives the grace and obligation to give his whole life a "sacrificial" dimension (paragraph 23).
The second quote is from the Second Vatican Council's decree on the ministry and life of Priests, Presbyterorum Ordinis:
The other sacraments, as well as with every ministry of the Church and every work of the apostolate, are tied together with the Eucharist and are directed toward it. The Most Blessed Eucharist contains the entire spiritual boon of the Church, that is, Christ himself, our Pasch and Living Bread, by the action of the Holy Spirit through his very flesh vital and vitalizing, giving life to men who are thus invited and encouraged to offer themselves, their labors and all created things, together with him. In this light, the Eucharist shows itself as the source and the apex of the whole work of preaching the Gospel (section 5).
Priests and laity alike would benefit tremendously from reading or re-reading these two documents and will be delighted in discovering how profoundly Eucharistic both documents are.
These selections above highlight in a particular and forceful way, however, the necessity of pursuing like Mary Magdalene the "better part" which is the one thing necessary: abiding with the Body of Christ (cf. Psalm 27).
"Jesus wept" (John 11:35)
In many places the Church today is like the church of Ephesus which Jesus warned of losing their lamp stand in Revelation chapter 2 if they did not return to the love they had at first. We must keep vigil in prayer with the lamp stand which Christ has given to us. We must keep watch for the Bridegroom's return in glory by sitting before His veiled and sacramental Body. As individuals we must come to Jesus whenever He calls us to Him. As parish communities we must surround Him perpetually with Eucharistic Adoration like a seamless garment, unbroken and uninterrupted by any absence of adorers' time. "Therefore, are they before the throne of God, and serve Him day and night within his temple and He who sits upon the throne will shelter them with His presence" (Revelation 7:15). With our lamp stand of communal love we must indicate the perpetual Eucharistic Presence Christ in our parishes just like the sanctuary lamp which highlights where Jesus is in the tabernacle! Our little light of love and grace on that lamp stand should be pointing to the Light of the World who cloaks Himself under the lamp shade of His Eucharistic veil. Even further, a growing, worldwide movement of perpetual Eucharistic adoration serves as a unified sign to the world proclaiming, "Jesus is here! We are one in Him! He is present in our tabernacles and on our altars and our perpetual presence before Him is the sign that He is here!" But in many places we leave Our Savior alone. We leave Him alone and rejected; "despised by men" (Isaiah 53) by our very act of not paying Him due regard (individually and communally) like the Pharisee, Simon (see Luke 7:36-49). Simon payed Christ lip-service through his invitation to share a meal and a conversation at his house. Simon failed, however, to wash our Lord's feet and gave Him no kiss. Simon went through the "motions of ministry" so to speak but did not have love.
We, too, often go about many works but we must constantly strive to ensure that they spring from Eucharistic love! "If I speak in the tongues of men and of angels, but have not love, I am a noisy gong or a clanging cymbal. And if I have prophetic powers, and unfelt and all mysteries and all knowledge, and if I have all faith, so as to remove mountains, but have not love, I am nothing. If I give away all I have, and if I deliver my body to be burned, but have not love, I gain nothing" (1 Corinthians 13: 1-3). In the story with the Pharisee, Simon, there is another figure whom we find: Mary Magdalene! Again, she shows us how to love like a repentant sinner-become-disciple! In the scene Mary Magdalene—representing the contemplative heart of extravagant love which we are all called to cultivate—washed Jesus' feet with her tears, dried them with her hair, while unceasingly kissing the beautiful "feet of Him who brings good news" (Isaiah 52:7). She anointed Jesus' Sacred Body with the perfumed oil of extravagant love. Far from this simply being Mary Magdalene wasting her time before Christ's Sacred Body or lavishly throwing away her resources to show Him love, Jesus praises her and admits that her story will always be told! Indeed, may her story be told again and again in us! May we imitate her lavish outpouring love upon Jesus! Hers was an attitude which wanted only the best for her sweet Jesus! May we, then, become exactly that: the best lovers and adorers of Our Lord in the Blessed Sacrament! May our hearts become more and more those which Jesus deserves; hearts which lavishly pour themselves out in love at His feet and in His service. How will we respond today to Christ's invitation to reawaken our hearts to Love enfleshed in the Eucharist? What resolve does He ask of you? What does His heart desire from you? "Oh, Lord, I love you not so much for what you give but what you take!" said St. Mother Teresa of Calcutta. Let us pray then, "Lord, take my heart!"
______________________
Indifference, by GA Studdert Kennedy
When Jesus came to Golgotha, they hanged Him on a tree,
They drove great nails through hands and feet, and made a Calvary;
They crowned Him with a crown of thorns, red were His wounds and deep,
For those were crude and cruel days, and human flesh was cheap.
When Jesus came to Birmingham, they simply passed Him by.
They would not hurt a hair of Him, they only let Him die;
For men had grown more tender, and they would not give Him pain,
They only just passed down the street, and left Him in the rain.
Still Jesus cried, 'Forgive them, for they know not what they do,'
And still it rained the winter rain that drenched Him through and through;
The crowds went home and left the streets without a soul to see,
And Jesus crouched against a wall, and cried for Calvary.
"[For Calvary] was more endurable than the indifference of men." – Venerable Fulton J. Sheen, commenting on the above poem
Revelation 2:1-7
To the angel of the Church in Ephesus write: 'The words of him who holds the seven stars in his right hand, who walks among the seven golden lampstands. I know your works, your toil and your patient endurance, and how you cannot bear evil men but have tested those who call themselves apostles but are not, and found them to be false; I know you are enduring patiently and bearing up for my name's sake, and you have not grown weary. But I have this against you, that you have abandoned the love you had at first. Remember then from what you have fallen, repent and do the works you did at first. If not, I will come to you and remove your lampstand from its place, unless you repent… He who has an ear, let him hear what the Spirit says to the churches. To him who conquers I will grant to eat of the tree of life, which is in the paradise of God.